On December 17, Ormat Technologies Inc. (NYSE:ORA) announced a 20-year agreement with Southern California Edison for the sale of energy from ORA's 30 megawatt plant at Imperial Valley, CA, that is expected to come on line by mid 2012. On December 18, Ormat announced the execution of agreements in the 340 MW Sarulla Geothermal Project in Indonesia where Ormat will design and supply the power generating units. These agreements indicate that ORA will not only remain as a leading geothermal power producer in US, but is also expanding its international presence.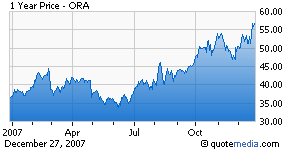 The company, which has a total generation capacity of 382MW, operates plants in Guatemala, Kenya and Nicaragua in addition to its home country. A slew of projects, expected to be complete by 2010, is expected to add another 210 MW to its capacity. ORA's assets are primarily located in the West Coast of United States. A Wikipedia article on Geothermal energy in the United States states that nine western states in US have the potential to produce more than 20% of the electricity needs of US, while the current contribution from the geothermal stable is less than one percent.
The company's immense experience in the field (more than 40 years; as of November '07, the company has more than 75 U.S. patents for proprietary power technologies) will help it to consolidate its position in the emerging world of an emission free power production. Ormat's ability to scale up its capacity – the Edison deal has an option to increase capacity to 100 MW – provides a competitive advantage. Geothermal source also has a higher capacity factor as compared to other alternative energy sources like wind and solar. Recovered energy, along with geothermal energy, is also considered to be a renewable source of energy. The recovered energy generation, a process by which the wasted heat from industrial processes is tapped and used to generate electricity has the potential to be a money spinner for ORA in the coming years. Thus, ORA is in a favorable position to enjoy the benefits arising out of strengthening regulatory norms across the globe (including the oft benchmarked California regulation and the recent failed attempt to mandate in the The Energy Independence Security Act of 2007 that utilities should source at least 15% of their power from renewable energy sources) that favor alternative energy sources and the imminent decline in availability of energy sources like natural gas.
The stock has been making good gains (almost 70%) since June '07 lows. This gain has resulted in the stock breaking out of a prolonged consolidation that extended for almost a year and a half. The lofty PE (95 and 45 – Trailing and Forward respectively; Source: Yahoo Finance) makes the stock appears expensive at current levels. Nevertheless, considering the business opportunities available for ORA, any dip on the stock can be a buy opportunity for short and medium-term players. The Reno, NV based company's policy of targeting an annual payout ratio of at least 20% of its net income (ORA has been distributing regular quarterly dividends for the last three years) makes the stock attractive for those who want a steady stream of income.
Disclosure: none