As if we forgot that we are living in a dangerous world, Thursday's news that Pakistani opposition leader Benazir Bhutto was killed in a terrorist attack, has reminded the world, and the Democratic party, just how dangerous a world we live in. We are once again reminded that there is a very large movement of individuals bent on the destruction of the West, along with the democratic ideals that the West represents.
With this grim reminder of the dangers still common in the world, I think this means a renewed focus on security stocks. When speaking about security, no conversation is complete without looking at Israel. The undisputed leader in security technology, Israel's security establishment gained fame because of the reign of terror that the country has faced for decades. Nice Systems (NASDAQ:NICE) is one such company. The stock is bucked Thursday's downward market pressure and gained more than 1.5%.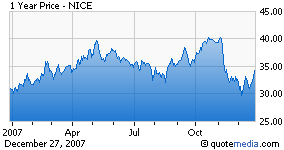 Nice is a security company that specializes in two markets: Security and Call Centers. Its security solution empowers security personnel to detect, prevent, and respond to threats in real-time.
It also allows them to investigate, and reconstruct criminal and security cases using video surveillance and control services, incident monitoring, and reconstruction solutions. NICE is the market leader in providing fast and efficient solutions for the capture, storage, retrieval and analysis of customer interactions for contact centers, and the enterprise. Nice will be playing an active role in the upcoming summer Olympics in Beijing.
As long as there are bad guys out there, there will be a need for a company like Nice.
Disclosure: The author's fund holds a position in NICE and is long the stock as of December 26, 2007.