Due to the growth in outsourcing and rising U.S. imports, global industrial production has become more important for this sector, and large distribution hubs, located at airports and seaports, should perform well. Industrial landlords that capitalize on increasing global trade by modernizing and consolidating distribution centers should benefit from increased demand.
With the expansion of the Panama Canal (Third Set of Locks Project), shipping capacity is set to double by 2014 (in Panama) and outside of Panama, expansion will create demand along the U.S. Eastern Seaboard for ports able to handle post-Panamax ships. Many East Coast ports (Miami to New York) are considering renovations including dredging, blasting, and bridge-raising.
As the Panama project moves forward, infrastructure improvements are underway to further support the flow of product. Inland ports are being improved in Florida, Georgia, and South Carolina. In a recent GlobeSt.com article (Panama Investors Can Start $600M Big Ship Port), Robert Farr (editor and writer) explains:
"There is another commercial real estate impact on the US East Coast, as not only do the harbors need widening, the distribution centers and intermodals need upgrading at the point of entry and along the way. Many cities are forming rail hub centers, where the containers can be taken from the docks to these centers, and then parceled out across the country."
Who Will Benefit From The Panama Expansion?
As the demand for global trade accelerates, several U.S.-based REITs should benefit from key land positions and strategic relationships with large-space users in the U.S. and abroad. These REITs that can provide speed and cost-effectiveness should be able to enhance shareholder value by providing efficient supply chain management functions. By owning land in key expansion markets and by maintaining strong balance sheets (with access to capital), certain Industrial REITs should spark value by being able to quickly lease new projects and further enhancing shareholder value.
Four such REITs that should benefit from accelerated port-based demand include ProLogis Inc. (NYSE:PLD), Duke Realty (NYSE:DRE), DCT Industrial Inc. (NYSE:DCT), and EastGroup Properties (NYSE:EGP). These Industrial REITs (DRE owns office and industrial facilities) maintain operations in coastal strategic transportation centers and they should all provide enhanced demand for build-to-suit (BTS) and spec-building operations.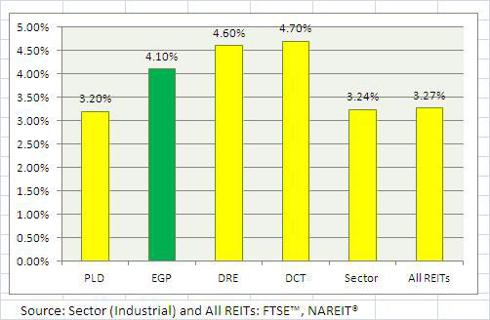 EastGroup: A Sunbelt REIT that's Hard to Beat
Ownership of industrial properties has generally provided stable and predictable returns. Currently there are seven Industrial REITs that make up the NAREIT Index (with a combined market capitalization of $21.17 billion) with an average dividend yield of 3.24 percent. The Industrial REIT sector has provided the highest total return (23.24 percent) of all other sectors (averaging 13.44 percent) so far this year.
EastGroup Properties Inc., based in Jackson, MS is focused on acquisitions, ownership, and development of industrial properties in major Sunbelt markets throughout the U.S. with an emphasis in the States of California, Florida, Texas, and Arizona.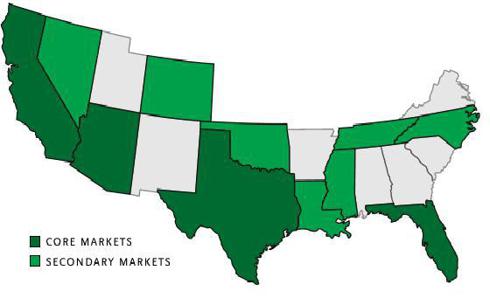 EastGroup's strategy for growth is based on property portfolio orientation toward premier distribution facilities located near major transportation centers. With coverage in around twenty-two markets, EastGroup has a well-balanced base that provides for a diverse geographic footprint.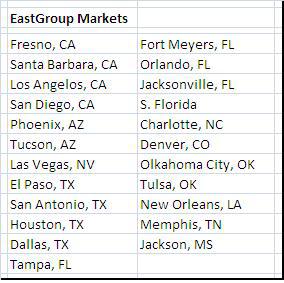 EastGroup has a market capitalization of $1.423 billion and assets of $1.292 billion. The portfolio is over 30 million square feet and the diverse tenant base provides for a sound margin-of-safety.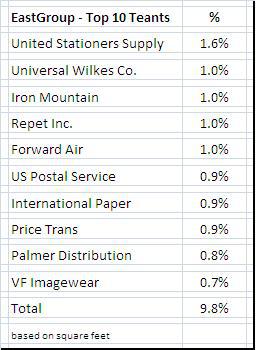 With a current occupancy rate of 94.5 percent, EastGroup has maintained a strong consistency in retaining tenants. In addition, many of EastGroup's facilities are newer and, in many cases, the facilities were built by EastGroup and the development returns have provided valuable portfolio yield enhancement.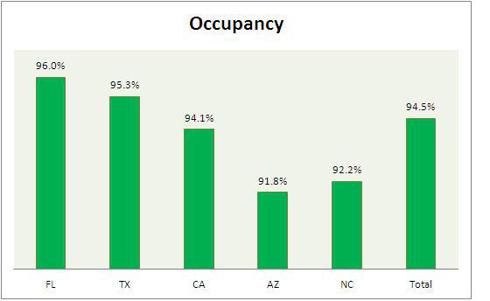 EastGroup continues to maintain a strong balance sheet. Capitalization consists of 28,101,565 common shares outstanding ($50.65 per share) with a total market capitalization of $1.423 billion. Total debt is $841.3 million comprised of $672.4 million of fixed-rate mortgage debt, $50.0 million of fixed-rate debt and $118.9 million of floating rate debt. (There are two revolving facilities of $200 million and $25 million, of which $118.9 million was outstanding as of March 31, 2012).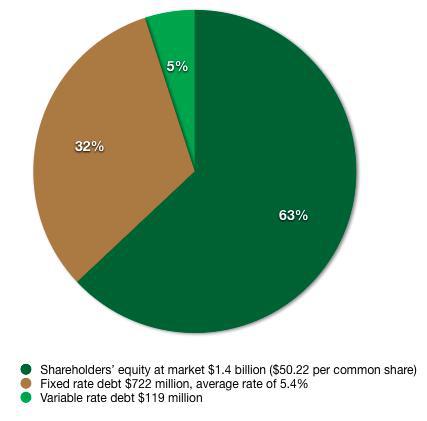 EastGroup has a healthy debt metrics including a fixed charge coverage ratio of 3.3x and debt-to-total market capitalization of 37.3 percent.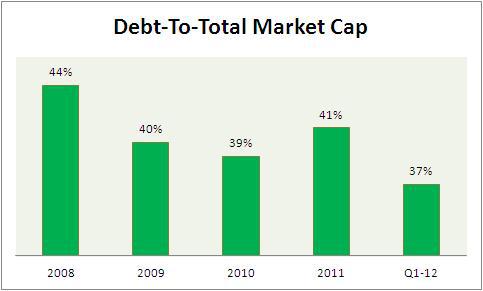 Recently EastGroup announced its first quarter earnings results that included the following:
· Funds from Operations (FFO) of $21.3 million or $.77 per share for the quarter compared to $.71 per share for the same quarter last year, an increase of 8.5 percent.
· Net Income attributable to common stockholders of $5.4 million or $.19 per share for the quarter.
· 94.5 percent leased, 94 percent occupied
· Eight buildings in development pipeline (475,000 square feet in Houston, San Antonio, an Orlando) with a total investment of $38.4 million.
EastGroup: The Power of a Durable Dividend
Most Industrial REITs cut dividends during 2008-2009; however, EastGroup stayed on course and maintained its dividend yield. Recently, EastGroup announced that it paid its 129th consecutive cash dividend ($.52 per share). This was the first quarter of the company's 20th consecutive year of increasing or maintaining the cash distributions paid to shareholders.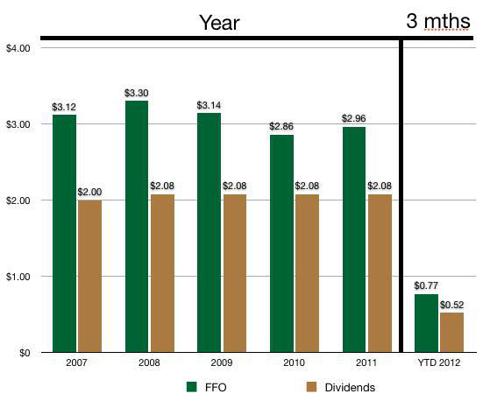 The company's payout ratio to FFO was 68 percent (Q1-12) and the annualized dividend rate of $2.08 per share yields 4.1 percent (closing stock price of $50.65).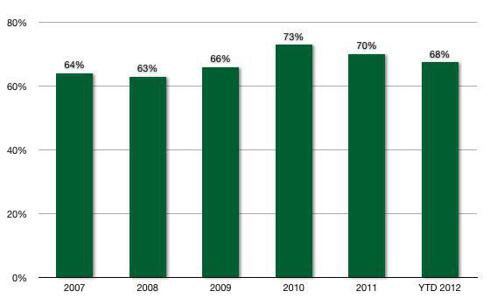 EastGroup's year-to-date total return is 17.69 percent (Source: Morningstar) and the REIT has outperformed the all equity REIT sector (13.44 percent) and the S&P 500.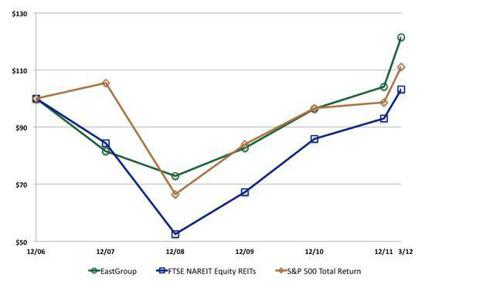 EastGroup Won't 'Rock Your Boat'
Since its founding in 1969 (43 years ago) EastGroup Properties has been patrolling the Sunbelt with a highly defensive investment portfolio. The stalwart REIT has maintained an attractively healthy balance sheet and has also managed to clip off 129 consecutive monthly dividends and over 20 years of dividend consistency.
The track record for performance has been excellent and the winds behind the Mississippi-based REIT should be enhanced by Panama Canal driven expansion and overall risk-control within the portfolio. EastGroup has proven that it can control risk in good and bad times; conversely, it is the consistency that makes this REIT a sound anchor for a fixed-income portfolio. For it is the durability of the dividend that promises the most intelligent investor comfort and certainty - and the reason that EastGroup Properties won't 'rock your boat'.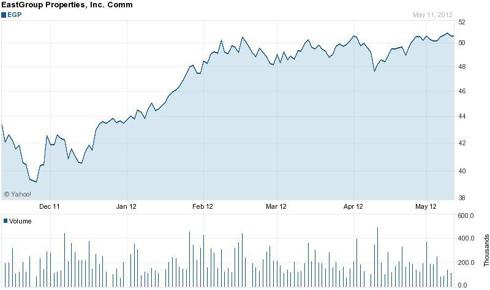 Disclosure: I have no positions in any stocks mentioned, and no plans to initiate any positions within the next 72 hours.