Do you remember watching all the real estate infomercials in the 1990s? Some slick guy telling you he will teach you his secrets to making millions in real estate. I never fell for it, but some of my friends did succumb. If people ask me what kind of real estate I invest in, then the answer is pretty easy. I rely on real estate investment trusts (REITs) to diversify my dividend portfolio. This week I am taking a look at Simon Property Group (NYSE:SPG) to see if they deserve a spot in my real estate empire.
Company Overview
Simon Property Group primarily invests in malls and shopping centers around the United States. Here is a partial overview from Wikipedia:
…engaged in the ownership, development and management of high-quality retail real estate, primarily regional malls, Premium Outlet Centers and community/lifestyle centers. Through its subsidiary partnership, it owns or has an interest in at least 380 properties in the United States comprising more than 258 million square feet of gross leasable area in 39 states, plus Puerto Rico. Simon Property Group also holds interests in 52 European shopping centers in France, Italy and Poland; five Premium Outlet Centers in Japan; one Premium Outlet Center in South Korea and one Premium Outlet Center in Mexico. It currently has ownership interests in some of the most high-profile shopping malls in the world…
Dividend History
Looking back over the dividend history, it is clear SPG started out slowly. The company began increasing dividends in 2001 and they have continued to ramp up. Between 2006 and 2007, the dividend growth rate was 10.6%. Rising from $3.04 to $3.36. This is the kind of dividend growth I want in my portfolio.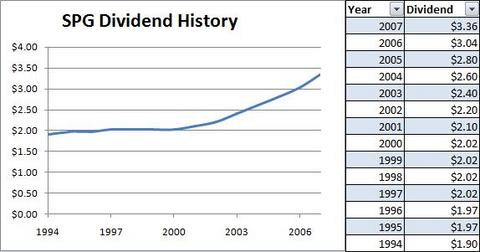 5-Year Performance
If you had invested in SPG 5 years ago, then you may think yourself a savvy investor. The stock price has grown 224% from $27.27 to $88.23 at the close today. The dividend has increased 53% from $2.20 to $3.36. The yield on cost on those original shares would net you 12.3% today.
10-Year Performance
If you had invested in SPG 10 years ago, then the results are still pretty darn good. The stock price has grown 387% from $18.12 to $88.23 at the close today. The dividend has increased 66% from $2.02 to $3.36. The yield on cost on those original shares would net you 18.5% today.
The Future
Simon Group is down from its 52 week high of $123.96 due to merger activity it undertook in early 2007, the real estate hysteria of 2007, and a write down of $26 million. The write down was a joint development with Toll Brothers. This is the only joint development between the two companies. Despite the share price decline, the company sits at a premium with a price-to-earnings of 37.
The good news for Simon Group is that it has been able to grow steadily over the past ten years. The dividend growth rate has been excellent over the past five years. They are aggressively going after acquisition targets and the company is expanding its portfolio to international markets. SPG has three projects under construction in Italy and four in China. I like where this company is headed. If they were an infomercial, then I would be getting out my wallet right now.
Disclosure: none