India ETF fund products declined for the week with the largest two ETFs, EPI and PIN, down 3% and 2.1% respectively. However, it was another great week to invest in INDZ, the Direxion Daily India Bear 3X shares ETF. This leveraged and highly volatile India ETF fund fed off the market losses and finished the week with a 6% gain. In fact over the last month INDZ has racked up gains of 23% as the average non leveraged India ETF fund fell around 10% during that time period.
The best India ETF fund in 2012 continues to be the small cap India ETF, SCIF, from Market Vectors. It has gained over 15% in 2012, leading all other India ETF funds by close to 4%. This ETF is a great example of the ups and downs Indian markets have had this year. Take a look at the one year to date chart of SCIF to gain a better picture of the roller coaster ride Indian markets have been on.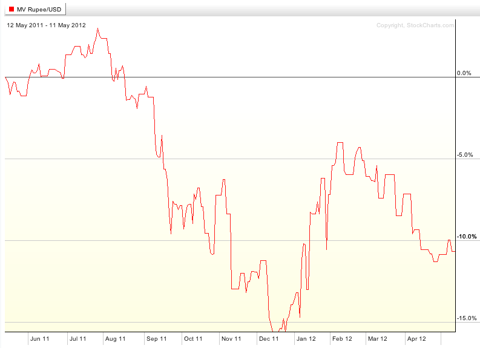 After the 2012 India ETF fund performance leader, SCIF, comes EG Share's India consumer ETF (NYSEARCA:INCO) and their India small cap ETF (NYSEARCA:SCIN). These ETFs have gained 11% year to date. Here's the India ETF fund performance grid snapshot from IndiaETFs.com, sorted by one week performance.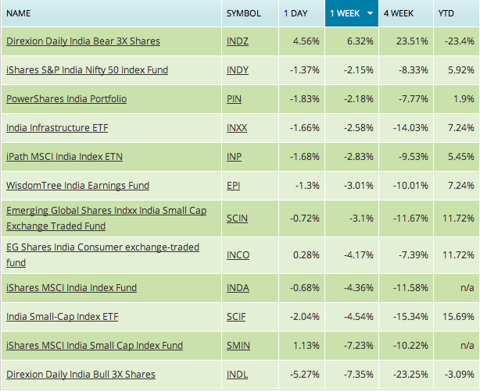 India continues to experience internal and external issues dragging down its markets after a strong start to 2012. This past week India's Index of Industrial Production was officially reported and that number showed a 3% contraction. In addition the rupee continued to lose value as the U.S. Dollar strengthened due to the most recent flare up in the EU debt crisis.
These developments are just some of the troubles affecting Indian markets and India ETF fund products - except for the 3X inverse ETF, INDZ, that is. Going forward it is likely there will be more downside to come for most India ETF fund investors as the EU crisis unfolds and India struggles to manage its fiscal and economic policy.
Disclosure: I have no positions in any stocks mentioned, and no plans to initiate any positions within the next 72 hours.
Additional disclosure: Christian Magoon publishes IndiaETFs.com.