Weekly Outlook: It was not a great week for the markets as a lack of upward catalysts plagued the market. The market started to show some signs of breaking down as European concerns began to resurface for the market and data was not as strong. Elections in France and Greece started the week off on a bad note, which restarted concerns over Europe. Without data or earnings to offset that issue the concerns in Europe, the market performed poorly. The limited data out this past week was decent, however, with jobless claims falling week-over-week and Michigan Consumer Sentiment reaching its highest level since 2007.
The "Sell in May" mentality is starting to really come to the forefront, and without much to catalyze the market positively, we are going to most likely see some selling in equity strength. As long as Europe remains weak, the euro will remain weak, which hurts equities and commodities as the dollar rises in relation. This week, we get a healthy slate of data so the American markets will be less impacted by Europe alone. Yet, data has not been stellar. In addition to data and Europe, murmurs of a need for another round of QE continue to dominate the market. Earnings are also going to be out for a number of consumer discretionary stocks.
Important reports start Tuesday with Retail Sales, CPI, Empire Manufacturing, Business Inventories, and NAHB Housing Market Index. It's a full day of data led by retail. March was a really strong month for retail, and expectations are low for April. The market could get a nice spark if the March strength continues over to April. PPI dropped and no drop in CPI would show some consumer inflation. Empire Manufacturing was low last month at 6.6, and expectations are for a pickup in the index. Disappointment there could be key to the market as well.
Finally, the NAHB Index will be key to watch as housing has started to show some recovery. Wednesday continues a busy week of data with Housing Starts, Building Permits, Industrial Production, and Crude Inventories. Finally, we get Philly Fed, Leading Indicators, and Weekly Jobless Claims on Thursday. No data on Friday. It's a FULL week of data, so we have a lot of opportunity to see some nice upside and downside if some key reports surprise or disappoint.
Earnings reports lulled last week, but we get a thick slate of key reports from the consumer discretionary side of the market that does not bode well for the market. Expectations are not high for retail, so there is a chance for some surprise. Earnings get going on Tuesday with Home Depot (NYSE:HD) and J.C. Penney (NYSE:JCP). HD has been strong and JCP has been attempting to turn around their business line. Wednesday is a big day with Abercrombie and Fitch (NYSE:ANF), Deere (NYSE:DE), and Target (NYSE:TGT).
All three reports can move the market as a whole, so we will look for those to be strong. ANF is not expected to report much profit at all, and the market has not been keen on TGT as well. Thursday gives us Wal-Mart (NYSE:WMT) and Salesforce.com (NYSE:CRM), and we finish up Friday with Foot Locker (NYSE:FL).
With a good deal of data and earnings, Europe may not be quite front and center, but they will continue to be important. Some of the key moments for Europe this week will start on Monday with Italy and Spain having large bond auctions. That news may direct the markets to start the week. From there, we get Euro-Zone, France, Greece, German, and Portugal GDP on Tuesday. Additionally, we get a Euro-Zone bond sale and German and Euro-Zone ZEW Survey.
All those reports are going to be very impactful to the markets and currencies, which will only add to a busy Tuesday for American data. Wednesday continues with Italian GDP and British jobless numbers. Thursday we get Spanish GDP and another large bond sale, and we finish the week with German PPI. Wow! Lots of numbers that will be key to the market. As it stands now, expectations are pretty low for Europe so there is more room for surprises. Yet, a lot more weakness here is definitely potential as the markets have faired well in 2012 thus far.
If that was not enough, the Fed has their minutes on Wednesday. The market will continue to be watching for QE3. With some weaker data as of late, some are expecting some more talk of QE. We are not expecting it to come, and we would guess the meeting will be very anti-climatic, which is not a positive for the market. Some surprise talk of potential QE could be positive for the market. Without it, the dollar could continue to strengthen, causing more weakness in equities.
So, where are we headed this week?
It's such a busy week for the market, and there is definitely quite a bit of uncertainty as to where things could be headed. Most of the market is not expecting too much in the way of good news and upside, which gives us some definite potential to see the market latch on to surprises. At the same time, the market has held up relatively well despite concerns. Some of those concerns have the ability to come to fruition with a lot of big reports expected from the USA and Europe this week, which could lead to some more heavy downside for the market.
Stocks To Trade:
Stocks to watch this week are ones that have the ability to break out in either direction as we are expecting a pretty volatile week that could see some fairly sizeable moves for the market. One stock that looks ready to break out to the upside is Amazon.com (NASDAQ:AMZN). The company is signaling a golden cross and has held up very well in weakness in the market. While we do not believe the long-term outlook is strong with a lot of overvaluation, this stock could really bust out this week if the market moves well.
On the flipside, US Steel (NYSE:X) is looking like it could weaken some from here as it is sitting on a strong support line at $25. The stock has seen its 20-day MA dip below the 50-day MA. Steel continues to be a weak area, and it suffers a lot during rough economic times as its very cyclical. We believe X could break below $25 on some definite weakness in the market this week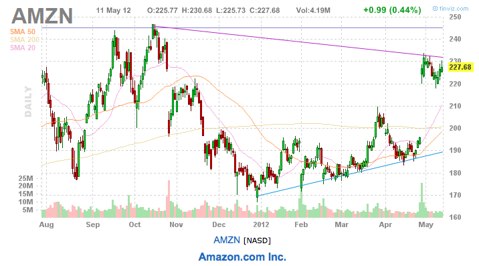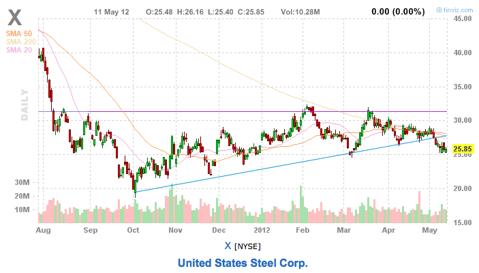 Oxen Group Holdings:
We have the following positions. In our Short-Term Equity Portfolio we are long Visa (NYSE:V), Hershey (NYSE:HSY), and Whole Foods (NASDAQ:WFM). We are short Mastercard (NYSE:MA), Russell 2000 (NYSEARCA:IWM), and Sara Lee (SLE). In our Options Portfolio, we are long Disney (NYSE:DIS), Panera Bread (NASDAQ:PNRA), and Dollar General (NYSE:DG). We are short BP, Apple (NASDAQ:AAPL), and Russell 2000. We have a reverse iron condor on Ultra Proshares Financial (NYSEARCA:FAS). In our Earnings Alpha portfolio, we are long TJX (NYSE:TJX), Western Digital (NYSE:WDC), Teva (NYSE:TEVA). We are short Amazon. We have a reverse iron condor in Las Vegas Sands (NYSE:LVS) and Priceline.com (NASDAQ:PCLN).
Chart courtesy of finviz.com.
Disclosure: I am long WFM.