By G C Mays
The USDA released its initial estimates of the 2012/2013 US soybean crop. Ending stock estimates of 144.7 million is 65.4 million bushels lower than last year. This is despite estimated production increases to149.2 million bushels. One of the primary reasons for the lower ending stocks is a higher number of US exports, which are the result of last winters La Niña weather pattern, which caused drought conditions during the key pollination period in South America and crippled soybean production in Brazil, Argentina and Paraguay. Add beginning stocks that are 4.7 million bushels lower than last year, seed and crush use that is higher by roughly 10 million bushels each, and we find ourselves with a stocks-to-use ratio of 4.42 percent, which would be an all time low if initial estimates are correct.
The USDA expects exports for the 2012/2013 growing season, which begins in September, to increase by 189.6 million bushels to 1.5 billion. The bulk of US exports generally occur between September and February.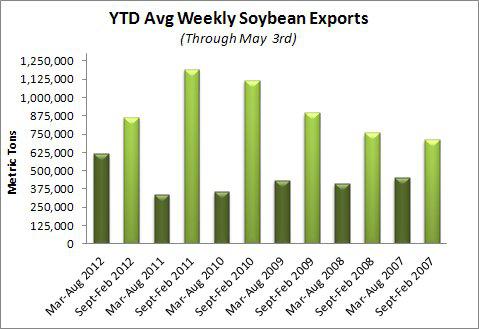 Source: The Mays Report
As the graph above illustrates, this year's spring exports have outpaced earlier years due to lower production in South America, which has caused countries to shift their soybean purchases to the US. The extra exports this spring have resulted in beginning stock estimates in the US being lowered to 210.2 million, 2.2 percent lower than last year's 214.9 million bushels. These events have caused soybean prices to climb from $11.07 on December 9, 2011 to a high of $15.05 on April 30th, before retreating to a recent closing price of $14.06, as global asset prices tumbled, due to a return of volatile economic expectations in Europe, as its debt crises lingers on.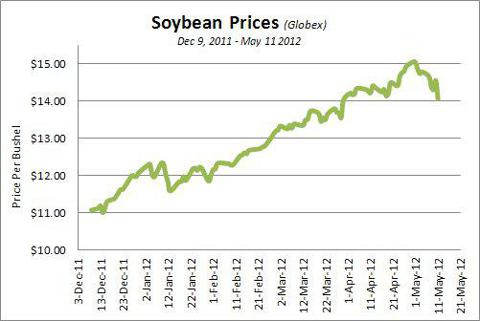 Click to enlargeSource: The Mays Report
Since soybean prices began their descent after peaking at those April 30th highs, the stocks of fertilizer companies CF Industries (NYSE:CF), Mosaic (NYSE:MOS), Potash Corp (NYSE:POT), and Agrium (NYSE:AGU) have declined as well, falling by 13.0%, 7.7%, 4.0%, and 6.0 percent, respectively over the same period.

Click to enlargeSource: The Mays Report
Of course, the fertilizer companies have had their own share of supply demand issues since late last year when dealers began to slow down purchases and manage their inventory and price risk. I expect those issues will begin to resolve themselves as we get closer to the end of spring planting season.
The drought condition in South America during that hemisphere's spring and summer growing season has also severely affected global ending stocks, as the number 2 and 3 global exporters behind the US, Brazil and Argentina make up roughly 50 percent of global exports.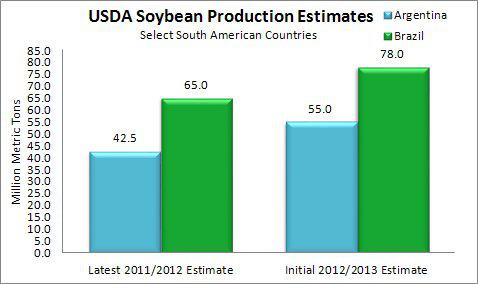 Source: The Mays Report
While initial production estimates show a return to levels one would normally expect, estimates of exports from these countries are only 1.5 to 1.65 million bushels higher, which is most likely way off the mark. Initial May projections are always provisional, because spring planting in the Northern Hemisphere is still a work in progress and several months away on the other side of the equator.
While the initial estimates give a nice preview of what the supply demand picture may look like, we will have a much more accurate picture when the USDA releases their July report.
Disclosure: I have no positions in any stocks mentioned, and no plans to initiate any positions within the next 72 hours.