Collectors Universe (NASDAQ:CLCT) declared earnings last Wednesday after the bell. With EPS of $0.22, slightly lower margins and only 1% growth in coin grading revenues, shares of the company fell almost 4.5% Thursday and another 1% Friday. But the post-earnings pain may not quite be over.
The Insider Trading Window Opens Monday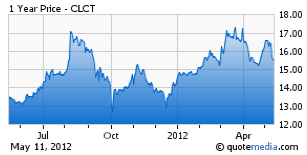 Collectors Universe is nearing what would be a bearish cross of its 200-day moving average at $15.18, which it did actually trade below Friday intraday, touching $15.07 before rising to close at $15.45. The insider trading window for CLCT will open Monday.
I've written about this company for a little while now and have basically asserted that, even though the dividend is high, the company is stable and growing, it has a large pile of cash and has heavy insider ownership. You can read my other articles for a lot more detail.
I have previously viewed the heavy ownership of this company by its directors and executives as a major positive and thought that any insider selling would be a good barometer of dividend risk. What I've been neglecting to realize is that even during the insider trading windows these insiders can't trade on any material non-public information anyway. So even though they may have just announced a not-so-hot quarter, they really wouldn't be able to sell shares if they had knowledge of a looming dividend cut.
There is a more-than-5% owner who is not an executive or member of the board, Richard K. Duncan. I will be interested to see what he does with his shares and what some of the large funds who have stakes in CLCT do with their shares.
Where is the Weakness?
Revenues from the company's coin grading and authenticating service, PCGS, make up more than half of the company's revenues. While the company doesn't provide earnings guidance, CEO Michael McConnell stated in the earnings release:
Looking ahead, our coin business, and in particular our modern coin business, has started the fourth quarter with slower momentum than this time last year. Notably, year-to-date sales of Silver and Gold Eagles from the US Mint are down approximately 24% and 44%, respectively, as compared to the same period last year. This general market decline is impacting our customers who submit modern coins to us.
This statement concerns me quite a bit. While it is true that a spike in the prices of gold (NYSEARCA:GLD) and silver (NYSEARCA:SLV), which is used for many of the coins that Collectors Universe grades and authenticates, would likely reverse this trend, we are already a month and a half into the quarter and the CEO would have a fair amount of insight into how the company is doing so far. I see a weak earnings report coming for this quarter unless a major shift in coin revenues occurs.
What of the Dividend?
While I do think that more weakness is ahead, it may not arrive until this week. On June 1st Collectors Universe pays a $0.325/share dividend to shareholders of record on May 18th, which is this Friday. With its closing price Friday of $15.45, the yield is greater than 8%, which I think will help it find support this week.
That said, I find the company's current dividend policy unsustainable unless you expect the company to grow into the dividend. I considered the possibility of growing into the dividend to be a reasonable prospect until this weak report. I now feel that the dividend will have to be cut, which is a change from my previous opinions regarding this dividend. The question, then, is when.
The reality is that if the Board wants to continue down this path it could pay out its dividend for another 7 more quarters just by drawing down its cash hoard of $20.46M. This quarter CLCT earned $0.22/share and will pay out $0.325/share. Even with no new earnings the board could hold out for a long time if it really wants to. And heck, maybe they can even grow into the dividend before that "board meeting of reckoning." But it sure feels like bumpy times ahead until the dividend is cut and shares adjust or the company can grow revenues to the point that they are earning the dividend.
The Bottom Line
Collectors Universe is a good company that had a not-so-good quarter in what is usually its second best quarter of the year. The expansion to Europe and Asia is a promising opportunity, though not quite as explosive as hoped. At least not yet. The purchase of Coinflation seems like a good investment and the company's stated goal of getting more involved in digital operations seems smart to me. The only really positive thing I saw in the release was news that this quarter "marked the best quarter in [the] Company's 26-year history." But owning shares of a company with a dividend like this is all well and good until one day the music stops.
Disclosure: I am long CLCT.
Additional disclosure: I own a small token position of CLCT (as in 7.9326 shares) in a DRiP account that I have no current plans to trade.