Shares of Netflix (NASDAQ:NFLX) are down nearly 35% over the past three months. Despite the poor price action, there are three reasons to consider buying NFLX.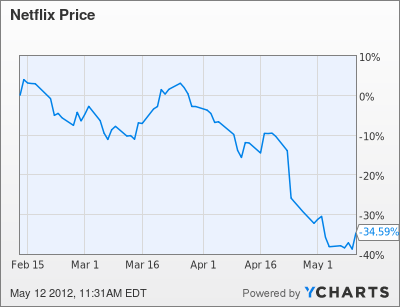 Insider Purchase
As reported by Seeking Alpha contributor InsiderInsights, director Jay Hoag purchased 200,000 shares, worth a total of $14.5 million. This purchase is noteworthy for a few reasons, firstly, the size of the transaction is important. Often insiders buy trivial amounts of stock in an effort to show "confidence" in the company. However, a buy of $14.5 million worth of stock signals that the buyer is serious about the position. Another reason why this purchase is important, is because this insider has shown an impressive track record. Notably, Mr. Hoag sold out of NFLX in July of last year for $268 per share. The size of the transaction, along with the history of Mr. Hoag's trading in NFLX in the past, make this insider purchase a compelling reason to buy.
Whitney Tilson
Whitney Tilson, founding and managing partner of T2, has recently said he has been buying NFLX on decline. In this CNBC interview, Tilson outlined his reasons for buying NFLX. Tilson's recommendation should be closely considered by investors, as the hedge fund manager has been right on NFLX in the past. Back in 2010, Tilson outlined the bearish case against NFLX, which turned out to be accurate. Unfortunately for Tilson, he covered his short before his bearish thesis played out. That being said, the fact that Tilson is now bullish on NFLX should be viewed as a positive.
Short Interest
Short interest in NFLX currently stands at 11.64 million shares, or 21.5% of the shares outstanding. This high short interest represents a possibility for a squeeze higher if any positive news comes out. Also, short sellers may look to cover and lock in gains as they most likely have huge profits. Even rumors of a takeover could be enough to cause short sellers to cover. In any event, the high short interest represents a potential upside springboard for the stock.
Conclusion
While NFLX has gotten off to a terrible start so far in 2012, there are reasons why it might be time to buy. The large insider purchase, Whitney Tilson's recommendation, and high short interest are all reasons to consider NFLX.
Disclosure: I have no positions in any stocks mentioned, and no plans to initiate any positions within the next 72 hours.