In a "previous life" we first discovered Rockwell Medical Technologies, Inc. (NASDAQ:RMTI) back in January of 2006 trading just above $4.00 per share. A lot has happened since then, both good and bad, but now look. The stock recently rebounded from a low below $5.00 and the Company has successfully navigated some serious growing pains and appears to be solidly "back on track."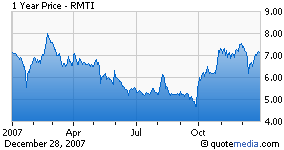 On November 29, 2007, RMTI removed a big risk factor when the Company announced that it had raised $12,950,000 in gross proceeds from a private placement of 2,158,337 common shares at $6.00 per share and issued warrants to purchase 1,079,169 shares at $7.18 per share.
Also, on December 4, 2007, RMTI announcedthat the FDA had approved initiation of a National Institutes of Health [NIH] sponsored clinical study of SFP. This sponsored study will examine maintenance of hemoglobin, iron parameters, need for intravenous iron and oxidative stress markers in patients receiving SFP via dialysate versus patients receiving conventional iron-free dialysate.
From the very beginning we have considered RMTI as a drug delivery biotech WITHOUT the "all-or-nothing" downside. The Company has a solid and rapidly growing business of supplying dialysate solutions for dialysis. Recent industry consolidation has left just two primary U.S. suppliers of dialysate, Fresenius (NYSE:FMS) and Rockwell (RMTI). The last three quarters have shown the tremendous positive effects of these events and RMTI has grown its total marketshare by over 50% in just two quarters. But, it's not just the dialysate business. The RMTI story boiled down to its simplest terms, consist of three primary steps:
1) Take advantage of recent dialysate industry consolidation and become one of two dominant dialysate suppliers with significant marketshare.
2) Successfully complete the necessary clinical trials to prove and commercialize Soluble Ferric Pyrophosphate [SFP] as an effective, safer and cheaper replacement for IV-Iron in dialysis patients.
3) Upon approval, immediately add SFP, at minimal incremental costs, to their dialysate and use their captive audience and dominant marketshare position to rapidly replace IV-Iron as the new therapy standard for iron maintenance in dialysis patients.
SFP holds the promise of revolutionizing iron therapy for dialysis patients, a $750 million global market. We believe the Company is just 2-3 years away from approved commercialization, but the current stock price reflects little or no premium for this possibility. When you do the math, we hope you will agree that RMTI has a risk/reward profile like no other small cap biotech and could easily appreciate some five-fold on their way to SFP commercialization.