Over the holidays I had the chance to read a copy of the second edition of The Disciplined Investor. I was pleasantly surprised at the skill in which Andrew Horowitz navigated the fundamental basics of an investing strategy and yet presented the information in a manner which was easy to read and made learning enjoyable.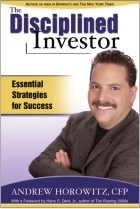 Far from a textbook on market theory and academic arguments, the book provides tangible resources which an individual investor can use to effectively analyze market movements, portfolio allocations, risk tolerances and potential investments. While the author makes reference to many astute and well regarded academic masterpieces, the information is passed on to readers in an attractive package that strengthens ones understanding of fundamental investing principles.
Mr. Horowitz makes extensive use of analogies or word pictures to drive a point home. An anecdote regarding a snowplow in Montana, a description of a healthy home garden, or a story about a young couple investing for the first time; all play a part in bringing important lessons down to a personal level and making them "stick" with a colorful example. If a picture tells a thousand words, these word pictures offer volumes to investors developing their personal discipline and style.
I anticipate recommending this book to many of my friends who wish to know more about investing. Instead of offering suggestions to them as to which mutual fund to pick, I can recommend a resource that will teach them to be successful in their investment decisions and truly understand the factors that drive such success.
Thank you Andrew for such a valuable tool!