Daily Data: ProShares UltraShort Gold (NYSEARCA:GLL)
Gold must be on your mind with headlines of Greece, market declines, and JPMorgan (NYSE:JPM) trading losses. However, Gold has been steadily declining since late March. In late February I thought a breakout occurred above $170 on SPDR Gold Shares (NYSEARCA:GLD) but the chart gave a false impression of GLD's direction, which subsequently turned out to be neutral to bearish. Now Gold may be forming a bottom ripe for a new entry.
Investors have held Gold above $1500/ounce since last July. The next leg higher for the commodity may be soon. Also, keep in mind the miners with the Gold Miner ETF (NYSEARCA:GDX). As always, I'd rather be short an Ultrashort due to the advantage of leverage decay than long a 1x ETF. Thus, I favor playing the Ultrashort Gold ETF. Remember an ultrashort means the fund will trade inverse against the asset it's following by two times the daily percentage of the underlying asset. Since inception, the month over month returns on GLL are as follows: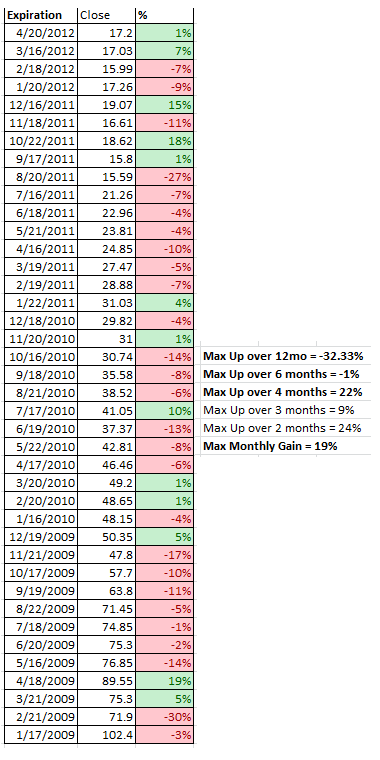 As you may see, GLL has gone down more than up since inception since Gold has been in a steady uptrend. There have been many bearish periods but not for more than 2 months in a row before the ETF declines month for month again. Keep in mind, GLL has been more volatile recently since Gold has not been in an uptrend for months. When I place bear call spreads on GLL betting the ETF will decline, I'm basically betting that Gold will rise in value. Also, when I look at placing a position on GLL I look at how far out of the money I have to be to protect myself against the historically best 1 or 2 month returns (which are 19%, 24%).
Based on these returns shown above combined with the possibility of GLL rising further and the current option premium, I suggest the following trade on GLL.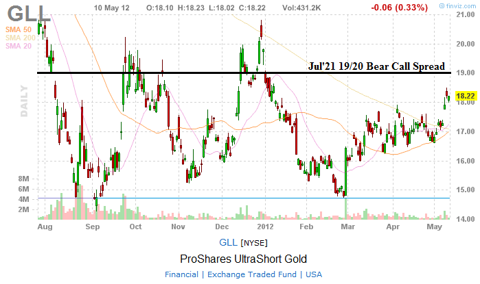 Click to enlarge
Suggested Trade: GLL - Sell Jul'21st 19/20 call spread (Bear Call Spread)
(Sell 19 Call/Buy 20 Call)
Size - 10% of Option Spread Portfolio Size = (10 spreads)
Entry: Sell Limit: 0.27
Stop Loss: 0.55
Exit Price: 0.00
Max Return: 36.98%
(Max Return Calculated on Return on Risk from my entry, not Return on Margin)
Note: this is a 3month trade (based from April to July). I usually do not recommend trades with such long duration, however, since May option expiration is next week, this trade is really closer to 2 months than 3. We may enter this trade soon.
Disclosure: I'm short shares of GLL, I own short calendar spreads and bear call spread on GLL. I own bull put spreads on RUT and QQQ