Lately, VirnetX (NYSEMKT:VHC) has been all over the news in regards to their patent battle against Apple (NASDAQ:AAPL), Cisco (NASDAQ:CSCO), and Aastra (OTC:AATSF) - among others. The company issued a press release on April 26th stating that they were "extremely pleased" with the Markman Order issued by the United States District Court (Eastern District of TX - Tyler Division). They must have been pleased, because a week later VirnetX signed a patent license agreement with Aastra USA that included both a one-time payment and a framework to collect royalties on all future sales covered by the pact.
VirnetX stock has reacted strongly to the news. Even though Aastra USA represents just one business unit of Aastra Technologies Ltd., it was reported that the patent infringement case between VirnetX and all Aastra affiliates would be dismissed. This was verified on Friday, May 11, 2012, when court documents were filed showing that the Order of Dismissal had been granted as agreed to by Plaintiff VirnetX and Defendants Aastra USA, Inc. and Aastra Technologies Ltd. (collectively "Aastra"). With the settlement and subsequent dismissal, investors are now more optimistic other defendants will come to settlement terms with VirnetX prior to the start of the scheduled combined jury trial, which is slated to begin in November.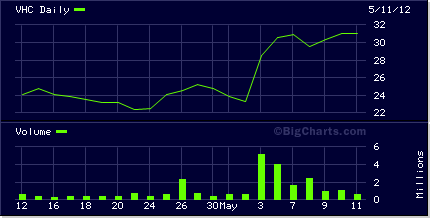 Although investors have taken a strong interest in this up and coming patent play, there appears to be a general lack of understanding about the company's technology. Many people readily identify VirnetX as a company with security solutions. However, in order to truly recognize the potential of this investment, one must correctly identify the security solutions VirnetX offers, how they are currently being utilized, and how they will be used globally in the near future.
A common misconception is that VirnetX developed Virtual Private Network (VPN) technology. The truth is VirnetX developed unique methods to initiate VPNs automatically, as well as other secure communication links. At the heart of VirnetX technology is the use of DNS lookups and Secure Domain Names. Another misunderstanding is that VirnetX offers security solutions for almost any type of computer or cyber threat. As experts in the information technology sector will agree, no one solution can handle every threat in existence.
Specifically, VirnetX's technology establishes secure real-time communication by providing seamless, automatic encryption and authentication. All this occurs transparently to the user, thus eliminating the need for entering complex cryptographic information (e.g. passwords) each time one wishes to establish a secure real-time connection.
What does this mean? It means that businesses are able to create products, platforms, and applications for customers, employees, partners, and anyone else to communicate securely. These are some examples of where VirnetX technology is being used:
Auto VPN on Demand Function
Voice over Internet Protocol [VoIP]
Instant Messaging [IM]
Integrated Text [SMS] and Email
Video Conferencing
Secure Session Initiation Protocol [SIP]
Clearly, VirnetX's technology is wide-reaching and is being implemented in everything from operating systems, servers, and hardware to software and handheld devices.
As followers of VirnetX know, the company's first license was a 2010 agreement with Microsoft (NASDAQ:MSFT). The agreement came in the form of a $200 million settlement after a jury awarded VirnetX $106 million in a patent infringement lawsuit. Some of the Microsoft products that were listed in the original complaint included: Windows XP, Windows Server, Windows Vista, and various Outlook and Communicator programs.
Today, Apple and Cisco find themselves in a potentially more dangerous situation than Microsoft as many of their core products have been identified by VirnetX as infringing. The products include but are not limited to:
Devices such as the Apple iPhone and iPad and various Cisco IP phones
Applications such as Apple's FaceTime and various Cisco VPN clients
Operating systems that are used to establish secure communications
Hardware such as servers, routers, and switches
In addition to each company's individual products, the VirnetX complaint paints the picture that some of the Apple and Cisco infringement is intertwined. For example, in the 3rd Amended Complaint filed March 28, 2012, VirnetX states that "At least Cisco's AnyConnect Secure Mobility Client software application for Apple's iPhone, iPhone 3G, iPhone 3GS, iPhone 4, iPod Touch, iPad, and iPad 2, when configured and operating in a system as intended by Cisco, infringes..."
Apple faces additional pressure from VirnetX because of a complaint filed at the International Trade Commission [ITC]. Unlike Federal District Court that can award monetary damages for infringement, the ITC does not. Should things not play out favorably for Apple, there is a risk of an exclusion order that would bar importation of Apple's products to the U.S. and possibly a cease & desist order that would bar sales of existing domestic products. This ITC investigation is scheduled to have a Final Initial Determination in late 2012 and is running parallel to the legal proceedings in Tyler, TX.
Furthermore, Apple may be considering the strength of the VirnetX patent portfolio as it relates to advanced 4G wireless communications. VirnetX has declared their patents to be essential to LTE-Advanced and possibly other future wireless standards.
From a system architecture standpoint, we are on the cusp of a major transition toward all-IP networks. These future advanced networks will require secure-real time communications from end-to-end. This means that VirnetX's patented technologies will be utilized globally on many different levels. A company like Apple that manufacturers devices, develops its own operating systems, and uses applications and storefronts that require secure communication, will intersect VirnetX's patent portfolio on multiple layers. Based on the billions and billions of dollars Apple generates annually and its dominance in the global marketplace, it becomes very clear that there is an enormous opportunity for VirnetX.
Despite the recent appreciation in the company's stock price, it is easy to make the argument that significant upside still exists for VirnetX. Should other defendants follow Aastra's lead and agree to settle and license with the company going forward, the effect on the stock will most definitely be positive. And if Apple is one of the parties involved, Virnetx stock could reach levels it has never seen before.
As the first in a series of articles about VirnetX, this article has focused on what the company actually does, what defines "secure communications," and how businesses like Apple are utilizing these patented inventions today. Future articles will discuss in detail some of the following topics:
Monetizing VirnetX's patent portfolio
Key timelines in VirnetX's business plan
4G LTE-Advanced / All-IP Networks
Disclosure: I am long VHC.