W.W. Grainger (NYSE:GWW) is a leading supplier of maintenance, repair, and operating products with a market cap of $13.65 billion. Its top ten products in order of highest to lowest sales in 2011 are: safety & security; material handling; metalworking; cleaning and maintenance; pumps, plumbing, and test equipment; hand tools; HVAC; electrical; lighting; and specialty brands. These are the mundane products that are often taken for granted, but will always be needed. The total product line includes over one million products.
One highlight worth noting is Grainger's eCommerce business. In 2011, eCommerce comprised 27% of the company's total sales. In 2005 the percentage was just 15%. Projections for the future have eCommerce comprising 40% - 50% of total sales between 2014 and 2016. Q1 2012 eCommerce sales were 29%. This is Grainger's most profitable channel.
Grainger's eCommerce provides customers with a best-in-class online experience. Features include personalization/customization, user-friendly online search, real-time availability, and access via desktop and mobile devices.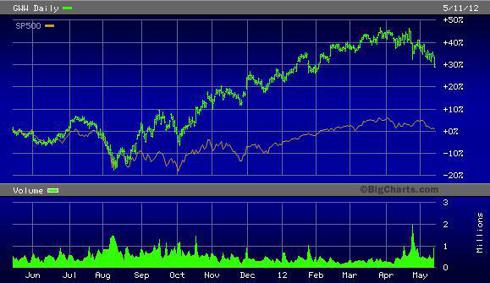 Grainger just recently reported that its April sales increased 12% year-over-year. This is broken down into 7% organic sales and a 5% contribution from acquisitions. This is an example of Grainger's strategy to grow via acquisition and to simultaneously increase sales organically.
The stock price tends to grow in line with earnings which allows the company to remain fairly valued. This is reflected in its forward P/E ratio of 15.82, PEG of 1.33, and price to book ratio of 5.1.
Grainger has a profit margin of 8.2% and an operating margin of 13.14%. Operating cash flow is $733.96 million and free cash flow is $438.79 million.
For the past five years, Grainger has grown earnings annually at 14.94%. It is expected to grow earnings annually at 13.63% for the next five years. The company also pays a 1.6% dividend. Investors can reasonably expect to achieve a 15.23% CAGR (compound annual growth rate) in the form of stock appreciation and dividends. If dividends are reinvested, a $1000 investment in GWW should double in five years and be worth over $4000 in ten years.
Over the last ten years, Grainger stock has increased 290% when the S&P 500 only gained 10%. The company's consistency should allow it to repeat that performance. Success has come from financial strength and focusing on the customer.
The company has its eye on international expansion in Latin America and Asia. These high-growth markets provide the right combination of size, competitive landscape, business, and supply chain leverage. Grainger is also looking for acquisitions in new and existing markets. This allows the company to expand its presence in areas that it already operates in and provides entry into new markets.
Grainger stock should reasonably double every five years with its current business strategy. This growth will continue to crush the performance of the S&P 500 over time.
Disclosure: Although I don't own GWW individually, I do have a position as part of a fund in my retirement plan.