Loews Corp. (LTR) is often compared to Warren Buffett's Berkshire Hathaway (NYSE:BRK.A) for its savvy investments in public companies. Most notably, the $26 billion conglomerate's stakes in Diamond Offshore Drilling, Boardwalk Pipeline, CNA Financial and Carolina Group. There's also Loews Hotels, an energy business and $2.5B in cash. Although shares have doubled since CEO James Tisch took over the family-run business in 2004, Barron's says its $49 shares are undervalued: Loews net asset value denotes a $64 share. Shares currently trade at just 10 times 2008 profits of $5/share, and bulls think several catalysts could lift its stock. One would be the forthcoming spin-off of Carolina Group, a tracking stock for Loews' tobacco unit, Lorillard. Loews gets to cut its $5.7B stake in Carolina, tax-free, while retiring 20% of its stock and raising NAV. It also eliminates the tobacco suit risk that Lorillard held for the conglomerate. Lorillard benefits by losing its tracking stock-status and could even become a takeover target. Diamond and Boardwalk have been money-makers for Loews, but insurer CNA tanked this year on the subprime crisis fallout. CNA's improved capital position and operations should help it rally in 2008. Barron's says Loews shares could reach $59.
Additional Reading: Where is the North American Natural Gas Market Headed? • Cash-Rich Companies May Sop Up Oversold Value - Barron's • Natural Gas Primed to Heat Up • Loews to Spin Off Cigarette Unit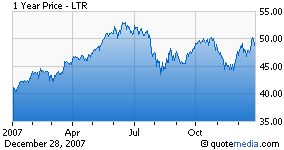 Seeking Alpha's news briefs are combined into a pre-market summary called Wall Street Breakfast. Get Wall Street Breakfast by email -- it's free and takes only seconds to sign up.