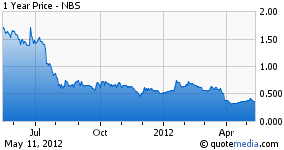 On April 23rd, I wrote an article in which I discussed cell therapy, an industry that I suggested as becoming a major provider of growth in biotechnology. I specifically focused on a small company, NeoStem (NBS), which I described as being misunderstood and with unrealized potential because of its diversified business structure. To my surprise, the stock has since returned a gain of 15%, which basically means that I regret not buying the stock. Yet over the last week, while I was away on vacation, I received a number of emails in regards to the company and its operations. The majority were questions regarding cell therapy, the company's cell manufacturing business, and how the company could profit from the advances of this technology. Therefore, I have written this article as a way to answer the collective questions regarding NeoStem, its business, but more specifically cell manufacturing.
In my previous article, I made it very clear that this particular business can be quite confusing. The reason I first mentioned NeoStem is because I think it is one step ahead of all other biotechnology companies in the progression of a therapy that has the potential to change the medical community. This particular company has the potential to return enormous profits, in part due to other companies' efforts to profit from the newfound advancements of cell therapy. Before we get into how NeoStem can benefit from recent advances and newfound emphasis on cell therapy, let's break down its business, which I already said can be confusing.
The best way to look at NeoStem is to break its primary segments into four parts:
Regenerative medicine segment which includes VSEL Technology platform. This is an area of future emphasis which the company believes will change everything about cell therapy. It's definitely more research oriented but is important to the future advancements of the field.
Recently acquired Amorcyte and a Phase II candidate, AMR-001, for the treatment of acute myocardial infarction for which enrollment of a Phase II study in the United States commenced in January.
Over 50% ownership in Suzhou Erye Pharmaceutical Company, a generic pharmacy company, for which NeoStem has reportedly hired a financial advisor to assist in selling its stake in the company. Some have valued NeoStem's stake to be more than its current market cap.
Cell therapy contract manufacturing business, Progenitor Cell Therapy (PCT)
The combined segments of NeoStem's business provide the company with substantial value. The company has already stated that it's exploring the generic pharmacy business and that interested buyers do exist. By selling this segment, it could provide enough cash for the company to properly develop the studies of its Phase II drug, AMR-001, in which the manufacturing for the trial will be conducted by Progenitor Cell Therapy, the company's other segment which I believe is the most valuable of the company's assets.
NeoStem's cell therapy contract manufacturing business is perhaps the most confusing aspect of the company because, although complex, its other segments are somewhat self- explanatory. The manufacturing business performs work that we as investors are unfamiliar with and that has not been heavily publicized in biotechnology.
First, it's important to understand that cell therapy is primarily used in regenerative medicine, with the idea of creating a new organ, tissue, or cells. NeoStem contracts its services to manufacture cells on a large scale. The process is both difficult and very expensive for a company in the clinical phase, working on a product that requires the development of cells. NeoStem's business, PCT, has several locations. It is one of the largest in terms of manufacturing and capacity, and has a staff of very experienced individuals who have been working on the manufacturing of cells for many years prior to its recent headlines in the news. For example, companies that need cell products, or that are working on a developmental candidate, may not want to build their own manufacturing facility or train their own staff. Therefore, arrangements are made with NeoStem which then develops cells for various candidates and has the ability to manufacture all candidates.
The reason I originally looked at the company is because of its manufacturing business and my belief that there will be a growing demand for this industry that will significantly outperform the market over the next 10 years. NeoStem's business is among the best (and possibly the best) in the space, having manufactured over 30,000 products. I think it is very possible that cell therapies become a standard of care for a multitude of diseases and that NeoStem stands ready to benefit. It simply doesn't make sense for a developmental company that needs cell products to create its own product because of the risks involved with hiring and costs. This is the primary reason that high-profile companies in this space, such as Baxter (NYSE:BAX) and Dendreon (NASDAQ:DNDN) have chosen to use NeoStem's services for the manufacturing of its products.
The growth potential for the company's various segments lies, perhaps, most in its manufacturing. The company's lead candidate, AMR-001, is very similar to the late-stage Baxter candidate that NeoStem just so happens to be manufacturing. The manufacturing presents so much upside potential because of the backend revenue generated upon the approval of candidates that were helped to develop. NeoStem is now working with a number of different companies; if several of these companies are awarded an FDA approval, there could be significant revenue for NeoStem, which would be converted mostly into income.
As with most development phase biotechs there are two issues that may concern investors not accustomed to the biotech investment mindset, money and speculation. The first problem, money, is one of the primary reasons that the stock has been pushed lower over the last year. Just recently, in March, the stock was trading at $0.60 but then fell to $0.30. The reason for the decline being a round of financing to raise money, which is normal and necessary on behalf of most developmental biotechnology companies. What I find to be encouraging is the fact that NeoStem is shopping the generic pharmacy business. Of course, I don't know how long it will take to sell the business but, upon completion, it should provide enough cash to stabilize the company and allow it to move forward on the execution of more important ventures.
The second problem also relates to financing: The company is speculative, though it has potential upside. I do believe that all developmental biotechnology companies are speculative and, I am not concerned with this as this is the very nature of a small pharmaceutical company, it's the risk you take to invest in the space. The stocks had a lot of selling pressure as of late, but I think people forget the value of its generic pharmacy business along with the fact that NeoStem reported over $70 million in revenue in 2011, despite being a developmental biotechnology company. The company has a Phase II candidate that is strikingly similar to Baxter's candidate, which is being manufactured at NeoStem's facility, and is a major advantage for NeoStem. I believe the largest upside lies in the manufacturing business and the company's ability to capitalize on a growing demand for cell therapies that have recently become the focal point for a long line of medical research. At this time, the company is working with several late-stage candidates; if approved, the company can hopefully lock the drugs into long-term contracts and return large revenues from sales for many years to come.
The business structure to NeoStem is complex and can be confusing for those who are accustomed to the standard of biotechnology companies. NeoStem definitely has its hand in several different segments of business and has managed to return decent revenue because of its diversification. I really like the moves the company is making and feel as though it's on the right path. The PCT business has been manufacturing cells for many years. It must be enlightening for investors to see that the industry of cell therapies is gaining so much momentum: NeoStem now has its own late-stage candidate ad is among the best at knowing how to effectively create the best cell therapies. The PCT capacities and revenue, the Amorcyte phase II drug and the potential money from the pending sale of Suzhou Erye Pharmaceuticals are all reasons investors will begin to more closely monitor the budding stem cell biotech.
Disclosure: I have no positions in any stocks mentioned, and no plans to initiate any positions within the next 72 hours.
Disclaimer: The information in this article is for educational purposes only and should not be used to make any investment decisions.