The question is in what direction. For me, I'm using the futures market to get my charts and my numbers. I am cognizant of the fact that many do not base their decision or calculations from the same source. However, they are fairly close in value. For instance, the May S&P futures last tick, (as of this writing) occurred at 1350. The closing price of the S&P on Friday was 1353. So you see, these numbers are not exact, but for the intents and purposes of this article I will be referring to S&P futures value, rather than the fair value of the S&P.
Below, is a chart displaying the S&P (ES for futures traders). The chart has an interesting interval of eight hours. This chart also has a range of February 6th through the close of Friday, May 11th. The reason I go into so much detail here is to make sure everyone understands the chart.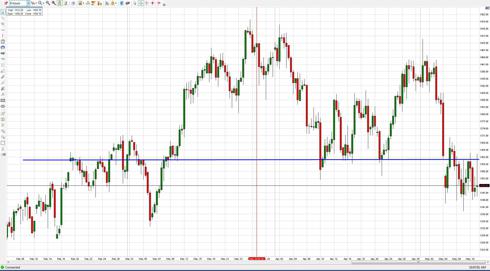 (Click chart to enlarge. Courtesy of Global Futures).
As you can see, the level around 1360, shown as the blue line on the chart above, has been acting as a floor since early March. Back in February one can see that the 1360 level was rejected upon several attempts, acting as a significant ceiling, or resistance. Finally, in the second week of March, an S&P rally put it up and over that benchmark. From there the rally was able to rest, consolidate, and resume the current uptrend.
Then, over the course of several trading sessions, one can see that the S&P visited that level (1360) 3 more times, this time acting as support, and each time receiving a nice bounce before resuming higher. Finally, in early May the selling accelerated and that recent was support broken. The old saying says that when price action breaks a previous support, it often times acts as the future resistance, and vice versa.
Well, currently that is what we're experiencing here. Another look at the chart above and one will see that the S&P has failed the 1360 several times in just the past several weeks, the latest being on May 11th, or last Friday, where one can see a very long candle wick present after an early session tag near those levels.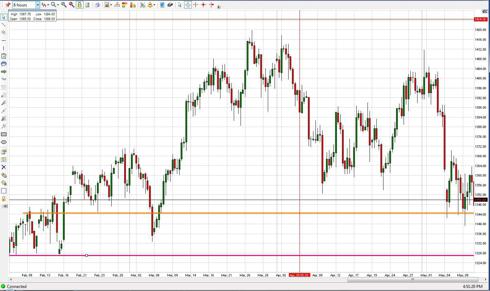 (Click chart to enlarge. Courtesy of Global Futures).
Above is a chart with approximately the same date range, as well as eight hour intervals. In this chart one can see that we have been in a relatively tight trading range, from 1345, where the orange line is drawn, to 1360, the new line of resistance. Also present on the chart above is a pink line. The pink line represents a stronger floor of support should the 1345 area give way. The pink line is drawn at approximately 1330. This number is not exact, but has shown in the past, in particular most of February, that it acts as a significant floor for the S&P. In early March selling pressure pushed it close to that support level, with an intra-day low of 1332.50, before rallying higher for the rest of the month. That level has not been tested since March 6th, but could be in the coming days or weeks should equity markets receive more selling pressure headed into the summer amidst yet again, more European economical issues.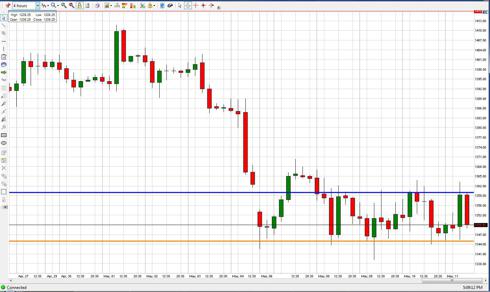 (Click to enlarge. Chart courtesy of Global Futures).
Above is a chart displaying the current trading range. It is using four hour intervals this time, and has a small range. The orange line is drawn at 1345, and is viewed as the current support. The blue line, like the first chart, is drawn at 1360 and demonstrates current resistance.
Fundamentally, the market is beginning to look weak here. Jobs numbers have been rolling in and have been dismal at best. Other economic indicators have also been suggesting a slow paced growth, which is good, but also shows that it could flip any second. The earnings bar was not set very high this quarter. Many saw the good, strong companies report good numbers, and their stock price saw the reward.
However, this time around, Mr. Market was not afraid to punish those companies who were not worthy of capital appreciation. Growth is expected to be fairly decent in the second half of 2012, and I think that we may run into some issues with that, both on an earnings basis with individual companies, and on a bigger scale, including the broader markets and nations abroad.
Europe seems to still be the main headwind. Every few days a new headline comes across the screen that sends the markets into panic. With such good gains many have seen thus far, they are apprehensive to see them vanish, and with good reason. Each of the past two years we have seen a nice rally to begin the near year, but the saying "sell in May, and go away," has provided a substantial reward for the ones who have followed that mantra.
This year may be shooting to make it three for three, and if the Europe contagion gets worse, one can expect the U.S. equities markets to feel some pain. I especially think things will get worse if the talks from Greece defaulting turns into either Italy or Spain, or both. Both of those nations are many times bigger than Greece (economically), and should one of them get to default status, the ECB likely won't have enough money to bail them out. That could be disastrous.
WTI crude has been getting crushed in the last two weeks. $100/barrel was becoming the norm and we all expected $5 gas at some point this year. Well, not anymore, at least from the looks of it, with crude clinging on to the 95 handle. I, along with many others, expect oil to keep drifting down. Demand has been falling, inventories are rising, Europe is slowing, and tensions in the Middle East are soothing (knock on wood). With all of this put together, I can see very clearly why crude is taking it on the chin.
But most importantly, if we are going to see mediocre to good growth in the second half of this year, $5 for a gallon of gas is not acceptable. With falling gas, working U.S. citizens will have more money in their pockets to spend. With optimism rising and spending increasing, companies can start to see a boost on their balance sheets too. If earnings beats on a steady, heavily positive note, the stock market will reflect this.
Eventually the market has to pick a direction, up or down, and we likely won't stay within a 15 point trading range for too long. Either good economic data or optimistic news from across the pond will push us up and over 1360, and the yearly uptrend will continue. Or things will worsen in Europe and slowing growth and poor domestic economic numbers will push us lower going into summer. Whether the move is long term or short term, no one knows. But eventually one of these two levels will give way.
It is also important to note that the 50-day simple moving average has already been severely violated. Should a push above 1360 occur, this would likely be the next line of resistance. Unfortunately, the 200-day simple moving average is currently resting below 1300, which is fairly far away at this point.
Going into Monday I am mainly neutral. My only long position that I hold is Microsoft (NASDAQ:MSFT) via call options. Personally, I will only be trading this current range (1345-1360) until one of them gives way in a significant manner. After that, I think that will be the general direction until we hit the 50-day simple moving average on the way up, or 1330 on the way down.
For investors and traders alike, the easiest way to take advantage of the S&P movement would be by using the SPDR S&P 500 Trust, or as many know it, SPY.
Disclosure: I am long MSFT.