If Greece heads to another round of elections, the anti-austerity movement is expected to strengthen. It appears to be only a matter of time before central bankers have to step in again. The Spanish 10-year is hovering at yield levels not seen since November 2011 before the ECB's unlimited three-year loan program for banks.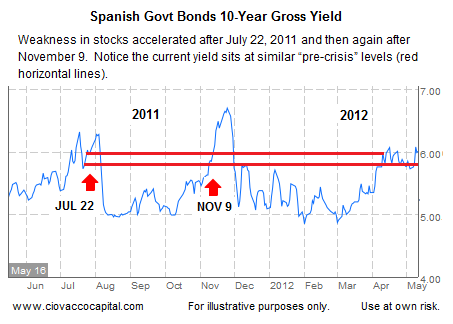 It is possible we are looking at a similar scenario to summer 2010, when stocks weakened considerably between May and July. Things did not turn around until Ben Bernanke strongly hinted at QE2 in his August 2010 Jackson Hole speech.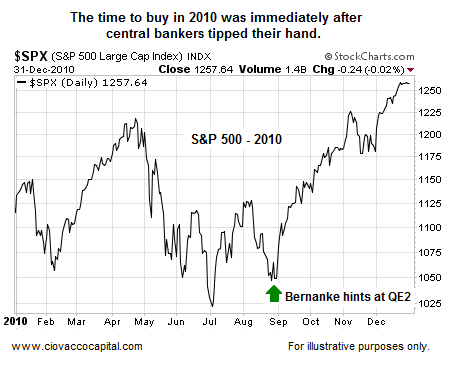 Over the weekend, there was little in the way of good news coming from Greece. According to Bloomberg:
Greece's biggest anti-bailout party, Syriza, said for the second time in as many days that it won't join a unity government, pushing the country closer to new elections that have sparked concerns about a euro-area exit.
Nine-MSN, in a story dated May 14, also gives little encouragement relative to progress in Greece:
Emergency Greek cabinet talks have yielded no clear progress, raising the prospect of new elections that could scupper reforms and drive the country out of the eurozone. If a cabinet cannot be formed by Thursday, when parliament convenes, new elections will have to be called in June.
The S&P 500 (NYSEARCA:SPY) finished last week firmly in neutral territory and near support. Unless a breakthrough comes in the Greek political stalemate, the S&P 500 may break below the neckline of a potentially bearish head-and-shoulders chart pattern (see below).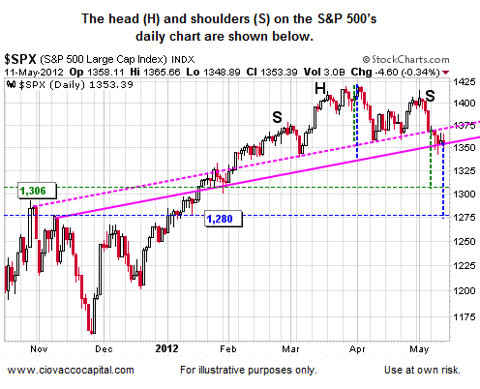 Should the pattern come into play, the video below describes how the possible downside targets of 1,306 and 1,280 were derived. The video also provides updates on the CCM Market Models, DeMark targets, and valuations of blue-chip dividend-paying stocks.
After you click play, use the button in the lower-right corner of the video player to view in full-screen mode. Hit Esc to exit full-screen mode. You can also access the video here.
If the S&P 500 futures make a clean break below 1,350 and the CCM Risk Model retreats below 50, we may take another incremental step away from risk. The bulls could get a jump start if a new Greek cabinet can be formed sometime before Thursday.
Disclosure: I have no positions in any stocks mentioned, and no plans to initiate any positions within the next 72 hours.