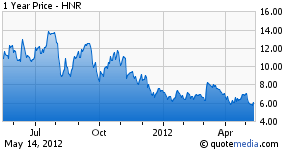 Harvest Natural Resources (NYSE:HNR) is not a stock for everyone. There is risk when the bulk of your assets are in Venezuela. However, I believe that the market has mis-priced the risk and that the risk/reward profile is very compelling.
Let's look at the risk first. Hugo Chavez already nationalized the petroleum industry on May 1, 2007. In the unlikely event that Venezuela nationalizes the oil industry again Venezuela is obligated to pay "appropriate compensation in accordance with international law." According to the Wikipedia article on Nationalization, "appropriate compensation" represents a compromise, taking into account the need of developing countries to pursue reform even without the ability to pay full compensation, and the Western concern for protection of private property (i.e. book value verses market value).
Chavez has always compensated owners for nationalized assets. After May 1, 2007, Chavez offered Exxon-Mobil book value for its assets as compensation. Exxon-Mobil (NYSE:XOM) appealed and it now appears that Venezuela will have to pay a 20% premium to book value which is well below what Exxon-Mobil was seeking. I believe that the chance of a second nationalization is very low, but if it were to happen I believe that Harvest could achieve book value ($232 million or approx $5.80 per share) quickly if Harvest choose not to arbitrate. I consider $5.80 per share to be the floor for Harvest's Venezuelan assets. With a share price of $6.01 at the date of this writing, there is little difference between the current market value and the book value of Harvest Natural Resources' Venezuelan assets.
Note: After May 1, 2007 Harvest Natural Resources negotiated with the Venezuelan government and was awarded (3) new oil fields in lieu of compensation or vouchers that were offered. Because of the value received verses what was lost, nationalization was largely a wash for Harvest.
Now let's look at the upside. If the Venezuelan assets were located almost anyplace else in the world then the market value of Harvest Natural Resources would be multiples of what it is now. At $96/barrel WTI the proven plus probable reserves are worth over a billion dollars after tax (over $25 per share). I believe that the proven plus probable reserves substantially understates what will be ultimately recovered because Ryder Scott has used a conservative 10% recovery factor for the three new oil fields (El Salto, Temblador, and Isleno) verses a 30% recovery factor for the (three legacy oil fields (Uracoa, Bombal, and Tucupita) despite similar geology. Further exploration is bound to increase reserves too. Additionally, the value of the Venezuelan assets are quite insensitive to the price of oil due to cheap extraction costs combined with a sliding royalty rate.
In an effort to realize value for shareholders, on September 27, 2010 management announced retention of a financial advisor to explore strategic alternatives. Management has repeatedly stated, and continues to say, that there will be no fire sale. Management has also indicated that a sale at the current share price would constitute a fire sale. On March 6, 2012 management announced that Harvest has commenced exclusive negotiations for the sale of its Venezuelan assets. I believe that there is better than a 50/50 chance that this sale will be consummated. Why engage in exclusive negotiations for the last 2+ months if the sale wasn't likely?
Disclosure: I am long HNR.