This morning Seadrill (NYSE:SDRL) announced another solid quarter for the company, reflecting strong underlying operational performance. For the first quarter of 2012, Seadrill generated US$595 million in earnings before interest, depreciation and amortization [EBITDA]. First quarter net income was reported at $439 million, meaning EPS of $0.89. EPS beat estimates by $0.18, and consolidated of US$1.05 billion was in line with expectations.
The company announced another increase in the ordinary quarterly cash dividend by 2 cents to $0.82, meaning a current annual yield of 8.95%! In addition, Seadrill has announced to pay an extra one-off dividend of $0.15 per share. This is related to an equal cash distribution coming from Seadrill's investment in SapuraCrest.
During the quarter Seadrill secured new contracts with a total revenue potential of $870 million and Seadrill ordered two ultra-deepwater harsh environment semi-submersible rigs, at Jurong and Hyundai, for a total consideration of $1.3 billion. The company also ordered an ultra-deepwater drillship at Samsung for $600 million, to be delivered by Q3-2014.
Besides the previously mentioned $870 million in new contracts, Seadrill was able to secure a 3-year $710 million deal for West Leo, the ultra-deepwater semi-submersible rig, plus a 5-year $235 million deal on the T18, a tender rig.
It's clear that the current outlook and fundamentals for the oil and gas industry still remain strong. Encouraging exploration successes in established as well as frontier basins are leading to an increasing backlog of appraisal and development drilling projects. This continues to support the expectation of continued strength in all sectors of the contract drilling industry for the foreseeable future, beneficial not only to Seadrill, but also to its main peers Ensco (NYSE:ESV) and of course Transocean (NYSE:RIG).
Taking a fundamental look at Seadrill, you first notice that the company currently trades at a higher Price/Book ratio (2.8) than its peer median (1.8). Operating performance is relatively good compared to its peers. The market currently does not expect high earnings growth relative to peers, but seems to expect the company to maintain its relatively high rates of return
A big plus for the company are SDRL's relatively high profit margins compared with its chosen peers, and changes in the company's annual earnings are better than the changes in its revenue, implying better than median cost control and some economies of scale, along with the benefit of a relatively young fleet. The company's relatively high pre-tax margin also suggests tight control on operating costs versus peers.
While Seadrill's revenues in recent years have grown faster than the peer median, the market gives the stock an about peer median PE ratio, same as ESV and slightly higher than RIG, suggesting that the market has some questions about the company's long-term strategy. This of course has to do with SDRL's Debt to equity relative to its peers: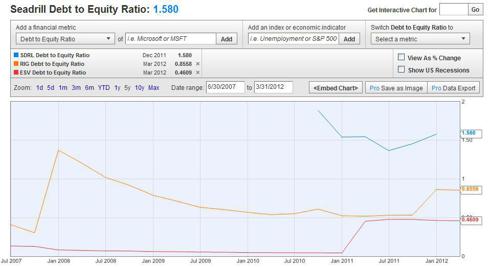 Despite this fact, Seadrill cash flows still provide the company sufficient interest coverage to take-on additional debt prudently. We've seen the company ordering six new builds in the last 3 months, and the company currently has 18 drilling units under construction. It's clear management remains bullish on the outlook for drilling services, in particular related to the demand for high-specification equipment.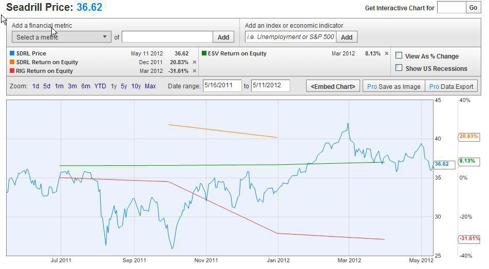 Many have had questions and worries about SDRL's dividend policy in recent quarters, but with market leading Return on Equity [ROE] and ever increasing demand from the company's 6 main customers, namely oil and gas giants Petrobras (NYSE:PBR), Statoil (NYSE:STO), Total (NYSE:TOT), Shell (NYSE:RDS.A), BP (NYSE:BP) and Exxon (NYSE:XOM), there's little reason to assume management will change its policy of generous distributions any time soon. Ever higher dayrates enjoyed by the company and its peers mean Seadrill can continue to finance its dividend and at the same time grow its versatile current fleet of 63 units, to profitably operate everywhere from shallow waters to ultra-deepwater harsh environment areas.