In early December, Rockwell Medical Technologies (NASDAQ:RMTI) received approval from the FDA to begin a NIH-sponsored clinical trial of its innovative, water soluble iron replacement therapy for dialysis patients called SFP for short (Soluble Ferric Pyrophosphate). The nine month, 30-patient study will examine whether Rockwell's SFP is able to support normal iron and hemoglobin levels, reduce the need for supplemental IV iron, and avoid causing oxidant stress and inflammation.
Specific outcomes in the study include the maintenance of hemoglobin and iron levels, the need for intravenous iron, and the measurement of oxidative stress markers in patients receiving SFP with their dialysis versus patients receiving standard, iron-free dialysate. Patients in both groups are eligible to receive intermittent intravenous [IV] iron sucrose per protocol if iron deficiency develops. The NIH-sponsored trial is slated to begin shortly with results expected to be published in late 2008 and follows the early October initiation of a Phase 2b dose-ranging study in 130 patients to determine the optimal SFP concentration to maintain normal levels of iron and hemoglobin.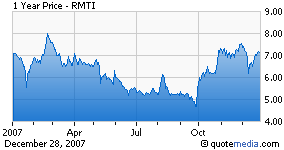 SFP represents Rockwell's lead drug candidate, which is being developed to provide iron maintenance therapy for anemic end stage renal disease patients undergoing dialysis. SFP is delivered directly into the bloodstream during dialysis in smaller doses and more frequently compared to IV iron therapy, circumventing accumulation in the liver and toxicity that may occur with the latter.
Rockwell also estimates annual cost savings of about $35 million for SFP compared to IV iron therapy through the elimination of nursing services and IV supplies. The Company has exclusive worldwide rights to SFP and holds patents in key markets, including the US, EU, and Japan. Rockwell believes the US market for IV iron therapy currently stands at just under $500 million, with expected growth to $1 billion within the next decade based on the aging population and increased incidence of end stage kidney disease requiring dialysis secondary to the diabetes epidemic in this country. The Company estimates the global market for IV iron to be $750 million with the potential for growth to $1.5 billion within the next 10 years.
Rockwell's current line-up of dialysate products are designed to be the delivery vehicle for SFP, providing the chance for the Company to expand upon its current 26% share of the US dialysate market by offering a value-added, high margin iron replacement therapy option for its customers while improving the clinical outcomes for anemic dialysis patients. At the end of November, the Company announced a private placement consisting of investment units comprised of one share of common stock and a warrant to purchase 0.5 shares of common stock, which was priced at $6.00 per unit. Rockwell received net proceeds of $12.7 million and issued 2.16 million shares of common stock at $6.00 per share along with warrants to purchase 1.08 million shares of common stock at an exercise price of $7.18 per share. This private placement was successful on two fronts – it was priced near all-time highs for the stock and secures the necessary cash to fund the remaining development expenses for the SFP program.
The Company has continued to trade near its 52-week highs since the offering was announced, closing Friday at $7.13 per share within a yearly range of $4.33 to $8.10 per share. Rockwell closed at a market cap of just under $63 million, with trailing 12-month revenues of just over $40 million and a net loss of $3.7 million over the last year. In early November, the Company reported robust results with sales growth of 60% for the first nine months of 2007 versus the year-ago period, resulting from domestic market share gains, sequential sales growth, and margin improvements despite an environment of rising fuel and raw material expenses. Rockwell Medical represents a compelling, under-the-radar investment opportunity for 2008 among emerging healthcare companies given expectations for positive clinical trial results for SFP, continued strong operating results, and the recently complete private placement which provides the cash to bring SFP to the market. The Company operates in a steadily growing, niche market segment for dialysis concentrate solutions and related supplies with a key growth driver ahead in the form of SFP. SFP presents a low clinical risk profile with the potential for high returns for investors in Rockwell given a commercial market in the US alone for IV iron therapy that exceeds the current market cap of the Company by a factor of eight-fold.
Disclosure: none