I'm going to add Landec Corp. (NASDAQ:LNDC) to our portfolio a little early as I like the price right now. This stock will be purchased for the portfolio at the opening price today, Monday, December 31, 2007.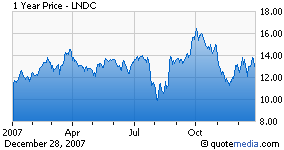 I've been watching this one for awhile, and it has pulled back in price slightly (but still above the 50-Day MA) which has had the added benefit of dropping the PEG below 0.50. I like the sector "Synthetics" over the next 12-18 months as well.
Landec is operating in a niche market that serves the agricultural industry. Basically, they sell temperature-activated polymer products that help regulate food freshness at the grocers. They also use their products to provide farmers with specialty seed coatings to provide for better crop yields.
The agricultural sector was very hot in 2007, and I see that trend continuing for at least 2-3 more years. I actually expect this to be a hot sector for 8-12 years, but I don't see owning the stock that long, so let's stick with 2-3 years. As the rest of the "undeveloped" world rapidly catches up to the developed world, quality and quantity of food being consumed is increasing. If you are not already latched onto this investment theme, it is not too late. It will continue for some time. Landec has moved to a fundamental price point that is screaming BUY ME right now.
Market Cap is just $334 Million. A level that allows for lots of movement going forward.
PEG Ratio stands at 0.43. By far, my favorite fundamental measure for long term (year or more) investing.
Currently 6.5% above its 50-day moving average. I use this to define an uptrend, as well as filter out stocks that "fall" to a low PEG.
Quarterly sales growth estimated at 11%
Positive ROE and ROA (A must for any long term buy). - 24% of the stock is held by insiders (vested interest in success).
Total debt to equity is less than 1% (a very healthy balance sheet).
Disclosure: Author will add this stock to his portfolio at the December 31, 2007 opening price.