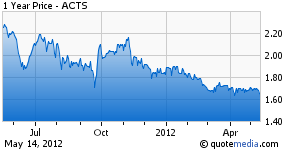 Actions Semiconductor (NASDAQ:ACTS) is either the cheapest stock in the world or just another well orchestrated Chinese fraud. Having been a shareholder for the past couple of years, I still remain cautiously optimistic for the former, although I have harbored some nagging doubts while watching the share price drift further and further below the net cash they supposedly have on the balance sheet. My apprehension is mainly because of management's reticence to utilize this cash hoard and not for the usual reasons you would suspect of a typical Chinese reverse merger stock, as ACTS came public through a traditional IPO back in 2005 and have been continuously audited by big four firm Deloitte Touche Tohmatsu.
This surplus cash was generated during the halcyon days of profitability ACTS enjoyed while supplying chips during the MP3 player boom, but has remained fairly steady over the past several years as that market has contracted in favor of smartphones. Revenue has been fairly flat over the same time period, leading to a string of roughly breakeven quarters of earnings lately, and since the market hates stagnant companies this has led to a long slow decline of the share price to under $2, currently trading at $1.70. While this seemingly represents a tremendous value compared to the roughly $2.80 a share in net cash they have even after subtracting all liabilities, the market apparently shares my distrust that the cash is really there, or at least is suspicious of management's motivation to continually refuse to put it to work better on behalf of shareholders.
While the company has engaged in a continuous buyback program, spending over $40 million to buy back a total of more than 18 million shares, including $1 million dollars worth in the first quarter this year, they say they remain constrained from buying more by anemic trading volume, blackout periods, and difficulty converting yuan to dollars. In fact, the latest repurchases were funded by borrowing from their offshore line of credit for this and other U.S. dollar cash needs. While they noted that this approach can help them take advantage of low interest rates and a favorable exchange rate, it seems suspicious when they have such a surplus of cash back in China, and investors are not likely to give Chinese companies the benefit of the doubt these days.
Interest income from $34 million in cash and short-term interest-bearing investments, as well as $188 million in trading securities that offer a higher interest rate, was only a total of $3.4 million for the first quarter, which works out to about 6% annualized. While that's not bad considering the low interest rate environment of today, it's hard to believe that they can get much lower rates on their offshore line of credit. Furthermore, if they were able to use this cash on accelerated buybacks instead, it would have a much greater return not just financially, but also in terms of legitimizing the company and regaining the trust of the market.
These are some of the reasons why shareholders and analysts have rightfully been clamoring for the company to try to do a tender offer or other method that would allow more meaningful buybacks. Even if they were just able to use the $34 million in cash to buy back about 15m shares even at a 30% premium, it would lower the share count while raising the amount of net cash per share to almost $3. Taken even further, management or a hostile competitor could conceivably buy the whole company for less than the amount of cash they have, leaving plenty left over with a promising business thrown in for free.
This seems even more desirable given that the company has recently launched a new product in the fast growing Android tablet market that they expect to finally jump start revenue growth and generate earnings again. Higher earnings and fewer shares means an even greater share of earnings for shareholders, which makes increased buybacks seem ever more imperative to anyone that cares about the company. And while this strategy may seem obvious to everyone else, stubborn management seems intent on holding this cash, and thus shareholders, hostage.
Disclosure: I am long ACTS.