Concentration, or Diversification?
Warren Buffett's billions in personal investments are not scattered across a hundred issues as a fund of similar size often is. Including his holdings in Berkshire Hathaway (NYSE:BRK.A), Mr. Buffett's investments instead number only about a dozen issues. However, his Berkshire holdings dominate his net worth.
Berkshire itself owns stakes in about 34 publicly-traded companies, an insurance segment (comprising ten insurers), and a non-insurance portfolio consisting of 69 separate businesses with their own management teams. Although the insurance segment has historically generated underwriting profits for Berkshire, Buffett's letters to shareholders consistently explain that the value of the insurers lies in the investment gains derived from insurance float - that is, money Berkshire makes from funds held between the time insureds pay a premium and the (later) time claims are paid (or not paid after the time for claims has passed; this would represent an underwriting profit). Unlike borrowed money that carries an interest charge and (generally) a due date, the insurance float generated by a stable and growing insurance business bears no interest and - because it results from numerous relatively small policies - is consistent over time. As explained by Buffett in the letter to shareholders in Berkshire Hathaway's 2011 Annual Report, this is exactly the situation with Berkshire's $70 billion in float.
Yet, Berkshire's investment in publicly-traded securities is relatively concentrated. According to the last Annual Report, "57% of the total fair value of equity investments was concentrated in four investees." What has this done to Berkshire's book value over time? As compared to the S&P 500 Total Return (i.e., with dividends), it's mirrored the index: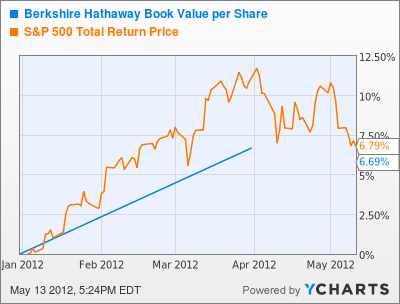 And why would a concentrated investment mirror a broad index? Simple. The concentrated investments - railways, insurers, home builders, and so forth - are all driven largely by the same macro effects that drive growth in sales and profits in the broader economy. Increased production or consumption will result in increased product transit; increases in secured lending will drive increases in full-coverage insurance on security; increases in the broad economy will result in increased earnings on insurance float. As customers buy Sees candy or lunch at Dairy Queen, or buy products that require ISCAR machine tools, or drink Coca-Cola (NYSE:KO), Berkshire does a little better.
But Berkshire's internal valuation improvements haven't just mirrored the broad index. Looking at a long enough slice of time to see the impact of management on adverse conditions, it's clear that Berkshire mirrors something like the index we might have if its constituent companies enjoyed the solid management of Berkshire, and the remainder were thrown out of the index: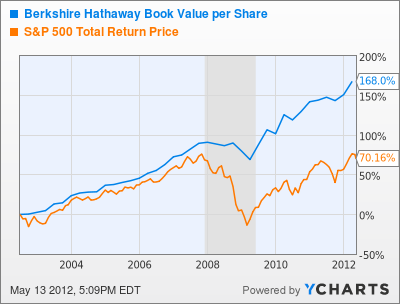 Note that the S&P 500 Total Return assumes zero taxation of dividends; Berkshire's result includes all taxes being paid when due, and full compensation of all Berkshire's managers. Since the S&P 500 cannot be bought directly (except through the impractical purchase of all its constituent companies, which would result in mis-weighting), attempts to mirror it with funds will always lag due to management fees. See below how the index and an exchange-traded tracking fund diverged over the past five years: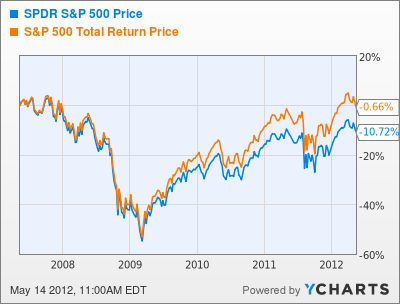 Instead of breaking even over five years, buyers of the SPDR S&P 500 (NYSEARCA:SPY) are down 10%, adjusted by whatever income the investor retains after paying taxes on the ETF's dividends (currently paying less than 2% of the ETF's price). Meanwhile, the equity behind each share of Berkshire - the basis on which Berkshire earns its growing income - has after taxes grown over the same period: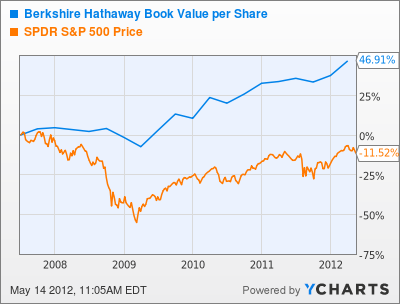 Berkshire's price, of course, depends on daily variation in the market rather than per-share metrics like assets or income. Over the period, the premium to book value with which Berkshire has traded has narrowed to the point that the company has announced it will buy shares when the premium dips below 10%. That is, Berkshire views its book value as such an understatement of its intrinsic value that it will use spare cash to buy shares at prices lower than 110% of book value. With price-to-book ratio in historically low territory, Berkshire is an attractive way to invest in an S&P proxy: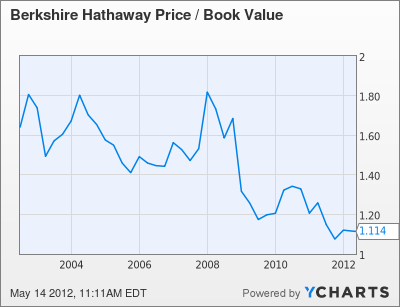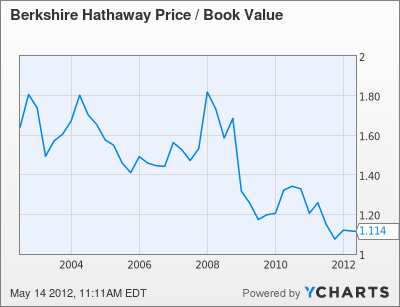 Value
It's hard to know what the intrinsic value of all the S&P components is, as the companies are numerous and varied. However, Berkshire Hathaway has a book value that, while understating the Berkshire's value, offers a useful measure of the company's ongoing changes in value. Both the current value of the company's obligation to repay float, and the current value of the company's unrealized but GAAP-booked tax liabilities for capital gains in holdings Berkshire plans never selling, are significantly overstated because they fail to include any discounting of future obligations into current dollars. Moreover, Berkshire will never be obligated to sell the securities that would cause capital gains to be realized, and Berkshire's float seems a permanent feature of its growing insurance business rather than a temporary loan.
Buying Berkshire near book value is, consequently, a discounted way to buy a company whose internal metrics mirror the best parts of the S&P 500. The contraction in Berkshire's premium to book value isn't the sort of occurrence that has much prospect of continuing, or the company would be selling below book while it continued to lay out cash - by the billions, so long as the price break persisted - to retire the shares so wildly discounted as a result.
Conclusion
There are other one-ticker portfolio diversification schemes to pursue, but lower net overhead and S&P-beating internal metrics seem to make Berkshire one of the most solid - and definitely the most conservative - of the bunch. In a later installment, the author will offer a look at another one-stock portfolio diversification plan. But compared to the SPDR ETF, Berkshire offers superior internal metrics and the potential for accretion due to share buyback while protecting investors from the risk of immediate-term taxes caused by dividends, and the risk that dividend taxation might change dramatically over the next few years. If one's objective is to beat the S&P, Berkshire near book value is a solid choice for the long term.
Disclosure: I am long BRK.B.