Audience (NASDAQ:ADNC) conducted its initial public offering last Thursday in a strong bid that confirms the market's willingness to invest in technology. The company listed 5.3 million shares at $17/share, well above its expected range of $14 - $16. Upon trading on its first day on the stock market, the company closed at $19.10/share. By Friday, the company closed out the trading session for the weekend's arrival at $20/share, a comfortable 18% over its listing price. Altogether, the company raised $89.6 million in its IPO. As of May 12, 2012, the company traded with a market capitalization of $388 million.
Business Overview
According to the company's S-1 filing, Audience serves as the "leading provider of intelligent voice and audio solutions that improve voice quality and the user experience in mobile devices." The company specializes in digital signal processors that are hardware enhanced and use little power. Employing these processors allows for improved sound quality and noise reduction.
Historically, the company has become heavily reliant on its arrangement with Apple (NASDAQ:AAPL). For its part, Apple's use of Audiences processors in its mobile devices accounted for 82% and 79% of Audience's total revenue for the year of 2010 and for the 9 months of 2011 respectively. Audience has also been able to levy a royalty of an undisclosed amount on Apple paid on a quarterly basis. Such an arrangement may be indicative of who's pulling the strings in this arrangement.
While accounting for a large position of the company's revenue, Samsung (OTC:SSNLF) has also gained increasing influence in the operations of Audience. Samsung accounted for 7% of the company's revenue in 2010 and 17% in the first 9 months of 2011.
Interestingly, the company asserts that it expects total revenue from Apple (via OEMs like Foxconn and Protek) to decline over time as the mix of revenue shifts from processor sales to royalties. Such a suggestion would indicate that the company is comfortably sitting on an advantageous position in its niche market space.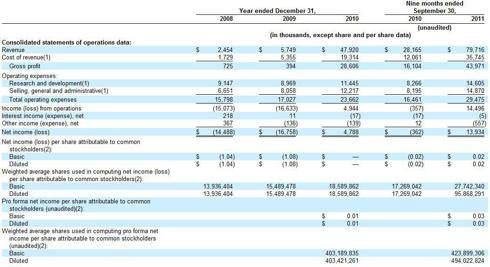 The company has experienced rapid growth in the last few years. In 2008, the company had revenue of $2.5 million. But through triple-digit growth, revenue grew to $48 million in 2010. By September 2011, the company was on pace to double its revenue year over year as it exceeded $79.7 million. By 2010, the company had become profitable with a net income of $4.8 million. By September 2011, the company had already earned $13.9 million for the first 9 months.
Conclusion
The rapid growth for the company over the past few years is likely to persuade investors into sustaining a relatively high multiple going forward. At its current pace, an argument could be made that the company is cheap as it looks to capitalize further on royalties and likely broaden its client base. Nevertheless, currently the company is heavily reliant on a single client found in Apple and may be subjective to significant risk based on the relations between the two companies. Investors looking to take a position in this company may wish to take these thoughts into consideration and weigh the company's suitability to their own risk tolerance.
Disclosure: I have no positions in any stocks mentioned, and no plans to initiate any positions within the next 72 hours.