We previously analyzed CenturyLink (NYSE:CTL) versus Frontier Communications Corporation (NYSE:FTR) and Windstream Corporation (NASDAQ:WIN), two other rural telecommunications firms and we still believe that CenturyLink offers the best risk-reward scenario of the three firms, due to its steady business performance, strong generation of free cash flows and growth potential from Savvis, especially after seeing each company's recent performance and forward guidance.
CenturyLink, Inc. CenturyLink is the leader in the rural-telecom services industry segment and the third largest U.S. telecom company by market capitalization, with a market cap of $24.6B as well as the third largest by total access lines. CenturyLink has been focusing is marketing and sales efforts on its strategic services, which consist of private line, Broadband, Multi-Protocol Label Switching, data center hosting, video and satellite digital TV through its partnership with DIRECTV, Voice over Internet Protocol and Verizon Wireless (NYSE:VZ) resale services. CenturyLink reported adjusted earnings per share of $.68 on May 9th, which exceeded consensus estimates by $.10. CTL's pro forma revenue decline improved to 2.68% in Q1 2012 year-over-year, which was an improvement from the 3% pro forma revenue decline in Q4 2011 and a 3.6% pro forma revenue decline in Q1 2011. We believe that management has the company on track to meet or exceed its goal to reduce its annual revenue rate of decline to 1.5%-2.5% pro forma.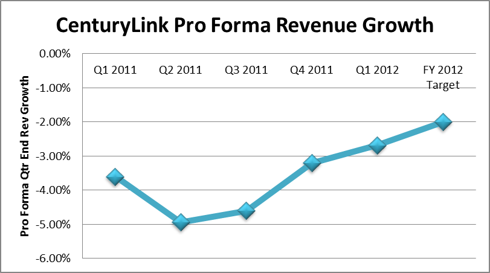 Source: CenturyLink's last five Earnings Releases
Highlights from Q1 2012 include the following:
Continued improvement in line loss trend during first quarter 2012 with 6.4% annual decline compared to 7.6% annual decline in pro forma first quarter 2011
Raised annual operating expense synergy target for the Qwest acquisition to $650 million from $575 million and exited first quarter 2012 with annual run-rate operating expense synergies of approximately $340 million related to Qwest integration.
Added more than 89,000 high-speed Internet customers to end first quarter 2012 with 5.64 million subscribers, representing 4.2% annual growth over pro forma first quarter 2011.
Expanded PrismTV subscribers by over 20% in first quarter 2012 from fourth quarter 2011 and increased penetration of available homes in our markets to more than 8%.
Prism TV gained 15,000 new subscribers to end the quarter with 85,000 subscribers. 55% of new Prism TV subscribers represented new CenturyLink subscribers.
Wholesale Markets completed 650 fiber builds to end the quarter with 10,800 fiber towers.
Savvis saw quarterly bookings increase by 26% versus last year's levels.
Savvis announced a joint venture with Digital Realty Trust (NYSE:DLR) to build a data center in the Hong Kong financial district and launched Savvis Symphony cloud products in Hong Kong and Japan.
Savvis ended Q1 with 51 data centers and 1.36M square feet of total sellable floor space.
CTL generated $920M in Free Cash Flows during the quarter.
CTL guidance for Q2 2012 Adjusted was $.59-$.64, which led analysts to increase consensus EPS estimates by 3.3%.
For FY2012, CTL increased operating cash flow guidance ranges by $50M and adjusted EPS ranges by $.10.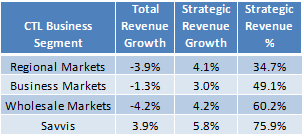 Source: CenturyLink Q1 Press Release.
In April, CenturyLink restructured its operating groups focused on business and government customer segments into two organizations. National and international Business Markets Group (BMG) customers, Savvis customers and federal government customers will be served by the new Enterprise Markets Group (NYSE:EMG). In-region large business customers and state and local government customers will be served by the existing Regional Markets Group (RMG). The Savvis Operating Group wholesale customers will be served by the Wholesale Markets Group ((NYSE:WMG)).
Frontier Communications Corporation. Frontier is a communications company providing services predominantly to rural areas and small and medium-sized towns and cities in the U.S.Frontier was the first rural telecom company to report Q1 EPS during the week of May 7th through May 11th. On May 7th, Frontier reported adjusted EPS of $.05/share, missing the $.06/share analyst consensus. The stock declined rapidly due to continued declines in revenue, operating income, EPS and free cash flows on a year-over-year basis. The 7.9% decline in wireline access lines served versus Q1 2011 has only been partially offset by a 2.8% increase in video subscribers and a 2.6% increase in the number of Broadband Internet customers served. The most pronounced declines came from the following business drivers: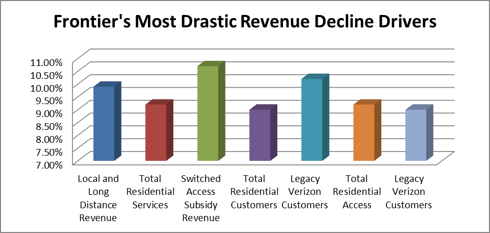 Source: Frontier's Q1 Press Release.
The legacy Verizon residential assets are performing worse than the legacy Frontier assets. We can see why Frontier had to cut dividends in Q1 by 46.67% yet Frontier has the highest dividend payout versus free cash flow ratio of the three rural telecommunications companies at 63.3%.
Windstream Corporation. Windstream was created when VALOR Communications merged with Alltel Corporation's spunoff landline division. It provides advanced communications and technology solutions, including managed services and cloud computing, to businesses nationwide. Windstream reported results on the morning of May 10th and though it met consensus estimates for earnings ($.13) and revenues ($1.55B), the stock dropped 11.72% versus its $11.26 closing price on Wednesday May 9th (before it released EPS results).
Though Windstream had the smallest total pro forma year-over-year revenue decline of the three major carriers, analysts were concerned that company saw a shockingly deep 6.3% pro forma decline in Wholesale Revenues because the ICC reform that went into effect on January 1, resulting certain IP traffic is now being charged at lower rates. It became clear to WIN that certain PAETEC wholesale products were no longer viable in the marketplace. In particular, as part of the appeal of a prior lower court ruling in PAETEC's favor, the FCC made a court filing in March that provided clarification on billing practices for certain wholesale products. In addition, WIN experienced an increase in the number of carrier disputes involving these products. Based on these developments and the importance of WIN's strategic relationship with these carriers, WIN decided to suspend and modify certain wholesale products to minimize its financial exposure for the balance of the year and beyond. WIN expects year-over-year declines in wholesale revenues of 12% in the second quarter. Coupled with the intercarrier compensation reform, effective July 1, it will see wholesale revenue declines of 16% in the back half of this year. WIN expects its results to reach the low end of its guidance from the beginning of the year.
There are two common threads for each of these three companies:
Each company's heritage was that of a rural incumbent local exchange carrier.
Each company has multiple connections to Verizon Communications.
The connections to Verizon are as follows:
CenturyLink bought Qwest Communications in 2011; Qwest Wireless was an MVNO operating on the Verizon Wireless Network.
CenturyLink has been a Verizon Wireless agent reseller since 2011.
Frontier bought Verizon's Wireline operations in 14 noncore service areas.
Frontier bought other operations from GTE and Alltel in the 1990s. Verizon later acquired GTE and Alltel Wireless.
Windstream includes Alltel's wireline business. Verizon acquired Alltel Wireless in 2009.
Windstream includes GTE Southwest assets that Verizon sold upon its acquisition of GTE.
Based on our analysis, we have determined that our thesis is still intact from last quarter. CenturyLink still offers a better investment opportunity than Windstream (and both certainly offer a stronger investment opportunity relative to Frontier) for the following reasons.
Though CTL's dividend yield is the lowest in the rural telecom peer group, it is still over 7.3%. Moreover it is due to the fact that it has a lower dividend payout ratio relative to its peers. CTL paid out 49.2% of its Q1 free cash flows from operations versus 63.2% for FTR and 55.7% for WIN. Also, FTR cut quarterly dividends by 46.67%, from $.1875/share to $.10/share. CTL's dividend yield is also higher than AT&T (NYSE:T) and Verizon even though CTL had a smaller payout from Q1 2012 versus those two firms.


Source: Bloomberg Finance LP, All Amounts in $M except ratios.
Though CenturyLink's credit rating is only two notches higher than Frontier and Windstream, CenturyLink is still an investment-grade company and it pledged to pay down $1.5B-2B in long-term debt to preserve its investment grade credit rating in 2012. CTL raised $2.05B in the sale of unsecured debt in March to purchase outstanding Embarq Corporation and Qwest notes in a tender offer. $1.14B was tendered from the Embarq notes and $878M was tendered from the Qwest notes. CTL's net debt was reduced by $369M during Q1 2012.
CTL has five key markets that we are attracted to; Denver, Phoenix, Seattle, Portland and Las Vegas. Denver (17.9%), Phoenix (33.1%) and Las Vegas (36.6%) have seen strong population growth. Portland and Seattle have also seen above-average population growth over the last 10 years.
CenturyLink is also the only one of the three rural telecom companies offering wireless service. CenturyLink became an authorized Verizon Wireless agent last year and will offer Verizon Wireless equipment and service plans to its residential and small business customers.
In conclusion, we are intrigued by CenturyLink's and Windstream's efforts to transform each company's respective business away from the declining core rural telephone businesses. We like the high dividend yields each company pays as well, which effectively pays us to wait by retiring their old existing asset base and redeploying a portion of it towards higher value adding assets. We also like the efforts of the companies to transform their businesses towards higher-value offerings, most notably cloud computing services.
We like CenturyLink better than Windstream due to the following factors:
Authorized Wireless reseller agreement with Verizon Wireless.
Higher Margin of safety with regards to paying out of Free Cash Flows.
CTL's Investment-Grade Credit Rating.
Presence in fast-growing metro markets as a result of the Qwest acquisition.
CTL's total return exceeding WIN's since WIN's Initial Public Offering.
CTL's $6.2B of Net-Operating Losses for Tax Purposes acquired from the Qwest and Savvis acquisitions are worth $2.5B and do not materially expire until 2020.
For 2012 YTD as of May 11th, CenturyLink has had the 2nd highest total return of the 6 largest US-based telecom companies.

Source: Bloomberg LP.
Disclosure: I am long CTL.
Disclaimer: Saibus Research has not received compensation directly or indirectly for expressing the recommendation in this report. Under no circumstances must this report be considered an offer to buy, sell, subscribe for or trade securities or other instruments.