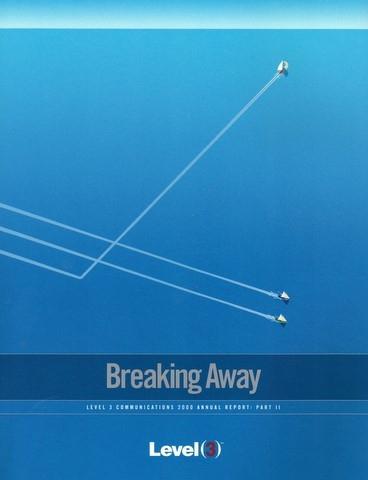 Anyone familiar with Level 3's (NASDAQ:LVLT) history may recognize the term "Breaking Away." It was the theme for the 2000 annual report.
The term was defined in a letter to the stockholders by James Crowe - CEO and Walter Scott - Chairman along these lines:
We believe more strongly today than ever that we are at the threshold of one of the great opportunities in business...It will take a bit of time, but we believe that the opportunity to create value - over the next several years and beyond - is immense. The opportunity before us is nothing short of extraordinary, and we believe it is ours for the taking. We have the right network, the right products, the financial strength and the right people. We believe we are uniquely positioned to break away.
Twelve years later the shareholder is still waiting for that defining moment. Some believe the defining moment could be the acquisition of Global Crossing completed on October 4, 2011 although it may not become apparent until integration is nearing completion. So where are they today and are there any signs suggesting the breaking away moment is near.
The company announced first quarter 2012 results on May 3 and as expected FCF (Free Cash Flow) came in at a negative $213 million. Not exactly a "breaking away" moment. We'll take a look at various metrics in an effort to determine if there is any evidence the vision can be resuscitated.
Revenue
Total revenue has grown less than 1% per quarter since Q1, 2011. Not encouraging but there is more to the story. Since the acquisition management has focused more attention on the enterprise segment. Jeffrey K. Storey - COO made the following comments:
Our overall growth in the quarter reflects our ongoing move toward enterprise customers. In general, we expect enterprise to grow faster than wholesale in the coming quarters. Our increasing focus on enterprise customers is working, and we see success in expanding our relationships with existing customers, as well as our ability to attract and acquire new customers.
Total enterprise revenue growth has averaged 2.9% QoQ since Q1/2011. The most recent quarter reported sequential growth of 3.2%. This equates to 13% year over year growth, more if they execute well.
FCF (free cash flow) EBITDA & Operating income
The following graph shows actual results on a ttm (trailing twelve month) basis.
Click to enlarge.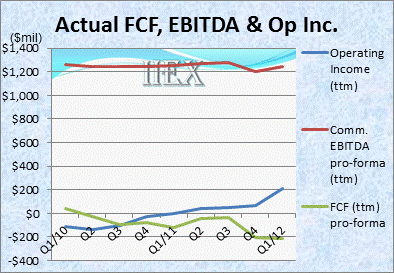 EBITDA and FCF are not yielding any trends we would call "breaking away." However the operating income is indicating a general uptrend which is a sign EBITDA and FCF will follow. Below is a comparison of operating income trends per share between LVLT and various competitors.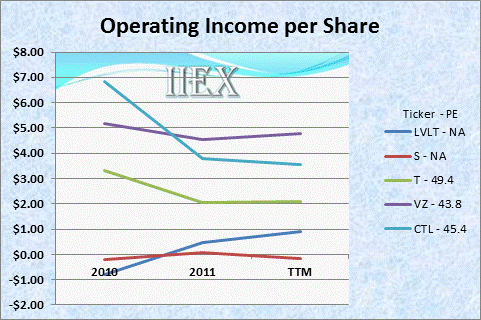 Picking a starting point of 2010 and using pro-forma results prior to the close of the Global Crossing deal; the trend for LVLT has been up among fierce competition. Others are mixed with Sprint (NYSE:S), CenturyLink (NYSE:CTL) and AT&T (NYSE:T) trending down while Verizon (NYSE:VZ) is showing some improvement in the last trailing twelve month period.
Negative FCF for the quarter was not a surprise since it is built into management's business outlook shown below.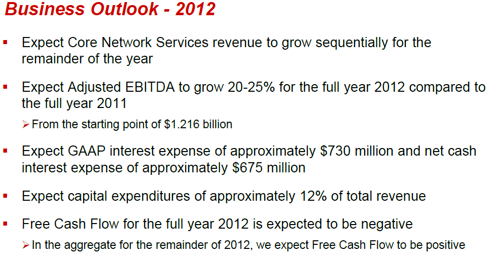 Using this outlook and projecting the trends yield the following: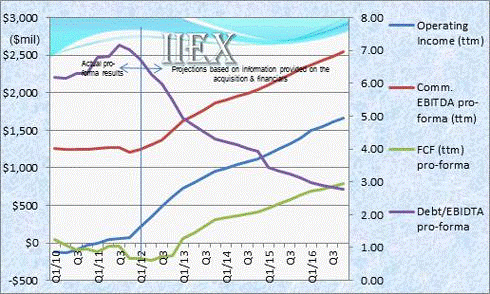 All point to growing positive trends accelerating in the second half of 2012.
Access to detailed financial results and projected numbers used in this article can be found here.
CONCLUSION
Are we at the start of the breaking away moment? Certainly not as originally envisioned but there is evidence events might be starting to move in the right direction as far as shareholder value being created vs. destroyed since the term "breaking away" was defined. Stock performance since then is shown below. (Stock chart is a log scale. Source: Yahoo)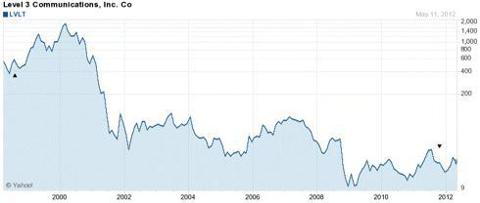 Based on the current outlook, the stock is undervalued, but it takes faith that management will meet or exceed their current business outlook and the trends will continue well into the future. The price trend looks positive albeit at a much slower rate than the descent since diluted shares in 2000 (approximately 25m) were a fraction of today's 256 million shares.