Most of my recent focus has been on closed end funds- playing for a tax loss bounce in January. But to keep things interesting, I thought I would write about a covered call opportunity.
YRC Worldwide (NASDAQ:YRCW) is a transportation holding company that controls some well known trucking "brands"- Yellow Transportation, Roadway Express and Meridian IQ among among others. Before talking about why I like writing a RCW covered call, I thought I would mention some of the negatives which may explain why the stock is so depressed:
Negative #1: Union contracts with high health and pension benefits
Negative #2: High fuel prices
Negative #3: The company has had some difficulties in integrating acquisitions.
In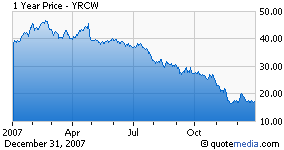 spite of the negatives, I think YRCW has been beaten up enough so the downside risk is not much, and writing a covered call provides even more protection. I would recommend writing the April 17.50 calls (bid 1.95- asked 2.05) against the common stock which closed today at 17.09.
Here are some of the reasons I like the YRCW covered call.

Option implied volatility is around 56 which is near the 52 week high volatility for YRCW.
Good sponsorship: YRCW has been a John Neff pick for quite some time. Neff is sometimes too early in his stock selections, but is often proven correct in the long term. Another good value investor, Arnold Van Der Berg acquired over 3 million shares of YRCW in the June-Sept time period at prices above $30. Van der Berg also has a very good long term record. Several good Fidelity funds, including Fidelity Low Price, also have positions in YRCW.
Forward P/E is under 7 times earnings. The P/E ratio of its competitors is 10 or higher. YRCW could appreciate 50% and still have a below average PE ratio.
Expectations for the company are very low. Over the last 90 days, the 2008 average earnings estimate has been lowered from $3.69 to $2.45. The average analyst price target has been lowered from 36 to 22.5. The expectations are so low, that it should make it easier for YRCW to exceed expectations in 2008.
YRCW has been rapidly incfreasing its international footprint. It has agreed to acquired 65% of a Chinese transportation company (Shanghai Jiayu Logistics) and will acquire the remaining 35% in 2010 depending on the company's performance.
YRCW has been hammered by tax loss selling which should let up after New Years.
There have been rumors on the Yahoo and Teamster message boards that YRCW may eventually get acquired by DHL (which is now owned by a German company- DPWN). Normally, I don't place much value on message board rumors, but YRCW is cheap enough that it may be plausible.

Full Disclosure: I am not currently long YRCW, but have placed it on a watch list for potential future purchase.