About a month ago, I wrote an article on Alcatel-Lucent (ALU) which indicated the stock was not an attractive investment candidate, but the value of the company's patent portfolio should put some sort of floor under the stock.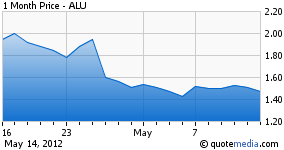 I was wrong. The Alcatel-Lucent share price is down one-third in the last month with no bottom in sight (1-month chart on right).
The company did not have a good first quarter of 2012. Compared to the first quarter of 2011, revenue was down 12%, gross profit declined by 25% and the Alcatel-Lucent adjusted operating income swung to a €221 million (10 cents per ADR share) loss compared to a €4 million operating profit a year earlier. The company ended up with an accounting profit for the quarter on a €659 million gain on the sale of the Genesys call center unit.
Since the start of the year, Wall Street analysts have reduced the expected full year net income down to 20 cents per share from the 29 cents forecast at the start of 2012. One more bad quarter - and there is no good reason to expect a good second quarter - and the company will be lucky to break even for the year. At adr.com, which tracks international analysts ratings, the mean earnings estimate for the year is 16 cents per ADS. Also, 24 of the 37 analysts following Alcatel-Lucent, 24 have revised downward in the last 100 days.
So the question is can Alcatel-Lucent break the buck and drop below $1.00 per ADS, which would be a 33% decline from the current share value. A declining euro will not help the dollar share price and a summer without any good news could easily push the U.S. price close to $1.00 or lower. It is hard to believe that another tech or network equipment company does not come in and buy up Alcatel-Lucent for the current $3.5 to $4 billion market valuation just to buy the patents and technical expertise. It is possible French labor laws make it prohibitively expensive to buy out a major French corporation. Just a hunch.
An aggressive trader may want to short ALU to profit from a summer share price decline. A more conservative position would be a pairs trade: long Cisco Systems (NASDAQ:CSCO) and short Alcatel-Lucent.
Disclosure: I have no positions in any stocks mentioned, and no plans to initiate any positions within the next 72 hours.