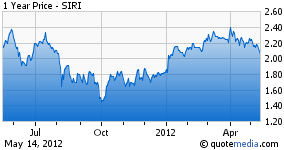 What a nail biter it has been in recent weeks for Sirius (NASDAQ:SIRI) investors and stock watchers, as they follow every move in the chess game being played out between Sirius' chief executive, Mel Karmazin, and John Malone, the billionaire owner of Liberty Media. Malone staged an unsuccessful and rather weak coup d etat of Sirius XM by petitioning the FCC for ownership of Sirius' operating licenses, which would have meant transfer of the controls of the company to Malone. The FCC rejected that bid on a technicality, the major sticking point being that Malone was unable to talk the Sirius board members into sharing required passwords and signatures that would have made for an acceptable request to the FCC.
The relationship between Malone and Karmazin was not always so acrimonious. Malone saved Sirius from a bankruptcy filing and Karmazin from an almost guaranteed pink slip back in 2009 by extending a $530 million loan. No one watching Sirius three years ago had any inkling that Malone was eyeing an eventual takeover. Malone himself may not have had this in the offing back in 2009 considering his many irons in the fire surpassing Ted Turner as the largest private landowner in America, as well as owning the Atlanta Braves, Discovery Communications (NASDAQ:DISCA) and participating as a board member in a host of high powered companies such as Expedia (NASDAQ:EXPE) and DirecTV (DTV). Malone is a shrewd businessman, nicknamed "Darth Vader", who has a knack for picking which battles to fight. His somewhat lacking recent attempt to try and gain control of Sirius even without proper documentation or enough shares (Liberty only retains 40%, not the necessary 50%), shows that Sirius as a company is worth a fight. A single minded, serious and driven force such as Malone would not waste time on a dying company.
Sirius itself has no major competitors. After the merger with XM in 2007, which is still not completely settled as it raises antitrust and monopoly concerns Sirius XM became the satellite radio provider, the only game in town for all American and Canadian consumers wishing to subscribe to the benefits of satellite radio.
With no other companies offering the same services as Sirius, consumers looking for alternatives must turn to similar-but-different options such as Internet radio giant Pandora or consumer programming music playlist services such as iTunes or Spotify. Creating playlists or streaming Internet radio serve a purpose for casual music listeners but for the serious audiophile or one who likes to listen to a wide variety of live sports, entertainment, talk and news, there really is no other serious contender for monthly subscription loyalties outside of Sirius.
22.3 million subscribers agree with that sentiment and the numbers are rising. Even with the economy as unsettled as it is, current Sirius subscribers were not dissuaded by recent price hikes and the new subscriber rates are steadily climbing. Untapped potential customers are being introduced to the concept and accessibility of Sirius every day as they purchase new vehicles equipped and ready to offer trial periods of Sirius. Sirius is converting free trial customers into paid customers at a rate of over 40%.
So, with a consistent, loyal and steadily growing subscriber base, a virtual monopoly on the services it provides, and seemingly not much concern about its inability to turn much of a profit to this point, the question remaining is the viability and potential of its stock value. In Sirius' history, its stock has varied wildly between mere pennies and upwards of $60. Currently, it's hovering right around $2. Insider selling by officers Dara Altman and Scott Greenstein raises more than an eyebrow about what's really going on with the company and where it's heading.
I believe Sirius still presents a better opportunity for investors than standard radio corporations. If only for the reason that Sirius has the opportunity to innovate its own technologies and move beyond what it offers today. Its subscriber base is also kept in closer ties with the company than mainstream radio's casual listeners. Mainstream radio companies, however, have held on longer than expected and continue to make moves for growth. Recently, Cumulus Media (NASDAQ:CMLS) sold over 50 of its stations in exchange for 10 higher valued stations and over $100 million in cash. Clearly, it expects that only a few companies will survive the dip in radio revenue and it is trying to position itself as one of them.
I believe a conservative route is the best for Sirius stock owners at this time. While the selling by Altman and Greenstein is a note of caution, it is likely not a reflection on the health of the entire company, but perhaps a sign of fatigue from the infighting and rough waters navigated since pre-bankruptcy-concern days. Sirius is not going anywhere and even if there is a shake-up in management of the company, that does not necessarily mean bad news for stock and profit. Malone, the key player in the attempted takeover, has a proven track record for success in his many different business facets. If he believes Sirius is worth fighting for, that's an opinion that I would not take lightly.
However, if Karmazin and his loyal board members are able to maintain control of Sirius, that's also not necessarily a negative situation for stock and profit. Karmazin has built Sirius into an impressive company that's maintaining viability, marketing entertainment in an economy where personal entertainment budgets are pretty thin.
Sirius has proven itself to be enduring, somewhat economy proof, growing and indispensable for its subscribers. It has become a company worth fighting for and Malone seems to have set his views squarely on gaining control. Whether he succeeds or not remains to be seen. With either commander at the helm, it looks like Sirius has gained some impressive footing and has a bright future with its expanding niche market.
Disclosure: I have no positions in any stocks mentioned, and no plans to initiate any positions within the next 72 hours.