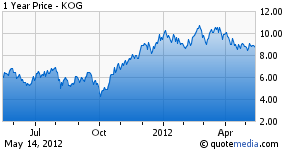 Kodiak Oil & Gas (NYSE:KOG) is looking good right now, and it may be time for investors to get behind the company.
On May 3rd, Bloomberg News reported that Bakken oil had strengthened to a premium against West Texas Intermediate crude after Tesoro (NYSE:TSO) said it was ahead of schedule in construction of an offloading terminal for the grade at its Washington refinery.
According to CFO Scott Spendlove, the rail terminal with a capacity of 60,000-barrel-a-day will begin operation in September. Though the terminal has got the permission to receive 30,000 barrels of oil a day, the announcement was reason enough for Bakken oil to further strengthen its stand.
Bakken oil strengthened $3 to a $1 premium to WTI. That's the first time since December that the grade has traded at a premium.
Out of the multiple Bakken/Eagle Ford companies, four companies are best poised to benefit from the jump in Bakken crude spot prices to a premium to WTI spot prices. All these four companies have the vast majority of their oil production activity in the Bakken. The other Bakken/Eagle Ford companies either have a majority of production outside the Bakken or they have sizeable chunk of land but with poor production capacity. The biggest advantage that these companies would have from the sudden jump in Bakken crude prices is the better than expected cash flow -- as long as the gap remains tight.
The company with a large exposure to Bakken crude oil as a percentage of overall production is Kodiak. Kodiak has 263.5 million shares outstanding. Most of the oil production for the company comes from the Bakken, due to its recent rapid growth in production. Although it has some legacy oil and gas assets, they are no longer the main focus of the company. To hedge its exposure to wide swings in oil prices, the company has been using swaps. Kodiak is solidly hedged for 2012 against any major price dive.
I believe this is a strong buy recommendation for Kodiak. A prudent long-term investor should definitely take advantage of this sudden closing of the gap between Bakken crude spot prices and West Texas Intermediate crude prices. In February, this gap was a deficit of over $25 and is now at a $1 premium. This spread has been volatile and this favorable pricing may or may not last. However, the takeaway capacity is finally running much faster than the growth in production.
There is a window of opportunity for those investors who are looking to cash in on the growth of small companies as more and more Bakken wells come on line . Though production is the key to the success for these small companies, the price of oil will be a factor as well. Over the last few decades, small-cap stocks like Kodiak Oil & Gas have produced market beating returns, provided they're value-priced and have solid businesses.
Kodiak stock enjoyed a dramatic rise, from $4.50 in October 2011 to a high of $10.52 in February 2012, before settling to its current level around $9. I think most of this was driven by the excitement over Kodiak's rapid extension in the Bakken. It is an interesting small cap oil stock because it is poised to grow even further on the strength of its recent acquisitions and conservative cash strategy. Moreover, I also believe that the change of control bond structure for bonds issued last year makes it a serious takeover target. I think large cap energy companies would see Kodiak as a strong acquisition if it meets its current development targets.
Benefiting From Abnormal Weather Patterns
Since Kodiak focuses on liquid-rich plays, it avoided much of the price pressures that its competitors suffered from the low gas demand in the US owing to an unusually mild winter. Moreover, the location of the Bakken shale in North Dakota and Montana helped Kodiak benefit from these weather patterns. This weather pattern of comparatively higher temperatures and reduced snowfall led to new all-time high levels of oil and gas production in February, according to the North Dakota Oil and Gas Division.
Activities on the Bakken Shale
Kodiak registered a 60% increase in acreage in the Bakken shale in the six months between June 2011 and January 2012. This was mainly due to three significant leasehold acquisitions, which occurred in June 2011, October 2011, and January 2012.
There are a number of wells due to release production data this year, according to North Dakota's current confidential well list. This would happen soon with the months between July and October being particularly active. Kodiak compares favorably with 71 wells compared with the competitors Chesapeake (NYSE:CHK) with 7, EOG Resources (NYSE:EOG) with 43, Occidental Petroleum (NYSE:OXY) with 37, and Marathon Oil (NYSE:MRO) with 78.
The net proved reserves of Kodiak consist of 89% in oil. Currently, it is involved in heavy production from these reserves. If we look at 2011 financials, Kodiak had a total of $261 million in capital expenditures, which is expected to more than double to $585 million in 2012. Most of this will be spent on drilling and completion. About $25 million has been earmarked for continuing infrastructure investments and $10 million in acreage acquisitions. At current prices, Kodiak might not be able to leverage the $10 million into substantial gains, but I don't believe this to be a negative factor as the small company would do well to focus its limited resources on the acquisitions noted above.
Outlook
If we study its report, Kodiak has indicated that it is receiving a higher rate of return on 10,000 feet laterals compared to 5,000 feet laterals. Even though there is a dramatic increase in the cost of fracking, Kodiak believes that it is more economical to use the 10000 feet laterals due to increased production. Moreover, Kodiak is still learning to use these methods while maintaining attractive margins.
Some more important news in favor of Kodiak is the approaching completion of the Seaway Pipeline Project. Currently, much of the production from the Bakken flows through the hug at Cushing, Oklahoma that cannot meet current demand. The Seaway Pipeline Project will add dramatic improvement in flow rates toward the ports of Huston by early 2013.
I strongly believe that Kodiak is proving that it has the vision and resources to grow its small share in the times to come. It could be through organic growth or by means of acquisitions, but it does look like an attractive buy at current prices.
Disclosure: I have no positions in any stocks mentioned, and no plans to initiate any positions within the next 72 hours.