Healthcare stocks closed out a so-so 2007, but one subsector stands out, both for its recent outperformance and the expectations of many analysts for 2008: managed care. The average healthcare stock posted a year-to- date return of 12.2%, ninth among the 12 major sectors tracked by Morningstar.
The managed-care industry, meanwhile, had a 28% average return, good for 24th among more than 100 categories. That's been good news for
iShares Dow Jones Healthcare Providers (NYSEARCA:IHF)
, with a top-eight-holdings list that's made up of managed-care stocks: six insurers and two pharmacy benefit managers, or PBMs, firms employers and managed-care companies. Those eight stocks account for nearly 65% of IHF's assets.
As of Dec. 20, the fund ranked in the top 6% of healthcare ETFs for all time periods from one day (a 1.9% gain on Dec. 20) to one year (18.7%). Year to date (18.6%), the fund ranked second among 42 ETFs in the category. On our ETF Momentum Tracker Sector Momentum Table, IHF—which closed out 2006 ranked near the bottom of 42 ETFs—gained nine spots over the last five weeks, moving to No. 16 last week. Managed-care providers have been on a long run.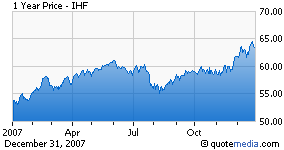 Over the last five years, shares of the top three holdings—UnitedHealth (NYSE:UNH), WellPoint (WLP) and Aetna (NYSE:AET) (more than 40% of IHF's assets)—posted average gains of 283%. UnitedHealth, the country's largest health insurer by market value, makes up nearly 20% of the fund's assets. The stock is up 16.7% over the last three months (through Dec. 20), the firm having stepped out from the shadow of several news-making scandals with a strong earnings report and outlook.
Viewed as a play on an aging population, a positive regulatory environment and ever-rising federal spending on healthcare, managed-care companies— many of which rely on Medicare spending—have repeatedly posted strong profit growth. Since 2003, when the Medicare Advantage programs were established, managed-care providers have steadily strengthened their pricing power, pushing share prices higher and higher. Last week, both houses of Congress passed legislation that preserved Medicare Advantage plans, which were scheduled for a 10.1% cut in physician reimbursement in 2008.
Stifel Nicolaus analysts said the new law would be positive for managed-care firms as well as long-term acute facilities, nursing homes and home health providers, according to The Wall Street Journal. All are represented in IHF's 50-stock portfolio, which also includes shares of pharmacies, hospitals, clinics and other firms that serve the healthcare industry.
That said, the political environment surrounding Medicare and health insurance is unpredictable, especially with the Democrats in control of Congress and a presidential election on the horizon. S&P Equity Research recommends marke weighting the entire healthcare sector, which makes up 12.2% of the S&P 500, saying,
We believe investors are beginning to question how resistant healthcare companies are to a weakening economy, particularly in light of rising cost pressures from Medicare. Also, these issues may be pressured by a push by either political party in the upcoming election year for some sort of universal health-care coverage.
The fund also emphasizes PBMs, which have posted very strong returns over the last year, boosted by rising profits, largely from increased drug utilization and generic drug penetration, according to S&P. Investors seem to be getting behind firms that save healthcare providers and their corporate customers money, as healthcare costs continue to skyrocket.
Two of the three major PBMs are IHF's third- and fourth-largest holdings. Medco Health Solutions (NYSE:MHS) and Express Scripts (NASDAQ:ESRX) got a boost from the recent merger of the third major PBM, now CVS Caremark (NYSE:CVS). Partly on speculation of continuing consolidation in the industry, Medco shares are up 86.3% year to date, with Express Scripts shares up 95%.
The CVS Caremark merger could lead to a wave of consolidation among PBMs and other managed-care firms, according to S&P. M&A has already helped the broader sector. No. 6 holding CIGNA (NYSE:CI) (up 22.0% year to date) announced plans to buy a regional provider, Great-West Healthcare, for $1.5 billion in November, shortly after UnitedHealth bought Fiserv Health, which, like past UnitedHealth acquisitions, includes a PBM.
Some analysts see UnitedHealth moving its PBM business, currently done with Medco, in-house, which could hurt Medco and change the PBM landscape. In the end, IHF remains in the same place it was when it debuted in May of 2006: a world where analysts remain divided on the managed-care space and even healthcare stocks.
Bears point to heavy competition across the industry and worry about pricing power, overvalued stocks and political action down the road. The bulls see an industry that struggled through 2006 and remains full of high-quality stocks that can be had for a bargain, given the long-term demographic trends in IHF's favor.