Patients' lives are changed when psychiatrists prescribe certain antipsychotic medicines. Antipsychotic medicines usually have a number of side effects that are very unpleasant. Typical antipsychotics, which were the first generation of this class, changed the way we look at mental illness and helped millions of schizophrenics to get back lives that were often lost in the midst of hallucinations and delusions.
While change lives they certainly did, antipsychotic medicines such as clozapine had a number of side effects. For instance, involuntary repetitive body movements (tardive dyskinesia) affected many people. Other than tardive dyskinesia, lowered life expectancy, weight gain, sexual dysfunction, tremors and diabetes have been experienced by people who used first generation antipsychotics.
The FDA approved olanzapine (Zyprexa) in 1996 to treat manifestations of psychotic disorders and since then the drug has been the cornerstone of Eli Lilly's competitive advantages in the psychotic drug market. Olanzapine had lesser side effects when compared with previous antipsychotic medicines. Of course, every psychotropic drug comes with its share of side effects but when the benefits outweigh the risks, we must go ahead and start using these drugs. Atypical antipsychotics like Olanzapine are prescribed to treat a number of psychiatric conditions that include schizophrenia, delusional disorders, treatment resistant depression and anxiety disorders. However, its most pronounced effect is seen among schizophrenic patients.
Olanzapine as a drug has helped psychotic patients and their families to live lives that are fulfilling. In fact, even treatment resistant depressive patients at the clinic where I intern show much progress when they are offered psychotherapy along with Olanzapine. I have noticed that psychotherapy alone does very little to patients who are diagnosed with treatment resistant depression. When psychotherapy is combined with antidepressants or olanzapine, patients display much progress towards health. Thanks to olanzapine, many people have returned to work, to college, to relationships and to life itself.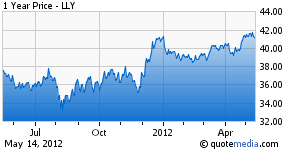 Eli Lilly (NYSE:LLY) had the sole rights to sell Zyprexa until 2011 when it became a generic drug. Crudely put, Zyprexa earned more money to Eli Lilly than any of its other drugs and when it went generic, the company did face a lot of setbacks. Analysts expected Eli Lilly to perform unsatisfactorily in the first quarter. Nevertheless, when it posted its earnings a few weeks ago, it beat all the estimates and raised its EPS guidance for the rest of 2012. Net income of Eli Lilly fell by 4% to $1.03 billion, which can be attributed to the loss of Zyprexa.
Nevertheless, Eli Lilly has Cymbalta under its belt, which is one of the most frequently prescribed antidepressants at the moment. In fact, Cymbalta helped Eli Lilly raise its revenues by 23% to $1.11 billion. Cancer drug Alimta performed well too, which assures stockholders that 2012 is not going to be such a bad year after all. In fact, Eli Lilly is doing better than its competitors in pharmaceutical industry. Though Pfizer (NYSE:PFE) achieved a 4 year high of $23, the company has mostly remained stagnant in terms of newer drugs.
On the other hand, Eli Lilly has more psychiatric drugs under its belt which will ultimately help it to generate revenue. Psychiatric prescriptions are being written more often too, and with that in mind I know of GPs and family physicians who prescribe psychiatric drugs themselves. While that is not something that is very correct, we may on the other hand expect better sales in terms of antidepressants and antipsychotic medicines.
If we have to speculate about Eli Lilly's future, the company is not only doing good but has also exceeded analysts' expectations when they announced their earnings. Of course, when a drug that has been earning a company money goes generic, it does hurt its revenue. In Eli Lilly's case, the earnings came down by 4% because of Zyprexa going generic. What we must bear in mind is that every drug that is patented has a protection period of about 20 years. However, many years are lost during clinical trials and the effective period only lasts for 7 to 12 years. In Zyprexa's case, the patent expired and Olanzapine is now generic. It is a drug's natural cycle which pharmaceutical companies take into account while planning for the future. With that in mind, every pharmaceutical company will one day have to lose rights over its top selling drug.
While Johnson & Johnson (NYSE:JNJ) has been given a good rating by Goldman Sachs and Citigroup, it continues to face legal hurdles because of recent recalls of artificial hips. In fact, this particular issue attracted more than 6,000 lawsuits from patients. Johnson & Johnson has also faced quality issues that have led the company to recall millions of strips of Benadryl, Motrin and Tylenol. Bristol-Myers Squibb (NYSE:BMY) on the other hand Bristol-Myers Squibb's silence about its hepatitis C drug nucleoside polymerase inhibitor has caused much concern in the industry. New data still has not been made available, fueling suspicions about the company. Merck (NYSE:MRK) is probably the only company that may offer competition to Eli Lilly in the next few months, as JP Morgan Chase (NYSE:JPM) rated it overweight recently.
Eli Lilly is doing very well when it comes to other drugs and in the next few months, I can expect it to consolidate its existing market in psychotropic prescriptions. Its top 2 drugs Cymbalta and the cancer treatment drug Alimta are very important and are prescribed regularly by psychiatrists and physicians worldwide. While the last few months may have seen sales dropping, Eli Lilly has little to worry considering its strengths in other drugs and a general positive image that the company has earned for itself. If you own Eli Lilly stock, there is nothing that you need to worry about and in fact, you may expect a stable year ahead.
Disclosure: I have no positions in any stocks mentioned, and no plans to initiate any positions within the next 72 hours.