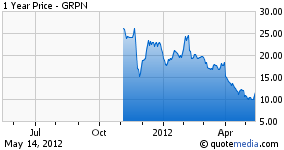 Shares of Groupon (NASDAQ:GRPN) are up nearly 20% today and many traders are asking why. Here are some of the reasons for the rally:
Earnings After The Close
GRPN will report Q1 earnings after the close today. Simply put, someone knows something good is coming. It is highly unusual for a company's stock price to spike just before the company reports earnings. In many cases, a stock will make a large move after the company reports. However, in this case, it appears possible that a leak about the earnings report may have gotten out. While that is purely speculation, it would not be the first time such a "leak" has gotten out. Of course no one knows for sure what the numbers will be, but I believe the price action today indicates a good number is coming.
Options Activity
GRPN options have been very active so far today. So far, over 20,000 May call options alone have traded. While a significant number of puts have also traded, about 15,000 in May, the call volume has been stronger. The options trades have likely forced options market makers to take a position in the stock to hedge their risk. The large options activity indicates that institutional money has been active in the name.
Short Interest
Currently, GRPN has a short interest of 17.4 million shares or 8.4%. It is possible that the momentum from early in the day led short sellers to cover their positions ahead of earnings to lock in gains.
Facebook IPO
As the Facebook (NASDAQ:FB) IPO approaches, some believe the event will serve as a catalyst for stocks such as GRPN. If the Facebook IPO is successful, it will likely alter they way other social media stocks such as GRPN are valued.
Conclusion
While it is difficult to say exactly why GRPN is up 20% ahead of earnings, the themes mentioned in this article are all likely playing a role. I believe investors should wait to see the actual earnings report before making a decision on GRPN. One thing I plan to listen for during the conference call is any mention of the competition. Are similar products such as Amazon Deals (NASDAQ:AMZN) or Google Offers (NASDAQ:GOOG) having an adverse impact on business for GRPN?
Disclosure: I have no positions in any stocks mentioned, and no plans to initiate any positions within the next 72 hours.