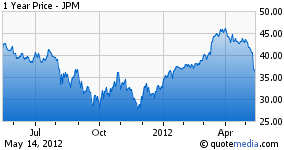 When investors began to trade in the after-hours session on Thursday May 10th news broke of JPMorgan Chase (NYSE:JPM) losing nearly $2 billion dollars as a result of derivatives trading. Those trades were initiated by one Bruno Iksil from JPM's Chief Investment Office located in London. According to Jamie Dimon, and noted by CNBC, "the losses came from trading in so-called credit derivatives and the strategy was designed to hedge against financial risk, not to make a profit for the bank". Dimon then promised, "In an email to employees and in a conference call with stock analysts, to get to the bottom of what happened and learn from the mistake".
Over the last few months, Mr. Iksil has become known as the 'London Whale' because his positions were so large they were able to throw off the regular behavior of the already complex market for credit and credit based derivatives.
As many investors know, derivatives trading can be one of the riskiest gambles on Wall St. and most people can't even stomach the thought of such a strategy. The simple definition of derivatives as follows, "they are types of investments where the investor does not own the underlying asset, but he makes a bet on the direction of the price movement of the underlying asset via an agreement with another party". For example, when there aren't any underlying assets, those traders who are implementing such strategies must be completely aware of the associated risk and what may actually be at stake, before they implement such strategies. It's basically like gambling with other people's money, and not considering how you'd be able to pay them back, if and when your luck does run out. In the case of Mr. Iksil, his luck ran out to the tune of $2 billion dollars, which sent the stock down almost 10% on Friday.
Should investors or potential investors in JPM worry about the bank's derivatives trading strategy? Yes, indeed they should pay very close attention to this and what will ensue as a result of such irresponsible trading. JP Morgan Chase should never have let this go on for six weeks. I understand risks have to be off-set in the event they cost the bank more than they initially thought, but $2 billion dollars after you were bailed out by the US government is a bit ridiculous. Isn't the 2008 scandal that took place at Societe General which cost them nearly $7.2 billion dollars from the same strategy still fresh in their heads? If it isn't, it should be. Something more than a simple lesson needs to be learned here, and many of the big banks such Bank of America (NYSE:BAC) and Wells Fargo (NYSE:WFC) need to reassess their risk management strategies. It's not fair to the individual investor that rouge traders have the ability to dismantle these banks in the blink of an eye, especially since most of them have been built up over decades.
In my opinion, JPM needs to restructure the entire London based Chief Investment Office, starting with the termination of CIO Ina Drew and ending with the resignation of Bruno Iksil. Investors should take a very negative approach when it comes to JPM in the near term and hedge against the company until this scandal blows over. Short term profits can be had by some of the more advanced traders by acquiring JULY 34 PUTS ($1.25) or JULY 33 PUTS ($0.99) as I think the stock could sell-off another 12-18% as a result of the actions of the London office.
Disclosure: I have no positions in any stocks mentioned, and no plans to initiate any positions within the next 72 hours.