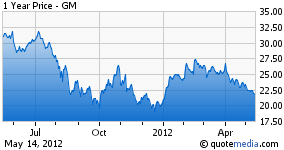 General Motors (NYSE:GM) is not an attractive investment at this point in time. Nothing has changed that much with GM since the bailout. Its main rival Ford (NYSE:F) shows more growth, more potential at a lower discount and a more assertive plan for change.
I do not see any silver lining in GM's current outlook towards prominence. I favor Ford over GM because it has a competent plan for change. GM seems to be hoping for prosperity by going along with more of the same tactics before the crash and before bankruptcy. There are several factors that make General Motors an unattractive investment. At best, this is a long term investment for far into the future. It's only hope depends on recovering economies and an eventual revamping of the current business model. It is doubtful that GM will be able to sustain leadership in any market over an extended period of time going at its current rate.
GM was a leader in the auto industry and has history of reaching higher prices in the market than Ford but not by much. The days of a stock price above $40 are gone and GM has shown little promise in its recovery stage in comparison to its competitors. Aside from its lack of a competent plan moving forward, GM is still inundated in a weak European market more so than any of its competitors.
The government still owns a third of GM as well. GM has a larger market share of the emerging China market but this is a joint venture so it is still only receiving 50% of the profits. GM also still seems to be focused on small acquisitions rather than a progressive approach to increasing market share or its earnings. GM is earning revenue now but it is nothing impressive with when accompanied by weak margins across the board. GM is in a prime position to be overtaken by Ford and other competitors in any or every market within the next five to ten years.
GM's revenue growth and margin numbers are relatively low for a favorable investment on the market. The stock price is at the lower end of its 52 week range and it shows a less favorable outlook than its competitors Volkswagen (OTCPK:VLKAF), Nissan (OTCPK:NSANY) and Honda (NYSE:HMC) that have similar stock prices. All three of these motor companies show an increase in stock price while GM has been on the steady decrease. The return on equity is slightly favorable along with its debt to equity ratio but this is also in light of the fact that it's coming off bankruptcy and the government still owns a thirds of GM.
The weak margin numbers are a sure sign that GM is having trouble making earnings from its minimal revenue increases. Ford's margins are increasing and its stock price is only half that of GM but is more likely to double or triple before GM is able to increase by 50% in light of each motor company's growth figures and business model looking onward. Ford is employing a universal design plan based on international markets while GM is still looking to absorb smaller motor companies as each has done regrettably in the past.
Ford is focusing and succeeding in pushing smaller more fuel efficient vehicles while GM has seen nothing but obstacles and speculation in this regard. Ford only has a 5% market share in the emerging China markets while GM's 15% market share trails only Volkswagen in this market. However, it should be noted that GM's joint venture in China recently had to recall over 40,000 Aveo vehicles because of a defect in the sensors. GM is also experiencing production setbacks with the Chevy volt. It initially planned to sell 40,000 per year, but it has only less than 8,000 in 2011 and less than 6,000 so far this year.
Even though Toyota's (NYSE:TM) has left an opening in this market for GM's future prominence, Toyota increased April sales in the U.S by over 25% compared to GM's 5% increase. Aside from the Chevy volt battery fire which compelled some speculation, GM also recalled over 20,000 vehicles in China and a month later over 50,000 crossover vehicles in the United States. Toyota was forced to recall over 3 million vehicles over two years ago and suffered from slow sales but still shows more growth potential than GM. GM's hopes reside in gaining market share in China but Ford and Honda are poised to overtake its position if these trends continue on.
GM showed a major increase in revenue in North American markets even though it lost market share to foreign automakers along with Ford as well. The problem is that GM's heavy investment in the European market has been dragging down revenues since before GM went into bankruptcy. The issue here is that this trend still continues. There seems to be no way out or no plan in sight aside from waiting for the European market to rebound.
The other automakers are not as heavily invested in Europe and are in a better position to adjust and adept with demand whereas GM has been forced to halt production for elongated periods of time. GM in Europe saw a 19% decline in revenue equating to over a $250 million loss within the past three months. The only plan in sight seems to be negotiations to purchase part of Isuzu, which is unlikely thus far.
GM is the least attractive investment of the major automakers. Ford is showing more growth with a better plan for international appeal at half the stock price. Nissan is increasing revenues without the baggage at nearly the same stock price as GM. Volkswagen is the leading producer in China and is on the cusp of being a premier brand for only $10 more per share.
Toyota is rebounding and showing growth in other markets aside from China. Honda is a competitor in China with more fuel efficient vehicles for only $10 more per share than GM. Eventually GM will follow suit behind Ford and its other competitors and will get the government off its balance sheet as well. But GM will likely right the ship after the competition has already caught up, surpassed or cut into its favorable market share in both China and North America.
Disclosure: I have no positions in any stocks mentioned, and no plans to initiate any positions within the next 72 hours.