PowerShares Dynamic Food and Beverage (NYSEARCA:PBJ) has reached number 20 on the Sector Momentum Table, up from position 27 five weeks earlier, on the strength of a 5.44% gain for the month ending December 20.
Like the bulk of the stock market, PBJ bounced around wildly in recent months as investors struggled to gauge the strength of the economy and the direction of the market. PBJ weathered the rough patch relatively well, however. The fund's one-week, one-month and three-month returns through December 20 bested those of 85% of the funds in Morningstar's large-cap blend category.
Moreover, the fund beat the S&P 500 by nearly six percentage points for the recent three-month period. Food and beverage stocks tend to deliver steady if unspectacular earnings and robust dividends, which makes them especially appealing during gloomy economic times.
So PBJ is likely to benefit if bearish investors fearing the onset of a recession continue to buy up defensive stocks. But food and beverage manufacturers face challenges: Prices are soaring for many of the commodities upon which these companies rely, and consumer spending appears to be on the wane.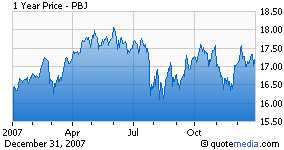 PBJ's tongue-in-cheek ticker symbol reflects the fund's mandate: Recent PBJ holdings General Mills (NYSE:GIS) and Con Agra (NYSE:CAG) control a large segment of America's peanut butter manufacturing, while another, J.M. Smuckers (NYSE:SJM), takes care of the jelly (and also makes peanut butter under the Jif label). Typically about 80% of the fund's holdings are stocks in companies that make their profits from food and beverage staples such as breakfast cereals, soda and other nonalcoholic drinks, canned soups, beers, yogurts, and many other mainstays of the typical refrigerator and cupboard. Most of the remainder of PBJ's portfolio recently was devoted to stocks of a handful of fast-food firms, which PowerShares classifies as consumer discretionary holdings.
Investing in PBJ, with its stake in most of the top U.S. food, beverage and restaurant companies, is like investing in the diet of the average American. PBJ's portfolio consists of 30 stocks, and recently just 10 of those holdings accounted for about half of the fund's total assets. Its portfolio, which usually emphasizes the middle of the market cap scale, recently boasted an average market capitalization of $8.7 billion.
Like many PowerShares funds, Dynamic Food and Beverage reshuffles its holdings once a quarter as part of the company's dynamic indexing system. As a result, the fund's annual turnover rate was recently 50%, meaning things shift around a fair amount. That has been the case in recent months: Only five of PBJ's top 10 holdings two weeks ago were in the top 10 on October 31.
Former number one holding Monsanto (NYSE:MON) was completely booted from the portfolio in recent weeks, allowing McDonald's (NYSE:MCD) to rise to the top of the pack. McDonald's registered a 39% year-to-date gain through December 21. The firm's revenues increased by 42% during the four years through 2006, and it appears the company managed to continue that strong growth trend in 2007. Global sales rose 8.2% in November alone, driven by increasing presence in international markets, a number of popular new chicken and burger products, and successful promotional tie-ins. Morningstar analyst John Owens says the recent history of McDonald's "has been nothing short of amazing," an impression that leads him to wonder how much longer the fast-food chain can keep it up. His answer: Investors should expect growth to slow somewhat, especially in the U.S. Nevertheless, he writes, "We think the Golden Arches is capable of delivering solid results for quite some time." Whether that forecast plays out will largely be determined by the ability of McDonald's to continue seizing market share in emerging economies, keeping pace with trends favoring healthier foods and fending off competition from dozens of proliferating fast-food chains (including several owned by PBJ's number two holding, Yum! Brands (NYSE:YUM).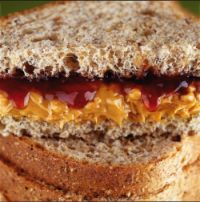 With consumer confidence in December at its lowest level in two years, both firms may also struggle to lure penny-pinching consumers to spend as much as they have in recent years. Shares in classic staple-food stocks like number five holding Kellogg (NYSE:K) and number seven holding General Mills have wavered in recent years as the firms struggled to cope with the increasing costs and decreasing profit margins. Soaring oil prices have heightened transportation expenses, while the ethanol boom has jacked up the price of corn. That said, even if a recession arrives, consumers are unlikely to cut back significantly on such cheap and popular products as Raisin Bran, Yoplait or Pillsbury biscuits.
Food and beverage stocks are never likely to deliver the kinds of soaring returns we've seen from energy and materials funds in recent years. But the industry's stocks offer stable businesses and dividend yields in excess of the S&P 500. Analysts have been predicting for years that the market will begin to favor larger-cap shares of more predictable companies at some point. If the recent woes on Wall Street finally signal that shift, it might be a good time to take a small stake in PBJ