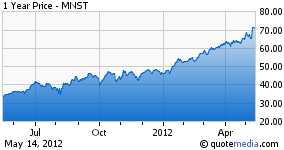 The current price of Monster Beverage Corporation (NASDAQ:MNST) have investors wondering if the rally is running out of steam. I have been bullish on Monster for quite some time and first wrote about monster in my article, You can still see Monster growth from Hansen. This was of course before the company decided to change its name to Monster Beverage Corporation. Monster is now up about 57% since that article.
The company recently announced strong first quarter results. The Monster Rehab line still continues to be a source of strong growth for the company. I expect the international markets to continue to drive sales as the company looks to expand into additional markets going into the end of the year.
Here are some more highlights I like about the Monster story:
Net income for the 2012 first quarter increased 38.3 percent to $76.1 million from $55.0 million in the same quarter last year. Net income per diluted share increased 39.7 percent to $0.41 from $0.29 per diluted share in the 2011 comparable quarter.
Operating income for the 2012 first quarter increased 42.8 percent to $126.3 million from $88.5 million in the comparable 2011 quarter.
Gross sales for the 2012 first quarter increased 26.9 percent to $517.3 million from $407.6 million in the same period last year. Net sales for the three-months ended March 31, 2012 increased 27.5 percent to $454.6 million from $356.4 million a year ago.
Even though the Monster growth story remains intact, the stock appears it may be getting ahead of itself. As the stock continues to rise into the stratosphere, investors tend to get more aggressive in their expectations. Investors often expect the growth to continue indefinitely, this of course is untrue. Even a slowdown in growth could cause a sharp sell-off in the company as short-term traders run for the exit. I would take at least some profits off the table and trail the rest of your position using the $62 area as your stop. This would lock in about a 37% return on the rest of the position if trailed out. I will continue to monitor Monster and wait for the next pullback to add to the position.
Disclosure: I am long MNST.