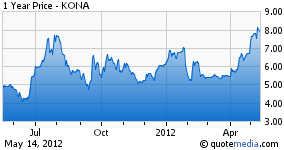 Kona Grill (NASDAQ:KONA) owns and operates over 20 upscale dining restaurants in 16 states. The company offers a wide selection of food options that range from steak to sushi. The restaurants have a contemporary design which feature a full service bar and patio.
Kona has been a favorite growth story of mine over the last few months. The stock is up about 60% from the buy call that I made in my article, "Kona Grill cooks up strong profits, huge upside." The company is doing amazing and I expect more upside over the next couple of years. The company recently closed unprofitable units and made changes to its menu. I believe the company is getting its formula down right and will look to expand as the economy recovers.
Here are some more highlights I like about the Kona story:
The first quarter of 2012 saw restaurant sales increase 8.6% to $24.2 million, compared to $22.2 million in the first quarter of 2011.
The company saw same store sales increase 8.7%, this marked the sixth consecutive quarter of positive same store sales growth.
Net income in the first quarter of 2012 was $1.2 million or $0.13 per share, compared to a net loss of $92,000 or $(0.01) per share in the year-ago quarter.
The company provided guidance for the second quarter 2012 and expects restaurant sales of $24.7 million compared to $24.5 million for the second quarter of 2011. The company also expects net income of $1.25 million, or $0.14 per share, compared to net income of $0.8 million, or $0.08 per share for the second quarter of 2011.
The company recently announced a $5 million share buyback program that will help put a floor on the price. Kona completed a previous $5 million share buyback in February 2012 purchasing 859,000 shares at an average cost of $5.80 per share.
Kona's CEO, Michael Nahkunst is doing a great job in turning the company around and the numbers are now starting to show it. I'm bullish on Kona and expect the strong growth to continue. I would take some profit near the $8 area with the expectation of adding back to the position on pullbacks. The $6 area will be a good spot to start to add back to the position. I expect the buyback to help support the price since the February buyback was completed near that area.
Disclosure: I am long KONA.