Software, as you probably know, is a great business. Zero marginal cost, no inventory to monitor, and no goods to physically ship.
SAP and Oracle (NASDAQ:ORCL) built empires selling to the "enterprise" - large companies that don't blink an eye when it comes to dealing with bad software, provided it can improve efficiency. If you can automate processes that are currently done by human beings, you will forever have a home in the world of enterprise software.
Finding Easy Acts to Follow
The key to selling business software is finding an easy act to follow. Microsoft (NASDAQ:MSFT) Excel was successful because there were no personal spreadsheet applications at the time. QuickBooks gained massive market share because Excel wasn't equipped to handle small business accounting. Oracle's massive growth in the 1980s and '90s occurred because it was selling databases to big companies that didn't have any, but desperately needed them.
We have a saying in our office that when selling small business software, the best thing to replace is Excel, or pen and paper. You don't want to be tasked with trying to replace another software system, because odds are that, even if the system is bad, it is probably "good enough" to do the job it needs to do. People will complain about software all day long, but getting them to switch to another product - from something they know, to something they don't know - is a very difficult chore.
The analogy in the enterprise is that you want to replace mainframes. Which is exactly what Guidewire Software (NYSE:GWRE) does.
Insurance: Mainframe Computing's Final Frontier
When it comes to adopting new technology, managers of insurance companies must be among the slowest. Most of the industry is still running mainframes!
Until, that is, Guidewire Software was founded. Guidewire builds software for one industry, and only one - the insurance industry. It provides a core system suite that automates the gamut of insurance operations - underwriting, policy administration, billing, claims, and reinsurance management.
Competition, as if Hand-Picked by Guidewire Management
You don't need to be the best to win in business - you just need to be better than your competitors. In the land of the blind, the one-eyed man is king.
Guidewire's biggest competitor is - get this - Accenture (NYSE:ACN). Yes, the technology consulting company that displays a questionable ability to consult, let alone build and implement complex enterprise software, is often the only thing standing between Guidewire and its next deal. Needless to say, it's been smooth sailing for GWRE for some time.
Also - and maybe more importantly, at this juncture - is the fact that the insurance industry is a follow-the-leader play. Much like the IT manager who never got fired for buying IBM in years past, current insurance managers do not get fired for purchasing Guidewire Software. The implementation record - which is where the rubber really hits the road - is a perfect 100%. An amazing feat in the enterprise world, and one that will assure the next insurance company will choose GWRE.
Recurring Revenue
The multi-year recurring revenue contracts that Guidewire signs its customers to really warms your heart as an investor. The company has an excellent handle on the amount of revenue it's going to bring in several years down the road, thanks to the brilliance of its business model, which is essentially a fat annuity stream funded by its customers.
Management follows this metric closely as "four-quarter recurring revenue," and the most recent four quarters reported $96.3 million in recurring revenue.
This is money that Guidewire could collect with a small engineering team merely hanging out to answer the phone and solve a bug report now and then. So it really provides a nice floor on not only earnings, but also valuation, as the bulk of Guidewire's efforts today are dedicated toward the growth of this number, as the maintenance of this number requires very little effort.
At $25 per share, Guidewire's enterprise value is a very reasonable 12x trailing four-quarter recurring revenue. More on this to come.
Even the VCs Bought More
For venture capital firms, an IPO is the pot of gold at the end of the rainbow. It's their preferred method for achieving "liquidity" on their initial investment, after what was likely a five to 10-year holding period.
Battery Ventures, one of the venture capital firms behind Guidewire, actually bought more GWRE after the IPO. When the VCs are buying rather than selling, it's worth taking note!
Growth Potential, Market Share, and Valuation
Guidewire sports a market capitalization of $1.35 billion, is sitting on a cash pile of $170 million, and no debt. So the company itself can be had for $1.18 billion.
While management does not provide growth projection guidance, it appears to be on track (based on a question answered during the last investor conference call) for at least the short term to achieve sales and earnings growth north of 30%.
Longer term, Guidewire believes there are 1000 additional insurance companies that need its software. And the current product set has not been fully sold into the existing customer base - in fact it thinks it can grow revenue four times just selling the existing product set to the existing customers.
For the sake of argument I'll assume Guidewire can grow sales and earnings 25% per year for the next five years - and let's toss in a sixth to make the math easy. This is a double across the board every three years.
Which means when we pull up this article in 2018 (on our iPad 8), we'll wake up to a GWRE that sports four-quarter recurring revenue approaching $400 million, earnings-per-share around $2.80, and likely still has a lot of insurance companies to sell software to. Those numbers would probably make us happy with our buy-in price of $25 per share / $1.18 billion for the whole enterprise.
What Could Go Wrong
There are a bunch of risk factors listed in the 10-Q and IPO Prospectus, but I'm not worried about most of them. Here's what I really want to keep my eye on.
The Sales S-Curve: Guidewire appears to have a lot of potential growth ahead of it, but when selling enterprise software you usually don't realize when you've run out of S-Curve space until you're nearing the end. Oracle and SAP had a LOT of runway throughout their hay days. Guidewire has less, but it still appears to have a nice land grab opportunity for the foreseeable future.
Management sanity: Software companies have a bad habit of going insane as they grow larger. They layer the company with middle management and lose their ability to actually develop software. At a place like Guidewire you want great engineers (which they have), some salespeople, and little else. Please stay sane, GWRE!
Conclusion
Guidewire shares have been volatile post-IPO, and will likely remain so until Wall Street gets a better beat on this company. Between now and then, we have a nice opportunity to accumulate shares in a fantastic niche enterprise software company that will be powering the operations of insurance companies for decades to come.
Valuing Guidewire simply for the upcoming quarters alone is short sighted. I view GWRE as a Philip Fisher type of stock that we want to own for many years, perhaps even decades, to come, and I'd rather accumulate my shares now before the institutions pile in and this fantastic high-margin annuity stream is figured out.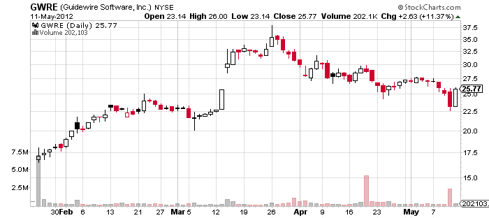 Guidewire's wild post-IPO ride
Disclosure: I am long GWRE.