Cramer says that Europe wants to move over to another source for importing oil, fearing dependence on Russia will make them vulnerable. Europe is looking increasingly towards Kazakhstan. This will bring the western oil companies (Chevron (NYSE:CVX) has 20% of oil in Kazakhstan) in, sending the price of oil fields up.
India and China are also demanding oil and both need a closer provider that can deliver oil and gas by pipes, not by tankers, which are becoming more and more expensive. Also, given the Chinese dependence on Iranian oil, one assumes that China would want a "Plan B" if something happens to Iran over the nuclear program. In the competition between these three areas, I believe India has the most to benefit from a Kazakhstan oil field.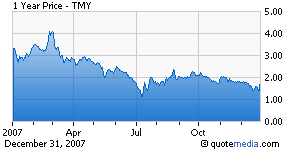 Looking at major Transmeridian Exploration Incorporated (TMY) holders, I am impressed that the largest shareholder is the CEO, owning 20% of the company. He seems to be wanting to acquire it all; possibly to sell higher later. I especially like the valuations. The valuation has been pegged at anywhere from 400 million USD to the upwards of 1.5 BILLION USD. The most reliable source seems to value it at 600 million USD. Given that this company is trading at 195 million, that gives one anywhere from a 50-87% safety margin.
Another varying figure I have come across is how much proven oil reserves it actually has. Numbers vary between 72,000,000 or 211,000,000 barrels. Given 72 million barrels, this 185 million dollar Houston-based company is being valued at $2.56/barrel on 72 million barrels. While the value of a proven reserve changes from company to company, the value of their field is greatly decreased by their slow extraction. However, given that this company will likely be bought with in the next three months (most likely the next three weeks), their value lies not with how fast Transmeridian Exploration can get the oil out, but how fast a potential suitor can. Given this, a multiple of 5.36/barrel is fair, not including the convenience of Kazakhstan location, which I would peg at anywhere around $1 dollars extra a proven barrel. This gives us a valuation of 6.36/barrel, making the proven reserves of 72,000,000 barrels worth $450 million.
On to probable reserves. 115 million barrels is a close estimate, lying in between the two estimates. For probable reserves, a multiple of $2 is generally accepted, adding an additional 230 million onto the valuation. This brings Transmeridian's value up to 680 million dollars, a 340% return to book value.
A 600 million valuation gives it a value of $5.88/share; $1.0Billion - $9.81/share
In a worst case scenario, I give this stock a bottom at $1.90/share if it fails to be acquired within the next 6 months.
Disclosure: Author has a long position in TMY