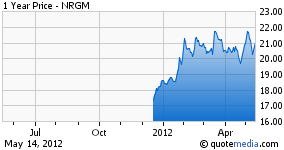 Two weeks ago I discussed how Inergy L.P. (NRGY) was getting out of the propane business and the primary remaining asset would be the company's holdings in Inergy Midstream Partners (NRGM). A new announcement that Inergy was dropping some additional assets down into Inergy Midstream Partners seems to make it a good time to take a closer look at the relatively new midstream MLP company.
Inergy Midstream Partners was spun off by Inergy via IPO in December 2011. The company has a current market cap of $1.5 billion. The initial dividend rate was set at 37 cents quarterly or $1.48 annually per share. At a share price just over $20, the dividend yield for Inergy Midstream Partners is 7.3% - near the top of the board for natural gas midstream MLP companies. The company owns four natural gas storage facilities in New York and Pennsylvania with a capacity of 41 billion cubic feet. These assets provide storage for gas produced in the Marcellus Shale play. A natural gas liquids - NGL - facility has a 1.5 million barrel capacity. Inergy Midstream owns natural gas pipelines connecting its facilities into pipeline networks in New York and Pennsylvania.
The new asset from the mother company is U.S. Salt, a salt mining and production company. The caverns produced by the salt solution recovery operations are then used to store natural gas. U.S. Salt is located on Seneca Lake, New York. With the drop down, Midstream Partners will pay Inergy L.P. $185 million in cash and $10 million worth of Inergy Midstream Partners units.
For the quarter ending March 31, 2012, Inergy Midstream Partners reported distributable cash flow of $25.3 million. Multiplying the 74.3 million of shares outstanding times the current dividend rate produces a distribution amount of $27.5 million. The expectations must be that revenue will ramp up as Midstream Partners picks up customers and increases its asset base. One positive point is that the distributable cash flow in the first quarter was $6.5 million higher than in the same quarter a year earlier.
At this point in time, Inergy Midstream Partners is a small MLP with the potential to receive/buy more drop down assets from Inergy. With the changes in its business model, Inergy L.P. has readjusted its dividend rate to reflect the sale of propane operations to Suburban Propane L.P. (NYSE:SPH). Inergy L.P. yields almost 8.5% on the new dividend rate. The way these MLP and general partner L.P. operations usually work, the working MLP is able to steadily increase the dividend and the general partner company is able to leverage that increase to faster dividend growth. Right now, there is no indication either NRGY or NRGM will be announcing any near term dividend increases. Too many balls in the air.
The investment decision on these two related L.P. companies is to wait and see for a couple of quarters to determine what happens with the cash flow and dividend coverage ratio of each. If you want to take a small position in one of the Inergy's, go for the higher yield. The propane sale should close by the end of June and the numbers for the two companies should stabilize by the end of 2012. For income investors, put these two stocks on your watch list.
Disclosure: I have no positions in any stocks mentioned, and no plans to initiate any positions within the next 72 hours.