2007 was a wild year for Asia iShares ETFs (including the India ETN).
Early on, iShares MSCI Malaysia (NYSEARCA:EWM) was the frontrunner, as Northeast Asia funds struggled.
The late Feb. to early Mar. period was the most dramatic, when each country fund came under heavy selling pressure, following a sharp drop in Shanghai, which prompted a massive global selloff. For the week-ended Mar. 2, EWM lost over 12% to cut its ytd return to under 6%, while iShares FTSE/Xinhua China 25 (NYSEARCA:FXI) fell 10%, taking its ytd loss to nearly 15%.
In the end however, emerging Asia markets widely outperformed key benchmarks such as the S&P 500 and EAFE. Only Japan (NYSEARCA:EWJ) closed in negative territory for the year. Taiwan (NYSEARCA:EWT) was the only other country-based fund not to post double-digit returns.
iPath ETN MSCI India (NYSEARCA:INP) was launched in late 2006 and went from being down as much as about 12% in spring to more than doubling by late December. It finished the year up more than 86%, the best among the funds in this weekly survey.
FXI climbed as high as around the +90% level in mid/late Oct., but gave back a big chunk of the gains over the remainder of the year to finish with a gain of more than 50%.
EWM ended the year up just under 40%, third-best among the funds surveyed, surpassing Hong Kong (NYSEARCA:EWH) in the last week of the year.
EWJ was the region's biggest disappointment, as it was overlooked for faster growing regional funds and sold heavily on any bad news. While other funds bounced back from bouts of selling, EWJ floundered as concerns over external factors exacerbated worries of already deteriorating domestic economic conditions.
Note, the bar for the iShares S&P 500 index (NYSEARCA:IVV) is colored differently for comparative purposes.
Click to enlarge chart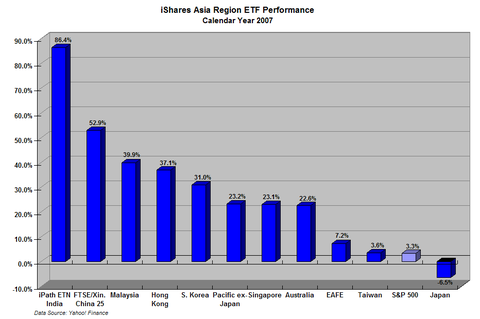 Disclosure: The author does not own shares of any funds mentioned in this article.
Recommended reading: 2008 Global ETF Outlook: A New Year of International Investing • "Chindia": A Misleading Portfolio Concept
Here is a list of the relevant ETFs and their tickers.
iShares Australia (NYSEARCA:EWA)
iShares FTSE/Xinhua China 25 (FXI)
iShares Hong Kong (EWH)
iPath ETN MSCI India (INP)
iShares Japan (EWJ)
iShares Malaysia (EWM)
iShares Singapore (NYSEARCA:EWS)
iShares S. Korea (NYSEARCA:EWY)
iShares Taiwan (EWT)
iShares EAFE (NYSEARCA:EFA)
iShares Pacific ex-Japan (NYSEARCA:EPP)
iShares S&P 500 (IVV)