Japanese stocks and funds struggled throughout most of 2007. Broadly speaking, ADRs and U.S.-listed ETFs fared modestly better thanks to some yen appreciation, but still, a majority of stocks and all but two funds were negative for the year.
There were some winners, with the top-5 performers all posting double-digit gains, led by Mitsui & Co.'s (OTCPK:MITSY) 42% return. Rounding out the top five were: Makita (NASDAQ:MKTAY) +35%, Sony (NYSE:SNE) +27%, Hitachi (HIT) +17% and Internet Initiative Japan (NASDAQ:IIJI) +17%.
The worst returns included three finance-related stocks: NIS Group (NIS) -78%, ORIX (NYSE:IX) -42%, and Mizuho FG (NYSE:MFG) -34%. Sticking to financials, Mitsubishi UFJ FG (NYSE:MTU) fell 25% and Nomura Holdings (NYSE:NMR) lost 12%. The two other biggest losers were Advantest (NYSE:ATE) -51% and Kubota (KUB) -28%.
Japan's big-3 auto stocks all fell double-digits, paced by Toyota (NYSE:TM) -21%. Honda (NYSE:HMC) lost 16% and Nissan (OTCPK:NSANY) was off 11%.
Click to enlarge chart.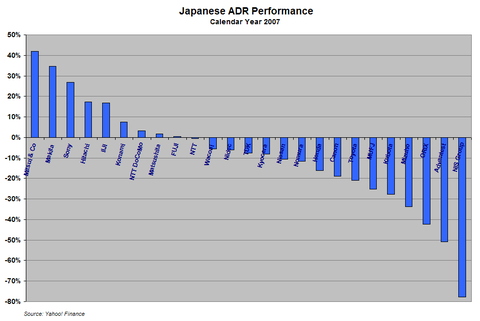 Japan ETFs and closed-end funds widely underperformed regional funds. Vanguard Pacific Stock (NYSEARCA:VPL) had been the lone bright spot, but ultimately was hurt by its heavy Japan weighting. Newcomer PowerShares FTSE RAFI Japan Portfolio (PJO) posted the best pure-Japan fund return, but that was only good for less than a percent.
Closed-end funds Japan Smaller Cap Fund (NYSE:JOF) and Japan Equity Fund (NYSE:JEQ) were among the worst performers, with the former losing 26% and the latter off 13%.
High hopes for smaller caps never came close to being realized. SPDR Russell/Nomura SmallCap Japan (NYSEARCA:JSC) and WisdomTree JP SmallCap Dividend (NYSEARCA:DFJ) lost 14% and 12%, respectively.
iShares MSCI Japan ETF (NYSEARCA:EWJ), the most actively traded country fund, lost 6.5% on the year. See the above link for a regional comparison, in which every fund expect Taiwan (NYSEARCA:EWT) posted double-digit returns.
Click to enlarge chart.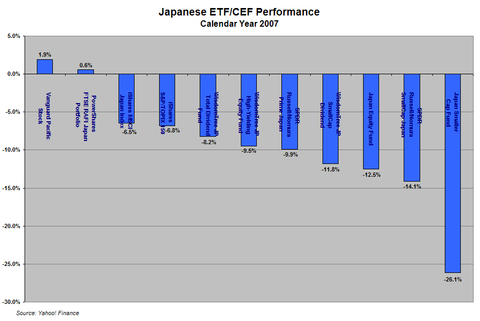 Disclosure: The author owns shares of IIJI and NIS, as well as IIJI call options.
Note: The Tokyo Stock Exchange is closed through Thursday and open for a half-day session on Friday.