Japanese stocks and funds struggled throughout most of 2007. Broadly speaking, ADRs and U.S.-listed ETFs fared modestly better thanks to some yen appreciation, but still, a majority of stocks and all but two funds were negative for the year.
There were some winners, with the top-5 performers all posting double-digit gains, led by Mitsui & Co.'s (OTCPK:MITSY) 42% return. Rounding out the top five were: Makita (OTCPK:MKTAY) +35%, Sony (SNE) +27%, Hitachi (HIT) +17% and Internet Initiative Japan (IIJI) +17%.
The worst returns included three finance-related stocks: NIS Group (NIS) -78%, ORIX (IX) -42%, and Mizuho FG (MFG) -34%. Sticking to financials, Mitsubishi UFJ FG (MTU) fell 25% and Nomura Holdings (NMR) lost 12%. The two other biggest losers were Advantest (ATE) -51% and Kubota (KUB) -28%.
Japan's big-3 auto stocks all fell double-digits, paced by Toyota (TM) -21%. Honda (HMC) lost 16% and Nissan (OTCPK:NSANY) was off 11%.
Click to enlarge chart.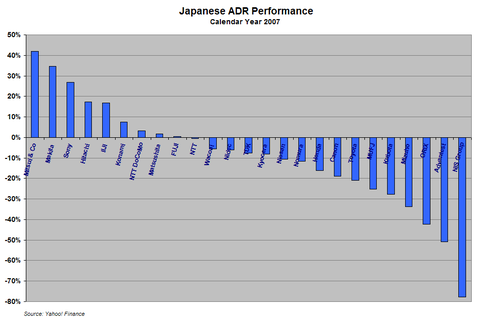 Japan ETFs and closed-end funds widely underperformed regional funds. Vanguard Pacific Stock (VPL) had been the lone bright spot, but ultimately was hurt by its heavy Japan weighting. Newcomer PowerShares FTSE RAFI Japan Portfolio (PJO) posted the best pure-Japan fund return, but that was only good for less than a percent.
Closed-end funds Japan Smaller Cap Fund (JOF) and Japan Equity Fund (JEQ) were among the worst performers, with the former losing 26% and the latter off 13%.
High hopes for smaller caps never came close to being realized. SPDR Russell/Nomura SmallCap Japan (JSC) and WisdomTree JP SmallCap Dividend (DFJ) lost 14% and 12%, respectively.
iShares MSCI Japan ETF (EWJ), the most actively traded country fund, lost 6.5% on the year. See the above link for a regional comparison, in which every fund expect Taiwan (EWT) posted double-digit returns.
Click to enlarge chart.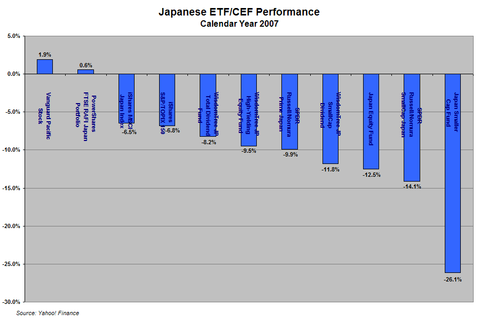 Disclosure: The author owns shares of IIJI and NIS, as well as IIJI call options.
Note: The Tokyo Stock Exchange is closed through Thursday and open for a half-day session on Friday.