A protected covered call or collar search performed using PowerOptions tools, seeking to find the highest returning position for profitable companies with a maximum potential loss of 8% and a stock price in an uptrend, produced weight management and nutritional company Herbalife (NYSE:HLF) as shown below:

Following closely behind Herbalife were insurance related company MBIA (NYSE:MBI), electronic payment company VeriFone (NYSE:PAY) and network storage company Network Appliance (NASDAQ:NTAP).
A protected covered call may be entered by selling a call option against a purchased or existing stock and using some of the proceeds from selling the call option to purchase a put option for protection. The protective covered call shown in the table above has a potential return of 4.9% (49.7% annualized) and a maximum potential loss of 6.7%, even if the stock price drops to zero, the maximum potential loss is 6.7%.
The highest potential returning positions were found by selecting to sort by the highest potential return. Stock price for companies in an up trend were found by selecting to search for companies with a 100-day moving average greater than the 200-day moving average. The 8% maximum loss parameter was selected, as a loss of 8% or less can often be recovered fairly quickly using income generating investment methods.
Herbalife markets a wide variety nutritional product and has been in business for over 30 years. The company markets products targeted for weight management, energy and fitness and targeted nutrition. Herbalife uses multi-level marketing to market its product via its network of independent distributors. Of notable mention is the company's marketing via Argentine soccer player Leo Messi as shown in this YouTube video.
Herbalife's stock price recently took a tumble on good news as shown below: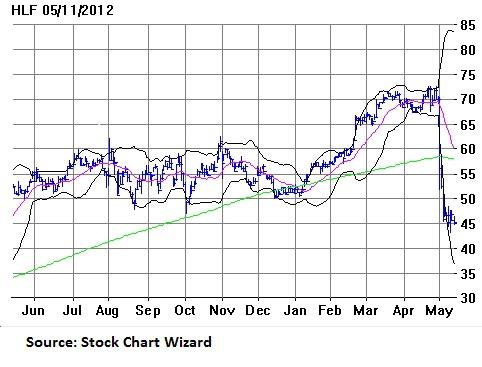 In its Q1 2012 earnings results conference call held on May 1, 2012, the company reported increased revenue of 21.3% over the same quarter in the prior year, yet the company's stock price fell off a cliff. The reason for the stock price drop was a result of legendary investor David Einhorn asking questions related to the percentage of products sold to consumers that were also not distributors and to information the company stopped disclosing in its financial information.
The non-disclosed information at issue was the percentage information related to self-consumers, smaller retailers and potential sales leaders. President Desmond Walsh indicated the company doesn't have visibility into the percentage of products sold to consumers and that non-publishing the information was related to a change in the CFO for the company that the company would be willing to supply the information going forward and did supply the updated information.
David Einhorn's questions weren't really that big a deal, the big deal was that David Einhorn was asking the questions. Known for blasting Lehman Brother's before its demise and also for roasting Green Mountain Coffee Roasters (NASDAQ:GMCR). When a company gets in David Einhorn's gun sight, investors take notice.
In this case, David Einhorn may be more about passing wind than really taking an interest in shorting the company. Multi-level marketing companies have been around for a long time and it doesn't appear this is going to change anytime soon.
An investment in Herbalife looks attractive at this point with the company growing like crazy, the stock price taking a hit, a Price-to-Earnings (P/E) ratio of 12 and a Price-to-Sales (P/S) ratio of 1.6. But, with David Einhorn lurking around the company, an investor might consider a protective investment.
For Herbalife, a couple of protective investment scenarios are available: protected covered call/collar or a married put. The protective covered call position is shown in the table above and may be entered by selling the 2012 Jun 45 call option at $5.10 and purchasing the 2012 Jun 40 put option at $2.65. A profit/loss graph for one contract of the protected covered call is shown below: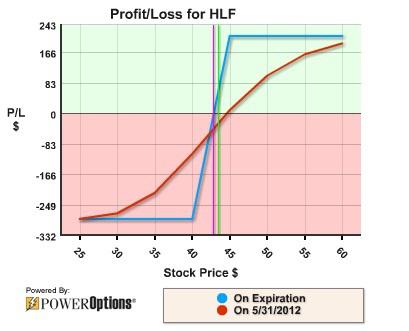 For a stock price below the $40 strike price of the put option, the value of the protected covered call is unchanged. If the price of the stock increases to around $50, the position can most likely be rolled in order to realize additional potential return.
The married put may be entered by purchasing a put option against the company's stock with the hope the stock price will recover. For a longer-term investment, an in-the-money married put at least six months out-in-time can be entered in order to reduce the amount of time-value decay during the course of the investment. Using PowerOptions tools, a married put position was found for Herbalife with a maximum potential loss of 11.6% and a profit/loss graph as shown below: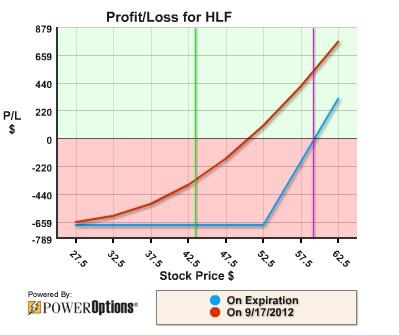 The specific put option to purchase is the 2013 Jan 52.50 at $15.80. An investor can elect to hold the married put position or once the stock price is greater than or equal to the $52.50 strike price of the put option perform income methods at described by RadioActiveTrading.com.
Disclosure: I have no positions in any stocks mentioned, and no plans to initiate any positions within the next 72 hours.