After rocketing from its IPO price, InvenSense (NYSE:INVN) stock has come off its highs above $20 to settle around $12 per share. That's quite a fall and many are tempted here. We think, by and large, those that are tempted are right, but short term, there might be a little more headwind.
The product
InvenSense is a pure play in so-called 'Micro Electro Mechanical Systems' (MEMS) like gyroscopes and accelerometers and related software that combine into motion tracking sensors. The simplest device, which brought basic motion sensing capabilities to devices, was provided by accelerometers.
These enable simple detection of screen tilt and simple motion detection. The limitation of accelerometers is that they are good at detecting straight-line movements, but they don't sense rapid movement very well. Adding gyroscopes offers sensing rotational movements and more precision, opening up the ability of fast game playing, for instance. Magnetometers are used to calibrate gyros, and altimeters to sense height.
The market
The market for motion tracking devices is fast growing. These MEMS go into (an increasing number of) smartphones, tablets, gaming devices, cameras (image stabilization) and smart TV remote controls, apart from traditional uses in auto and industry.
Currently, only some 15% of mobile telephones contain this technology, but this could easily rise significantly in the next several years. Smartphones is the fasted adopted technology ever.
The adoption of a gyroscope in the iPhone 4 has made the market take off:
Record iPhone and iPad sales during the final quarter of last year resulted in gyroscopes becoming the top revenue generator in 2011 for the consumer and mobile segment of the MEMS market, according to IHS iSuppli. According to a report by the market analyst, gyroscopes netted $655.4million in 2011, up 66% from $394.5m in 2010. Having been a long term runner up in its category, gyroscopes finally displaced accelerometers last year. IHS believes gyroscopes will continue to reap top revenue honours in the next few years, taking in $1.1billion by 2015. [new electronics]
Further growth is possible in tablets and optical image stabilization in cameras. The company already indicated it will start shipping optical image stabilization technology by the end of the year. Another market for which the motion sensor market might take off is mobile payments. Here is a nice market overview from InvenSense itself.
It's products can be found in the Samsung Galaxy Tab and Nexus, the Asus Eee Pad Transformer, and the BlackBerry PlayBook, for instance.
The company
INVN is the only company that focuses completely on the consumer MEMS market. The company was founded in 1992 and completed an IPO in November last year, raising $70M in capital ($7M was added in a secondary offering last March). The company has 82 patents (awarded or pending).
Some metrics [Yahoo]
Market cap of $961M, with 80.9M shares outstanding
Revenue (trailing twelve months, ttm) of $153M
Cash $157.8M with $50M in debt
Operating cash flow (TTM) $44.4M
Eps estimated to rise from 37 cents this year to 61 next year to 85 cents in 2014 (average analyst estimates) with sales doubling over the same period from $153M this year to $305M in 2014.
Competitive advantage
One of InvenSense competitive advantages is the gyro, which is generally considered the most difficult MEMS sensor to make (and the most expensive). InvenSense then had an easier task of integrating the accelerometer and magnetometer, while competitors have to take the opposite route.
InvenSense was the first on the market with a 3-axis (accelerometer and gyro), the MPU-3050. It is the first with a 6-axis solution at the beginning of last year (the MPU-6050), and it has introduced a 9-axis solution late last year. The only other company that also has a 9-axis solution is STMicro (NYSE:STM), although these will not be on the market in volume until at least next year.
However, the MotionProcessor (the part that aggregates the sensors output and funnels it to the application processor) and the software are also strategically important. INVN also introduced the world's smallest 2-axis gyro for image stabilization technology (used in cameras and the cameras in mobile phones).
Growth opportunities
smartphone market growth
mobile payments
tablets
Apple (NASDAQ:AAPL) and other wins
Optical image stabilization
Apple has been the main driver for gyro adoption with the iPhone4 in 2010, which surprised most MEMS producer and even though InvenSense isn't a supplier to Apple, this was a highly beneficial development for them. Many companies, like Samsung (OTC:SSNLF), LG (NYSE:LPL), Motorola (NYSE:MMI), HTC (OTC:HTCKF), Sony (NYSE:SNE), RIM (RIMM), Sharp (OTCPK:SHCAY), HP (NYSE:HPQ), Toshiba (OTCPK:TOSBF), Asus (OTC:ASUUY), Acer (OTC:IMKPF), Lenovo (OTCPK:LNVGY), and Nokia (NYSE:NOK) followed with one or several products in 2011.
Smartphone market
Already the fastest growing technology ever, but we're still in the early innings. There are actually two beneficial trends working in tandem. More and more phones sold will be smartphones, and more and more smartphones will contain gyros. One could even add a third favorable trend, the gyros will be of increasing complexity.
Ever more applications in the smartphone universe, whether that of Apple or the competing Android system, depend on the use of gyroscopes. Gaming applications like Flip It, Gyrotate, and Rubik's Cube (Apple) or Jenga and Golf Battle 3D for Android, Multimedia like Gyro Drums (Apple) or Samsung Remote (Android), augmented reality like Nearest Wiki or Golfscape Rangefinder (Apple) or Flight Deck (Android), they are all using gyroscopes.
Mobile payment
Mobile payments is another potential growth area. The likes of Visa (NYSE:V), Mastercard (NYSE:MA), Google (NASDAQ:GOOG) with its Wallet, Apple , AT&T (NYSE:T) and T-Mobile are all getting ready. However, the GPS signal is rarely strong enough indoors for accurate positioning, new approaches are required to solve this problem. Gyros are a crucial element here, offering Invensys another great market opportunity.
Present generation gyroscopes are not yet adequate, however. They lack the precision (or 'bias stability' or 'drift' as it called in the jargon). But INVN stands a good chance to land there first.
Gaming
Here is where it all began for INVN, with the ground breaking Nintendo Wii, and there is a considerable likelihood it will continue to sell to Nintendo in the upcoming Wii U.
Apple win?
While INVN gyros were considered for the iPhone4 (the first of any device containing gyros). In fact, INVN achieved a technical design win with the iPhone4, but the company wasn't sufficiently equipped to meet the demanding requirements (there are steep penalties involved for even minor infractions, life of Apple suppliers is far from easy). Apple went with STMicro instead.
But now, with the IPO money, the company is much better placed so there is a reasonable chance for them to land an Apple deal, like the iPhone5. There was much speculation about the inclusion in the new iPad:
However, the pin-out on the iPad doesn't match that of the STMicro gyroscope, Bitton said. Instead, it more closely resembles the only other three-axis digital gyroscope on the market, from InvenSense (the ITG-3200). When Apple's iPad first came out, the InvenSense gyro was the only three-axis digital gyro on the market, so Apple may have designed its main board with that component in mind. Indeed, Apple could have included it in the iPad initially, but may have ultimately decided against using it in either device. [informationweek]
Alas, it doesn't look like the new iPad in fact contains any INVN product, it still went with STMicro, by the looks of it (although neither product appeared on this recent opening up of the iPad).
While INVN is already a dominating force in the Android world, powering the likes of the Samsung Galaxy Tab and the HTC One X, there are further opportunities with the new Kindle Fire, for instance
Stock price
As you can see in the graph below, it has been quite a ride.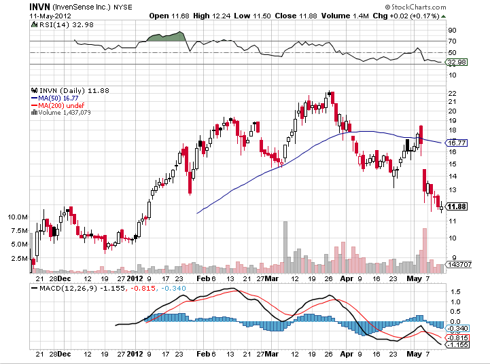 The stock has really come off recent highs above $20 for two reasons:
Reduced guidance
End of lock-up period looming
Reduced guidance
There was a steep sell-off early this month on slightly reduced guidance in the Q1 CC (from $38-42M for Q2 before to $38-$40M), but this seems to offer a rather good opportunity as the reason is not related to any slow-down, just to parts scarcity.
"The issue is a lower-than-expected ramp of new handsets due to the limited availability of Qualcomm Inc's (QCOM.O) 8960 chip," Piper Jaffray analyst Gus Richard said in a research note. He, however, said Qualcomm's chipset had strong wins under its belt and a high attach rate with this chip meant good news for InvenSense in the long term. [Reuters]
Expiring lock-up
However, there is one thing to keep an eye on, and that is the expiring lock-up on May 13 and June 4, this could be up to 45% of the float, according to Oppenheimer. That's not an inconsiderable amount.
Risks
While growth opportunities in multiple markets seem all but assured, it can't be excluded that INVN's present leading position will be eroded by better offerings from rivals. That doesn't seem very likely in the near future, but these are evolving markets and there are quite a number of big companies active in the MEMS space, like Analog Devices (NYSE:ADI), Honeywell (NYSE:HON), VTI, Panasonic (PC), Sony (SNE), Epson (OTCPK:SEKEY), Bosch, apart from STMicro . Another risk is that they depend on Nintendo for more than 20% of their revenue. Margin erosion would be another risk.
Conclusion
We can't exclude it will go somewhat lower still, especially as we can't gauge the effect of the greater supply arriving from this week onwards. However, we think most of the correction is over. Considering the market opportunities, competitive products in portfolio, and healthy balance sheet that this company possesses, we think that these shares stand a good chance of appreciation over the next couple of months and should be accumulated, especially if they go lower.
Disclosure: I have no positions in any stocks mentioned, but may initiate a long position in INVN over the next 72 hours.