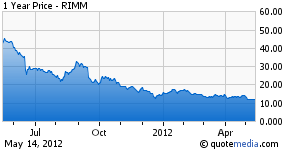 I wrote an article explaining why it is not only prudent but necessary for Research In Motion (RIMM) to undertake the transformational transaction of splitting up the company into network/services and BB10/platform technology businesses. I will give some further thoughts on that and clarify a few things.
There is no guarantee that RIMM's platform-transition to BB10 will be successful. RIMM has pinned all its hopes on the BB10 platform. I understand that if BB10 is a failure, RIMM would still have other assets. But there is downside to this. When RIMM is desperate to sell, the price it will get will be low. Second, RIMM would have spent a lot of money on a failed transition. Third, shareholders and other stakeholders may be in for a long rough ride ahead (is that even possible after what happened the last two years?). Plus RIMM's existing user base will be a little confused about support issues. Also, someone else may start putting together a comparable network though it is not easy to cobble together the network that RIMM built and owns. RIMM's network is proprietary and it is very secretive about it plus RIMM owns patents in associated technologies.
It is also possible that despite lack of success with BB10; RIMM can get still get a good price for its other assets or it may sell the hardware business and become a services company. But if that were to be the case; why not do a split now and get a much better lead in the markets the network/services business will address plus get better valuations now rather than when it is desperate. Also by splitting now, the hardware/platform-technology/BB10 business is free and will not be under pressure since the new set of shareholders in this business will be more tuned in to the risks and accordingly the management will have much more flexibility. The original shareholders would have been paid off by the shares of the network/services business. This way, the chances that BB10 is successful may in fact increase. Those original shareholders who want to take the chance with BB10 can keep those shares. If not, they can sell to a new class of investors.
Opponents of this split of RIMM will argue that RIMM will be better off as an integrated company. We know how that has worked out so far. It is possible that I will eat my words when BB10 is launched and RIMM is very successful as an integrated player and defy all odds. But should RIMM, as a public company, subject itself and its shareholders to those risks and these risks are a plenty? I think it will be very wrong to do that. Maybe there is a very slight probability that RIMM gives up some upside by splitting now but this hedging is crucial. One of the world's most renowned investors, Prem Watsa, who sits on RIMM's board, uses hedging to reduce risks. This split up may not only serve as a hedge but could present enormous opportunity to monetize the value of RIMM's network and its other technologies.
Plus the constant attack on RIMM will come to a halt and RIMM can focus on its business. These attacks have a self-fulfilling prophecy. As the attacks increase, more customers are turned off by Blackberry, as are other stakeholders like app developers and small businesses. This leads to decline in business and app-ecosystem and that leads to more attacks and bad press and negative analyst comments. Short-sellers know more about this than anyone else. By undertaking this transformational transaction, all that stops right away.
The spun-off the network/services business (call it RIM Mobile and Security Services or RMS; notice that this business keeps the Research In Motion name) will be platform agnostic and totally independent. It is imperative to be independent so that other vendors (Apple (NASDAQ:AAPL), Microsoft (NASDAQ:MSFT) and Google (NASDAQ:GOOG)) do not view this business with suspicion in terms of playing favorites. RIMM is already providing Fusion services that will manage non-Blackberry devices. This is a smart move but barely scratching the surface. RMS will provide services in areas such as communications, device management, security, messaging (including BBM, no more called Blackberry Messenger but just BBM or some other name). The target market for this business is more than a billion devices and will grow over time.
Most major corporations, government agencies will use its services. BBM alone could potentially have hundreds of millions of paying subscribers. BBM could be a self-reinforcing phenomenon. As more devices and more people get BBM; more and more people would like to get it. If all my friends have it, I want to have it too. But if just a few friends have BBM; I won't have that big an incentive to get BBM.
The math for BBM is very simple. Cheap Android devices are flooding the emerging/developing markets. But the data plan charges are prohibitively expensive in these low income countries for a majority of the masses. But with BBM you do not need a data plan.
I am currently visiting India. Here you can buy a Blackberry for Rs 10,000 ($200) and get BBM for Rs. 128 per month ($2.50 per month) and have no data plan. This allows you to do all the great stuff BBM allows you to do. This monthly plan is affordable for hundreds of millions of people in India. Imagine if RMS can get hundreds of millions of subscribers just in India. Now think about the rest of world where people cannot afford expensive data plans but BBM is affordable. They can buy a cheap Android device for as low as $50 (no service contract) and get BBM for $2.50 a month. If BBM can also provide news, sports, weather, entertainment and some other content along with the messenger; suddenly BBM becomes the gold standard for billions of people. They do not need secure phones so let them buy cheap and even locally made phones. ARPU will come down significantly but that's an insignificant price to pay for what RMS would achieve in terms of overall juicy (yes, the gross margins still be juicy, even if nowhere close to current 85%) revenues and profitability. In addition to this, RMS will provide high end device management, security, communications, corporate email and such services as well and expand that to all devices. These services will have a higher gross margins and much higher ARPU.
There will be technological challenges to incorporate all platforms, especially Android because there are so many versions of it out there. There will be capital expenditures required to deal with explosion in bandwidth and server requirements and expansion of NOCs (Network Operating Centers). Plus, very delicate negotiations have to be made with the carriers so they do not feel their revenues are in jeopardy but over the long run this will grow revenues. The new CMO, Frank Boulben, that RIMM hired, comes from a telecom carrier background so maybe RIMM is already far ahead in moving in this direction. It is very conceivable that there will be over a billion paying users of BBM in three to five years (there are 900 million non-paying users on Facebook).
This spun-off company, RMS, can become the prohibitive leader in providing mobile services ... communications, device management, security and related services. There is nobody who has a network that comes even close to what RIMM has. RIMM's security is the best in the world. This spun off company if properly presented to the investment community can get a valuation of $15-25 billion right away ($30-50 per share) and this would go up over time. A couple of years ago, analysts were pegging this network as high as $20-$40 billion ($40-80 per share) when the stock was trading at $140 in 2008 and very few analysts had a sell. In 3-5 years, RMS could be much more richly valued than $50 a share. This business needs to come out of the shadows of the handset business.
The hardware/platform technology business has been losing market share and for the first time last quarter showed a decline in the number of units sold. The network/services business is growing and is still vastly profitable. Should an astute investor conclusively conclude that this particular asset lost almost all its value because of the handset side of the business? The answer is a resounding NO.
The BB10/hardware part of the business (let's called it BB, just Blackberry - as in just Apple) is where the real risks are and also where huge upside potential exists. iOS by Apple, Android by Google and Windows by Microsoft pose big challenges but they have their own limitations. It will be a challenge for BB but RIMM should approach this by again hedging as discussed above.
All of $2 billion in cash should go to BB (as RMS will be very cash flow rich and can easily finance any capex). BB may partner with someone more resourceful so there is some confidence in BB as it undertakes a very ambitious marketing campaign; builds out both an app and device ecosystem, and provides rich content. Plus a partnership will help with the platform transition by providing a support system when things go wrong with such platform transitions. BB has to expand its device ecosystem to include desktops, laptops, TVs. It should be noted here that QNX that forms the core of BB10, is used in a wide spectrum of industries so BB10 devices can permeate in so many verticals. With the advent of HTML5, in a few years, the app advantage of Apple and Google may be severely diminished as the HTML5 is platform agnostic. But that also means Windows will get a lot of traction. Even if BB captures 15% of the global market, it could be worth in tens of billions of dollars. If BB10 is very successful then the BB valuation could be significantly higher.
Way too many great companies have faltered by being slow or not accepting the realities early enough so to not bleed and then see their valuations plunge. RIMM has a clean balance sheet, an entrenched customer base and a proprietary, very valuable unique network. It still generates positive cash flow. Now is the time to act. This transformational transaction will take RIMM to new, greater heights. In the worst case, RIMM would have hedged its bets. Yes RIMM can have best of both the worlds.
Disclosure: I am long RIMM.