In a couple of previous articles posted on April, 27, 2012 and May 8, 2012, a bull-put credit spread for the Internet content delivery company Akamai (NASDAQ:AKAM) was considered. A bull-put credit spread may be entered by selling one put option and purchasing a second put option further out-of-the-money with the goal of the options expiring worthless and the initial net credit retained as a profit.
The price of Akamai's stock has continued to fall (shown below), probably more a result of the overall market negativity than anything related to the company, such as the company seeking to find a new CEO, as noted in the previous articles.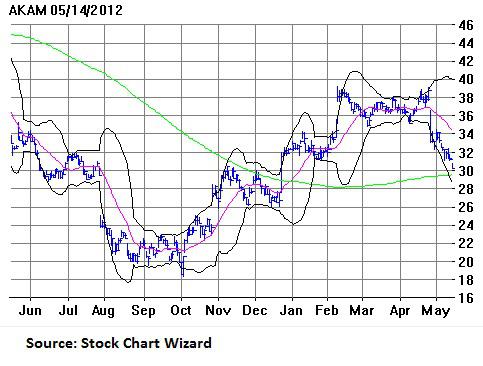 Since the price of Akamai's stock has breached the $32.20 management point mentioned in the previous article, management of the position for a close or an exit is in order. Probably should have rolled the position on Friday, but unfortunately had too many other things to do, happens sometimes. To exit the current 2012 Jun 27/30 bull-put credit spread requires a net debit of $0.96 (shown below) which would result in a pretty big loss, as we have only taken in a credit of $0.39 so far, so exiting does not seem like a good idea.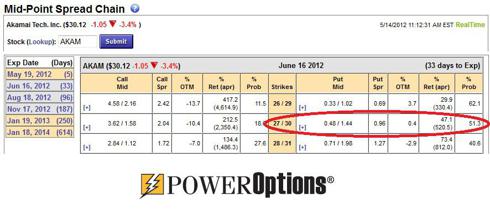 The 2012 Jun 27/30 bull-put spread position could be rolled to a 2012 Aug 26/29 bull-put spread for a net credit of $0.13, but this position doesn't give much margin between the stock price and the $29 short put strike price. A roll to the 2012 Aug 25/28 is possible for a net debit of -$0.05, which has pretty nice margin, so this is an option, but reduces potential return.
Looking at November, the 2012 Nov 25/28 can be rolled to for a net credit of $0.15 ($1.11-$0.96) which provides a nice margin but is pretty far out in time as shown below: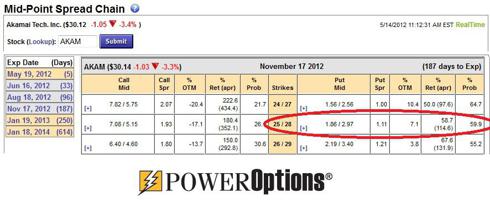 The 2012 Nov 25/28 is not great, but will have to do. Should have rolled the position on Friday, always better to roll sooner than later. This roll increases the aggregate potential return including previous positions to 19.6%.
A management point of $29.25 is set for the new position. If the price of the stock drops below $29.25, the position should either be managed for an exit or a roll.
Disclosure: I have no positions in any stocks mentioned, and no plans to initiate any positions within the next 72 hours.