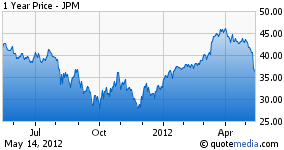 On May 10, JP Morgan Chase (NYSE:JPM) announced it had lost $2 billion following a bad trade that went awry. The exact hedging activities have yet to be released, but it appears the hedges, which involved bonds and other fixed income derivatives, became too complicated to control and too big to wind down. Rumors circulated over the past few weeks that many banks were taking on too much risk. Today, more than three years after the financial crisis began, the banks have still not learned their lesson.
Three executives are reportedly on their way out at JPMorgan. Ina Drew, a 30-year veteran of the company and the Chief Investment Officer, has announced her retirement. She was a main reason JPM was considered one of the best-run banks in the country. Since the announcement May 10, the loss has been front-page news worldwide. Ms. Drew hasn't been hiding behind smokescreens or lawyers but each day, she offered to resign. On Monday morning, CEO Jamie Dimon finally relented and accepted her resignation.
Once the loss announcement hit the wires on May 10, it was clear that someone would be fired, but what does it mean for the future of JPMorgan? Mr. Dimon said, "We maintain our fortress balance sheet and capital strength to withstand setbacks like this, and we will learn from our mistakes and remain diligently focused on our clients, who count on us every day."
Too big to fail has seeped back into people's minds despite many new regulations, including the Volcker rule and the Dodd-Frank rules, which were enacted in an effort to prevent these types of problems from reoccurring. The salvos have already started to fly about more restrictions, but even if the Volcker rule was in effect, it is unlikely this problem would have come under its purview.
Looking at the JPM's balance sheet, there is more than enough to cover the losses, but the bigger question is will the company's sterling reputation survive? My opinion is that it will take a hit from this event, but will still be among the best-managed companies. If anything, Mr. Dimon will take a closer look at many of its hedges right now, but he has been a great leader through the financial crisis by trusting his workers. In thinking if JPMorgan Chase's reputation will recover, I compare it to another bank, Bank of America (NYSE:BAC). BAC seems to make blunder after blunder (Countrywide, Merrill Lynch), and yet is still around. JPM has beat the Street in three of the past four quarters, with the fourth quarter coming inline with estimates, while BAC has surpassed expectations only once. During the most recent quarter, BAC reported earnings of $0.03 per share compared to the Street's $0.12 per share forecast.
That shiny armor around Mr. Dimon and JPMorgan has a scratch now, but the reputation is far from tarnished. Many in the media today seem to have short memories, and it is only "what have you done for me lately." The stock is down 13% over the past five days, but still up approximately 10% for the year. I think this is a great buying opportunity to get into JPMorgan, which despite the events of the past week is still one of the best-run banks in the country. Additionally, the company has a strong dividend, with a yield above 3%.
Disclosure: I am long JPM.