2007 was a banner year for ETFs, with assets rising $215 billion (or 51%) over year-ago levels. Let's look at where each company stands at year-end.
Based on data from the Amex, the U.S. ETF industry ended the year with total net assets of $632 billion (as of 12/28). If you add in ETN assets, that number jumps to $637 billion. That's up nearly $215 billion from the ICI's 2006 estimate of $422.5 billion. Not bad ...
On a company-by-company basis, Barclays Global Investors [BGI] ends the year at the top of the ETF League Table, with $332.3 billion in total assets. That gives BGI a 52% share of the ETF market, which is about even with where it was this time last year.
State Street Global Advisors [SSgA] comes in a solid second on the asset front ($173.1 billion), followed by Vanguard ($42.1 billion) and PowerShares ($40.9 billion). From there it's a big fall-off to number five, ProShares, with $9.6 billion in assets.
On a fund count basis, BGI also holds its lead, with 154 total ETFs, followed by PowerShares (111), SSgA (66), ProShares (58) and WisdomTree (39).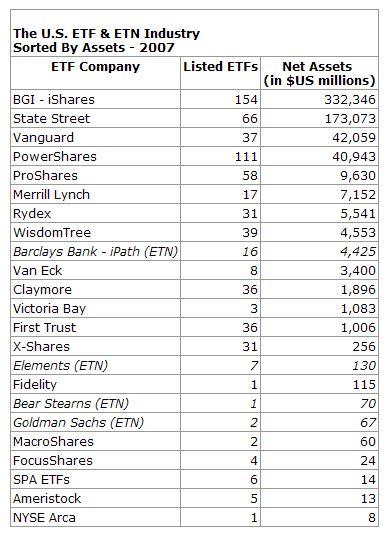 ETF Industry Concentrated In Few Funds
Despite the fact that there are now 23 ETF and ETN providers marketing well over 600 funds, the ETF industry remains very concentrated. The 10 largest ETFs hold $288.7 billion in assets, or 45% of the industry total in the U.S.
Within individual companies, a large percentage of its total assets are often concentrated in a single ETF, as shown below. This chart makes the industry dominance of BGI clearer: Despite being the largest ETF manager by far, its assets are diversified across multiple funds, with the largest fund (NYSEARCA:EFA) holding just 16% of total assets. That compares with SSgA, where 59% of total assets are located in just a single fund (NYSEARCA:SPY).
Funds In Registration
Looking into 2008, it is the "strategy players" that have the largest number of funds in registration right now. ProShares and Rydex lead the charge with 115 and 87 ETF in registration, respectively, composed mostly of leveraged, inverse and inverse-leveraged products.
Next up is PowerShares with 48 funds in registration, a sign that it plans to continue pushing the pace of fund development.
No. 4 on this list is an interesting one—Northern Trust—which hopes to enter the ETF market for the first time in 2008. Northern Trust is a major player in the index market, particularly for institutions and high net worth investors, and it is likely to make a splash in ETFs as well.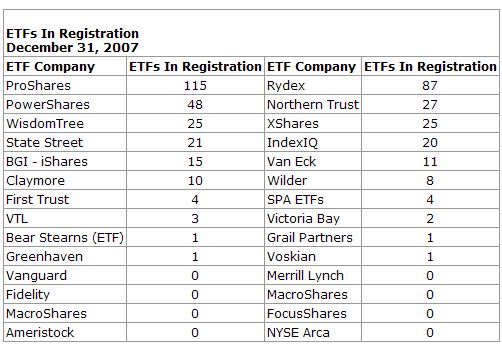 Written by Matthew Hougan